China Warplanes a Warning to Taiwan's 'Foreign Supporters,' Diplomat Says
China's envoy to Southeast Asia appeared to remove any doubts about the intended targets of recent military exercises near Taiwan when he tweeted on Wednesday that Beijing was sending a warning to the island and its "foreign supporters."
Deng Xijun, the Chinese ambassador to the Association of Southeast Asian Nations (ASEAN), shared a satellite image of Taiwan accompanied by photographs of People's Liberation Army aircraft. He then referenced the 149 Chinese aircraft that flew near Taiwan in the first four days of the month, but omitted the additional spy plane that returned on October 5.
"By dispatching 149 warplanes near #Taiwan island since Oct 1, the #PLA sent strong warning to the Taiwan secessionists & their foreign supporters," tweeted Deng. "China will take all measures necessary to crush any 'Taiwan independence' attempts, which is doomed to fail."
China claims Taiwan as a province, but Taiwan says it's already a functionally independent state with a democratically elected government. Beijing—increasingly sensitive about the international backing received by Taipei—portrays all positions contrary to its own as "secessionism" or "Taiwan independence."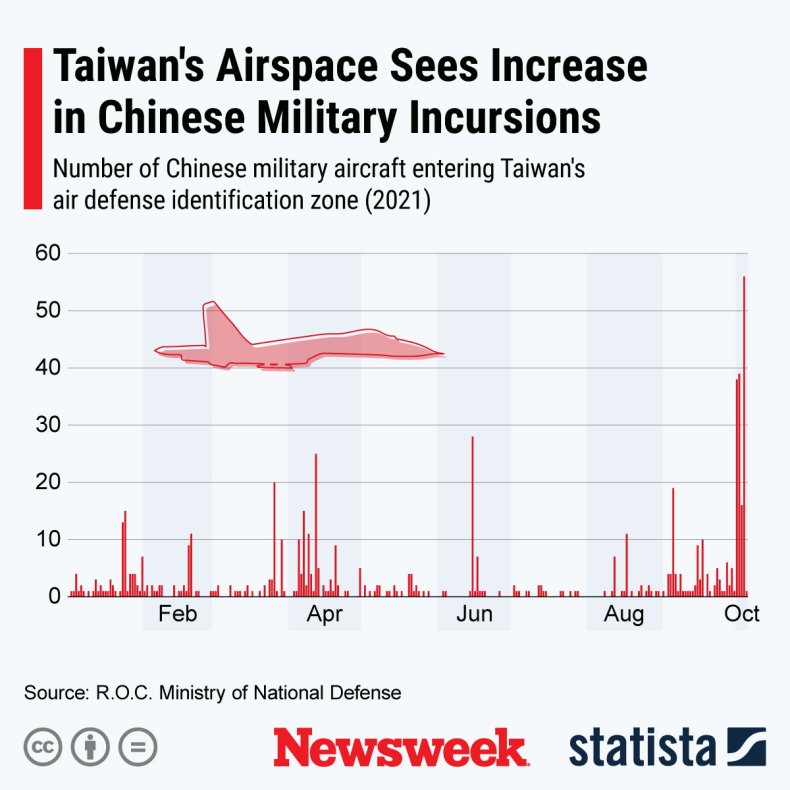 The surge in military maneuvers near the self-ruled island has alarmed Taipei, but also raised concerns in Washington, Tokyo, Canberra and as far away as London and Berlin. As the flights occurred in international airspace and avoided flying over Taiwanese territory, some observers remained unclear as to whether the frequent training missions were pointed actions aimed at Taiwan. The number of incursions in 2021 is illustrated in the graphic above by Statista.
Among them was Taiwan's former opposition leader Hung Hsiu-chu, who said on Tuesday that the PLA aircraft operations weren't directed at Taiwan. Instead, she suggested the threatening military flights were meant for "Western military vessels" that appeared in the surrounding seas.
China, which has been observing a weeklong National Day break since October 1, has not commented on the increase in PLA activity in any official capacity. The ASEAN envoy's tweet, however, suggests the operations were intended for both Taiwan and U.S.-led naval groups nearby—perceived as siding with Taipei instead of Beijing.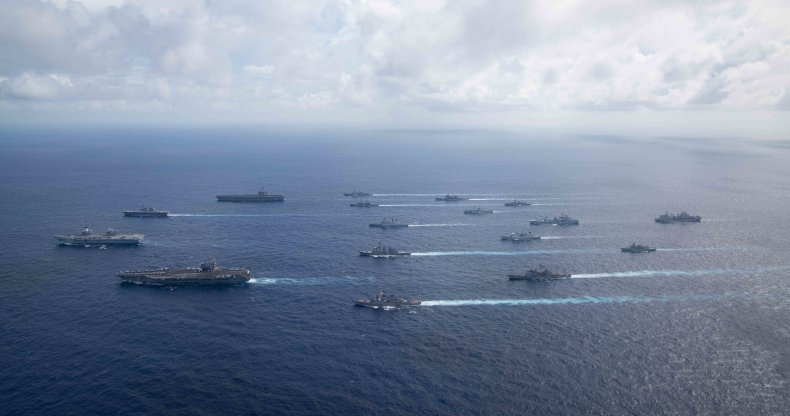 Hung, a China-friendly politician who used to head Taiwan's opposition Kuomintang party, appeared to be referencing recent maritime exercises in the western Pacific, conducted by American and British carrier groups including warships from four other nations.
On Monday, when the PLA flew a record 56 aircraft into the skies southwest of Taiwan, satellite images showed the fleet of allied naval vessels crossing into the contested South China Sea.
Britain's Defense Ministry confirmed the following day that the Royal Navy's Queen Elizabeth Carrier Strike Group would be training with friendly ships and aircraft from the United States, Japan, Australia, Canada and New Zealand over the next two weeks.
Analysis of satellite imagery showed the U.S. Navy's Carl Vinson Carrier Strike Group deployed nearby, with Chinese military vessels shadowing the ongoing naval exercises.
Beijing claims almost the entirety of the South China Sea is within its "nine-dash line." The U.S. and others describe these claims as contrary to international law.