China's Xi 'Welcomes U.S. Return' to Working with World on Climate, Thanks Biden
Chinese President Xi Jinping has hailed the United States' renewed focus on working with the international community on climate change, an issue largely sidelined under former U.S. President Donald Trump.
Xi opened his virtual address Thursday at the U.S.-organized Leaders Summit on Climate by thanking President Joe Biden for hosting the event, which involved some 40 heads of state, including Xi and Russia President Vladimir Putin, both of whose countries are currently undergoing a period of heightened tensions with Washington.
In his remarks, however, Xi focused on paths toward cooperation.
"It is good to have this opportunity to have an in-depth exchange of views with you on climate change," Xi said in remarks directed toward Biden, "and to discuss ways to tackle this challenge and find a path forward for man and nature to live in harmony."
Throughout his speech, Xi broke down his vision for global collaboration on climate change into six points. The International community, he argued, must be committed "to harmony between man and nature," "to green development," "to systemic governance," "to a people-centered approach, "to multilateralism" and "to the principle of common but differentiated responsibilities."
On his fifth point, he again praised the Biden administration, this time for once again setting the U.S. on the path of multilateral climate change efforts.
"China welcomes the United States' return to the multilateral climate governance process," Xi said, pointing out the U.S.-China Joint Statement Addressing the Climate Crisis adopted earlier this week.
"China looks forward to working with the international community, including the United States, to jointly advance global environmental governance," he added.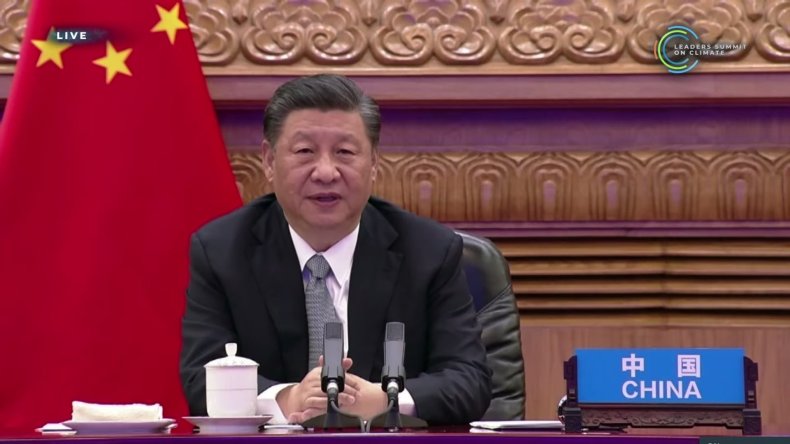 China, a country with the world's largest population and rapid development on an unprecedented scale, emits more greenhouse gases than any other on the planet, with the United States ranking second. Under Xi, however, Beijing has made ambitious commitments to reach its carbon emissions peak by 2030 and to achieve total carbon neutrality by 2060.
"This major strategic decision is made based on our sense of responsibility to build a community with a shared future for mankind and our own need to secure sustainable development," Xi said Thursday. "China has committed to move from carbon peak to carbon neutrality in a much shorter time span than what might take many developed countries, and that requires extraordinarily hard efforts from China."
He also advertised the green commitments being added to the international Belt and Road Initiative comprising agreements and memorandum of understandings with the majority of the world's countries regarding infrastructure and investment projects.
In conclusion, he shared a Chinese proverb to demonstrate the shared burden: "When people pull together, nothing is too heavy to be lifted."
"Climate change poses pressing, formidable and long-term challenges to us all," Xi said. "Yet I am confident that as long as we unite in our purposes and efforts and work together with solidarity and mutual assistance, we will rise above the global climate and environment challenges and leave a clean and beautiful world to future generations."
Xi was the first world leader to speak after Biden, and was directly preceded by U.N. Secretary-General António Guterres, who also thanked the U.S. president for hosting the event and beseeched the international community for cooperation on climate change.
Biden, for his part, opened the summit with his own plan to take environmentally friendly steps that would "set America on a path of net-zero emissions economy by no later than 2050."
"No nation can solve this crisis on our own, as I know you all fully understand," he said. "All of us, all of us, and particularly those of us who represent the world's largest economies, we have to step up."
The remarks stood in stark contrast to the position of Trump, who pulled the U.S. out of the Paris Agreement, a climate agreement signed by every other country in the world. Biden has since reentered the deal, a move welcomed by Beijing and other major powers.
Amid wrangling between the world's top two economies on issues of human rights, territorial disputes and trade, climate has served as a rare avenue of common ground for the U.S. and China. Here too, however, the Biden administration has introduced an element of competition.
"It's difficult to imagine the United States winning the long-term strategic competition with China if we cannot lead the renewable energy revolution," Secretary of State Antony Blinken said in remarks Monday at the Chesapeake Bay Foundation in Maryland. "Right now, we're falling behind."
He characterized China's strides in areas such as solar panel production and renewable energy patents represented as a loss for the U.S.
"If we don't catch up, America will miss the chance to shape the world's climate future in a way that reflects our interests and values," Blinken said, "and we'll lose out on countless jobs for the American people."