China Will 'Lose Everything' If It Starts Taiwan War—former Marine Colonel
A retired U.S. Marine colonel says the United States should commit to the defense of Taiwan against an attack by China, a decision that would end four decades of public uncertainty about American military intervention in the Taiwan Strait.
Grant Newsham, who was the first Marine liaison officer to the Japan Self-Defense Forces, told Stars and Stripes on Tuesday that the U.S. needed to clarity its intention to fight and even risk nuclear war on behalf of the democratic island claimed by Beijing.
"Make it clear to the Chinese leaders that they will lose everything if they start a war over Taiwan," said Newsham. "The U.S. also needs to take the lead and help Taiwan break out of 40 years of military and diplomatic isolation."
The U.S. has not been legally bound to defend Taiwan after 1979, when Washington switched official diplomatic recognition from Taipei to Beijing.
U.S.-Taiwan relations have been guided by, among other things, the Taiwan Relations Act—passed the same year—which only commits to helping the island with its own self-defense preparations.
In the four decades since U.S. relations with Taiwan became officially unofficial, the question surrounding possible American assistance in a cross-strait conflict with China has been shrouded behind something known as "strategic ambiguity."
Proponents of the purposely opaque commitment say the uncertainty serves U.S. interests. Beyond granting a potential element of surprise, a "blank check" pledge to Taiwan may inadvertently hamper Taipei's defense mobilization efforts or, worse, force China into a corner over what Beijing says is a "core interest."
However, advocates of "strategic clarity" believe the ambiguity that has held over the last 40 years is no longer an effective deterrent against China's growing military might, which it has used to intimidate Taiwan through both traditional and non-traditional means.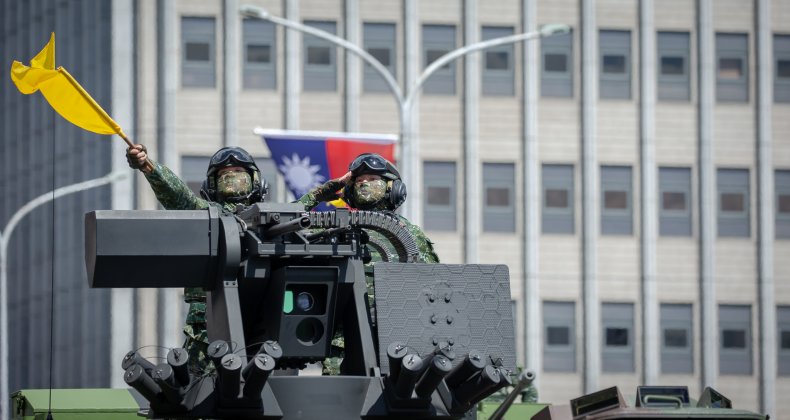 Newsham described the threat of a Chinese invasion as "dead serious," according to Stars and Stripes. People's Liberation Army (PLA) soldiers "have been training for years" on their amphibious assault capability, said Newsham, whose work with Japanese troops covered the same area.
"They understand the importance of combined arms and joint operations and are working on this to combine air, sea, and ground forces," the former Marine colonel told the paper, saying the PLA would likely begin with a bombardment of the island before ferrying Chinese troops across the Taiwan Strait for beach landings.
"I'd say the Chinese probably were capable of assaulting Taiwan at least seven or eight years ago, though with no guarantee of success. They have improved capabilities since then and keep improving," he was quoted as saying.
Taiwan's Defense Minister, Chiu Kuo-cheng, told parliamentarians in Taipei last week that the PLA would possess the capability to invade Taiwan at a minimal cost in four years' time.
On Saturday, Chinese President Xi Jinping reiterated his country's intention to "unify" Taiwan with mainland China. Xi said doing so by peaceful means was in the best interests of both sides of the Taiwan Strait, hinting at his pledge in 2019 not to renounce the use of force as an option.
During her National Day address a day later, Taiwanese President Tsai Ing-wen said her citizens would not "bow to pressure" or be forced to "take the path China has laid out for us."
"This is because the path that China has laid out offers neither a free and democratic way of life for Taiwan, nor sovereignty for our 23 million people," she added.
Newsham, who has backed closer security ties between Taipei and Tokyo, said American and Taiwanese troops should train together, while the U.S. should also provide Taiwan with "political and diplomatic support," the Stars and Stripes report said.
"There is no deal to be cut with [China] over Taiwan," the former Marine added. "Taiwan is this era's version of Czechoslovakia in the 1930s when the Germans were demanding it be handed over. The stakes are that high for our generation."