Chinese-made drones would likely receive "battlefield testing" in Ukraine, trialing how they match up to Iranian-made "kamikaze" drones on military and civilian targets in the war-torn country, Newsweek has been told.
Chinese drone manufacturer Xi'an Bingo Intelligent Aviation Technology was in negotiations with Russia's military over the "mass production of kamikaze drones" for its war effort in Ukraine, German newspaper Der Spiegel reported on February 23.
Moscow's defense ministry could receive 100 units of the prototype ZT-180 drones by April, reported to be capable of carrying a warhead of up to 50 kilograms, according to the outlet.
But a company spokesperson denied the reports, telling VICE World News that it "has no commercial contact with Russia." Secretary of State Antony Blinken had said on February 20 that China may provide "lethal support" to Moscow, which was also strongly denied by Beijing.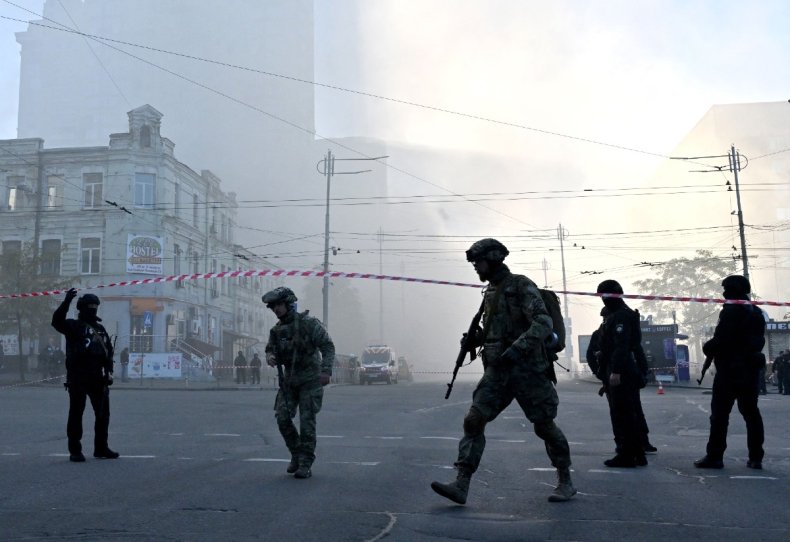 Little is publicly known about the ZT-180 drones, but they seem to be "a close clone" of the Iranian-made Shahed drones widely used by Russia in Ukraine, according to Uzi Rubin, a senior researcher at the Jerusalem Institute for Strategy and Security and the Begin Sadat Center for Strategic Studies.
With their similarities, Russia would likely use the ZT-180 much in the same way as it has deployed the Iranian Shahed-131 and -136 "suicide" drones in Ukraine, Rubin told Newsweek.
The reports also indicate that Russia is burning through more Shahed drones than Iran is "willing or able to supply," and may need "a quick refill from China," he added.
But the ZT-180 single-use loitering munitions are "still in their prototype phase," according to James Rogers, a war historian and NATO advisor specializing in drones.
If they did appear in Ukraine on Moscow's behalf, this "deployment would certainly be part of the battlefield testing to see whether or not they are actually able to compete" with the Shahed-131 and Shahed-136, Rogers told Newsweek.
The Shahed-136 is a larger version of the -131, with the former able to travel around 1,200 miles, compared to the -131's range of approximately 550 miles. A similar range for the ZT-180 would mean the Chinese-made drones could "quite comfortably hit key targets within Ukraine, including Kyiv," Rogers said, adding that Russia is likely to "double-down" on its drone strategy of targeting Ukraine's critical energy infrastructure.
The Shahed-136 has a wingspan of 2.5 meters, up from the 2.2-meter measurement of the -131, although details of the ZT-180 specification are not widely available from official sources.
Yet the technical capabilities for the Shaheds and the ZT-180 will be broadly similar, Rogers said, with the Chinese-made drone "able to carry a warhead, an explosive payload, of at least equal weight, if not more, in weight." The top speed of the Chinese-made unmanned aerial vehicles (UAVs) is probably around equal to the Shaheds, Rogers added.
Shahed-131 and -136 drones are known for flying low to their target at a relatively slow speed, making a distinctive buzzing sound on approach. Their speed makes them vulnerable to Ukraine's air defense, but they can often go undetected before shattering or exploding on target.
"When you find them, you shoot them. If you don't see them, you can't shoot them. And mostly you don't see them," Rubin previously told Newsweek.
Yet the slow speed does decrease the drones' "radar signature," Rogers said, and the cheap, slow drones have an "incredibly basic" design that is the opposite of the costly, hypersonic missiles that Western-designed expensive air defense systems are prepared for.
A crucial advantage for Russia of the Shaheds is just how inexpensive the single-use UAVs are. Experts previously told Newsweek that the Shahed drones, coming in at around $30,000, are far cheaper than the price tag attached to Ukraine's sophisticated defensive missile systems.
Michael Knights, of the Washington Institute, told Newsweek that the cost of defending against swarms of cheap drones with sophisticated weapons systems quickly becomes "crippling."
"At that point, you just give up. You don't use the advanced missile systems, you only use your gun systems and passive defenses," Knights said.
On Friday, President Joe Biden said Washington did not "anticipate a major initiative on the part of China providing weaponry to Russia," but told ABC News the United States "would respond" if Beijing supplied lethal aid to Moscow.
Chinese foreign ministry spokesperson Mao Ning said at a press briefing on Monday that China would "not accept coercion or pressure from the U.S." and that Washington had "been pouring weapons into one side of the conflict, thus prolonging the fight and making peace elusive."
She said the U.S. was "spreading disinformation that China would supply weapons to Russia," and displaying "utter hypocrisy," according to a Chinese state read-out.
Chinese foreign ministry spokesperson Wang Wenbin previously said the U.S. is the "biggest source of weaponry for the battlefield in Ukraine, yet it has kept smearing China by falsely claiming that China might offer weapons to Russia."
CIA Director William Burns noted that a "final decision" had likely not yet been made, but that the U.S. was "confident that the Chinese leadership is considering the provision of lethal equipment."