China's Stepped-Up Operations Near Taiwan Look 'Like Rehearsals,' Says Defense Sec. Austin
China's recent push to increase its military presence near Taiwan "looks a lot like rehearsals," U.S. Defense Secretary Lloyd Austin said Saturday.
Austin made the comment during a Reagan National Defense Forum speech in California on Saturday, according to France 24. China's military appears to be "exploring their true capabilities," he added.
In recent months, China has flown an increased number of military planes near Taiwan, heightening tensions between the Washington and Beijing.
Austin said the U.S. is committed to supporting "Taiwan's ability to defend itself while also maintaining our capacity to resist any resort to force that would jeopardize the security of the people of Taiwan."
He also addressed China's efforts to ramp up its military capabilities, and stressed that the U.S. isn't intimidated. A report released by the Pentagon in November estimated that China is rapidly expanding its nuclear force. The Pentagon estimates that the nation could increase its nuclear missile count to 1,000 by 2030.
"America isn't a country that fears competition," Austin said in his prepared remarks, which were reported by Voice of America ahead of the event.
"We're facing a formidable challenge," he said. "And we're going to meet this one with confidence and resolve—not panic and pessimism."
"The PLA's evolving capabilities and concepts continue to strengthen [China's] ability to 'fight and win wars' against a 'strong enemy,' a likely euphemism for the United States," the Pentagon report stated.
China's recent tests of a hypersonic weapon have also raised concerns. General Mark Milley said the weapon tests were close to a "Sputnik moment," referring to a satellite released by the Soviet Union in 1957.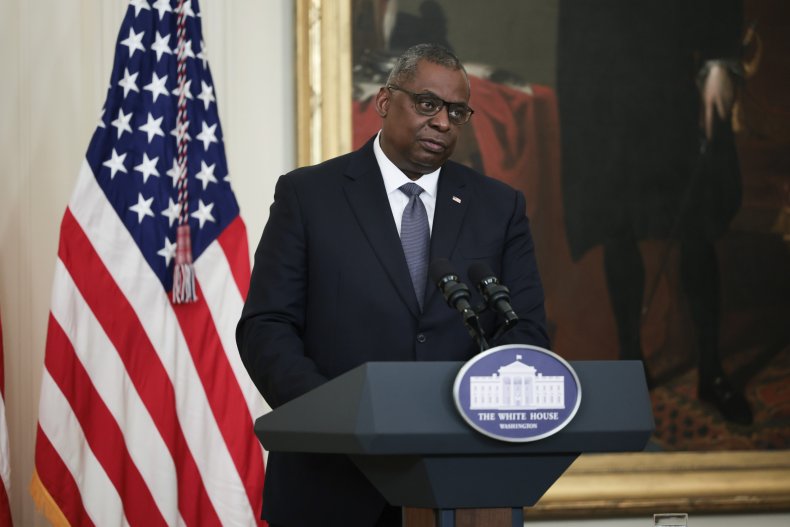 Milley told Bloomberg in October that China will pose the largest threat to the U.S. national security in the coming years.
"As we go forward—over the next 10, 20, 25 years—there's no question in my mind that the biggest geostrategic challenge to the United States is going to be China. That I have no doubt at all," he said.
Austin said this week that China was increasing tensions in Asia with its hypersonic weapon tests and that the U.S. will "continue to maintain the capabilities to defend and deter against a range of potential threats from the PRC to ourselves and to our allies."
In his speech Saturday, Austin notes that the U.S. "has been stepping up its efforts" to respond to China. He says that officials are considering using more money for research and development, and that they are already spending funds on stealth and drone technology, Voice of America reports.
"When we maintain our technological edge, we maintain our military edge," he says in the speech. "The United States has an advantage that no autocracy can match—our combination of free enterprise, free minds, and free people."
While the U.S has strengthened existing alliances with countries including Japan and Australia, Austin says the U.S. isn't looking to turn other nations against China: "We're not seeking an Asian version of NATO or trying to build an anti-China coalition. And we're not asking countries to choose between the United States and China."
Newsweek has reached out to the Department of Defense for comment, but did not hear back in time for publication on Saturday.
This story was updated with new details from Austin's speech at the Reagan National Defense Forum.