China's Xi Jinping Warns U.S. of 'Meddling in Others' Internal Affairs'
Chinese President Xi Jinping on Tuesday called for a rejection of "Cold War" mentality and "meddling in others' internal affairs" in a speech veiled in criticisms of the United States and others countries that have raised concerns about China's domestic and foreign policies.
In an 18-minute virtual address at the Boao Forum for Asia, a four-day event hosted from the Hainan province in southern China, Xi warned against "unilateralism" and said rules should not be set by "one or a few countries."
More than 4,000 Chinese officials and businesspeople were expected to physically attend Boao—China's response to the World Economic Forum in Davos—and high-profile guests including Apple's Tim Cook and Tesla's Elon Musk were also on the bill, China Daily reports.
The U.S. and a growing list of what Washington calls like-minded partners have openly criticized or raised concerns about Beijing's policies in Xinjiang and Hong Kong, as well as what analysts have described as expansionism along its land and sea borders.
At the 20th edition of the economic conference, Xi urged the world to oppose what he called a "new Cold War and ideological confrontation."
"Bossing others around or meddling in others' internal affairs would not get one any support," he said.
Amid accusations from the Biden administration that the Chinese government is seeking to upend the rules-based international order through malign influence and harmful trade practices, Xi said "world affairs [...] should be decided by all countries."
In an implicit criticism of Washington's "hegemony," he added: "We must not let the rules set by one or a few countries be imposed on others, or allow unilateralism pursued by certain countries to set the pace for the whole world."
Xi put forward China and its trillion-dollar Belt and Road Initiative as a framework for global cooperation in all areas including green infrastructure, public health and trade. He also expressed opposition to economic decoupling—describing it as an attempt to "erect walls"—at a time when a number of Western governments, led by the U.S., are seeking alternatives to Chinese technologies.
China's president, who is seeking re-election next year, called global integration "an unstoppable historical trend." To decouple from China, he suggested, "would hurt others' interests without benefiting oneself."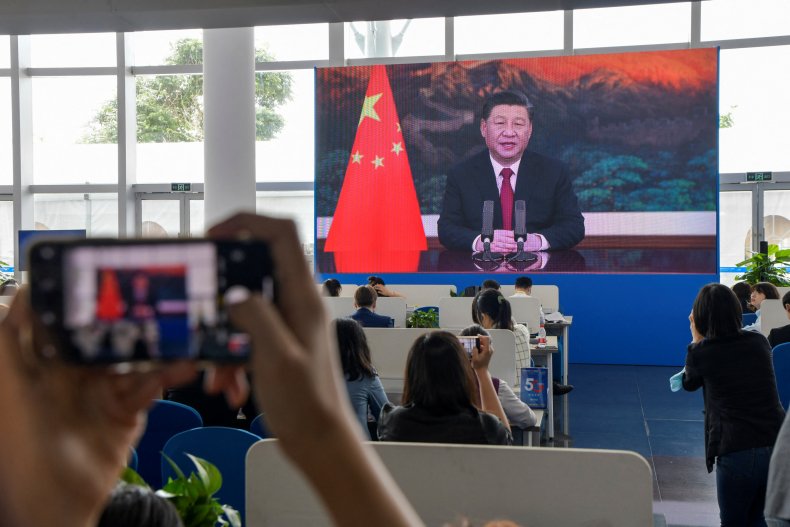 He concluded with an attempt to seemingly dispel fears about Chinese adventurism in the rest of Asia.
"However strong it may grow, China will never seek hegemony, expansion or a sphere of influence. Nor will China ever engage in an arms race," Xi said.
His speech comes amid increased tensions with regional neighbors including Japan, which has complained about aggressive maneuvers by the Chinese coast guard in the waters surrounding its Senkaku Islands in the East China Sea. Manila also lodged a recent protest against a swarm of Chinese military and militia vessels around the Philippines' South China Sea islands.
Along its southern border, China's territorial dispute with India remains unresolved despite routine high-level military talks with New Delhi. Across the Taiwan Strait, the People's Liberation Army continues to fly warplanes into Taiwan's air defense zone, according to the Taiwanese Defense Ministry.