Muslims Who Don't Drink Alcohol Told to Turn Themselves In to Authorities by Chinese City
Officials in a western Chinese city have ordered members of the country's Muslim minority to turn themselves in to authorities if they consider alcohol, cigarettes or dancing at weddings forbidden.
The Hami city government has posted an official notice warning individuals who act in a conservative Islamic manner or have contact with extremist organizations to hand themselves over to the local judiciary within 30 days, Channel News Asia reported Monday. Those who report their actions may be treated leniently and possibly avoid punishment, according to the government announcement.
"All individuals involved in terrorist crimes and poisoned by the 'three evil forces' are urged to surrender themselves to the judicial organs within 30 days and to confess and hand over the facts of your crime," the post read, according to Al Jazeera.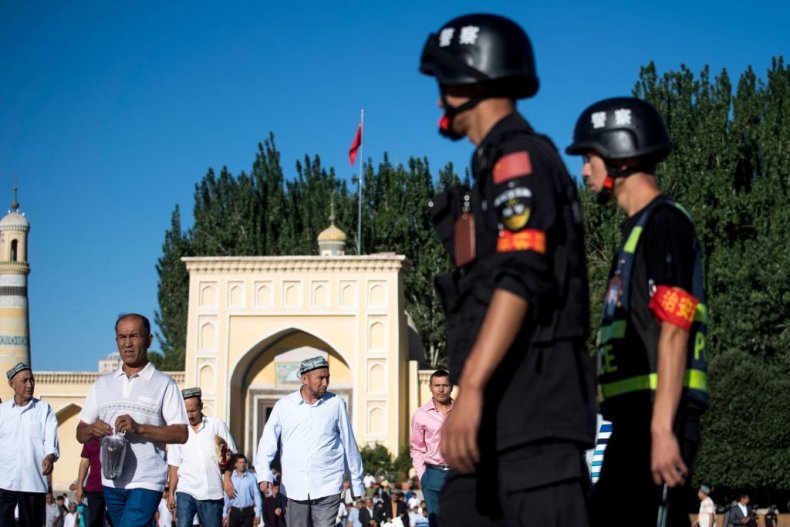 Beyond those who avoid alcohol, cigarettes and dancing, the government is reportedly concerned about individuals who encourage others to follow the teachings of the Quran, as well as those who block others from watching television, reject government housing or thwart the government's identification system.
Xinjiang province, where Hami is located, is home to the majority of China's ethnic Uighur minority, who are predominantly Muslim. Rights groups and activists have long raised concerns about the government's crackdown on the community, which is estimated to be between 11 to more than 15 million strong.
In August, a United Nations human rights panel revealed that a million or more Uighurs were currently detained in mass re-education camps, according to reliable reports. The detainees are reportedly forced to reject their religious and ethnic identities, and they are required to recite Chinese laws and policies. Individuals who refuse to follow the camp's instructions are allegedly denied food, forced to stand for extended periods of time or locked in solitary confinement.
Last year, China moved to crack down on conservative Islamic clothing and beards in the Uighur community, while also releasing a list of banned religious names for babies and words like Islam, Quran, Saddam and Mecca. Families who disregard the ban could be denied education or other government services.
Halal products, which are produced in accordance with Islamic law, have also recently been targeted in some parts of the Xinjiang province.
"The Chinese government is committing human rights abuses in Xinjiang on a scale unseen in the country in decades," Sophie Richardson, China director at Human Rights Watch, said in a September statement. "The campaign of repression in Xinjiang is a key test of whether the United Nations and concerned governments will sanction an increasingly powerful China to end this abuse."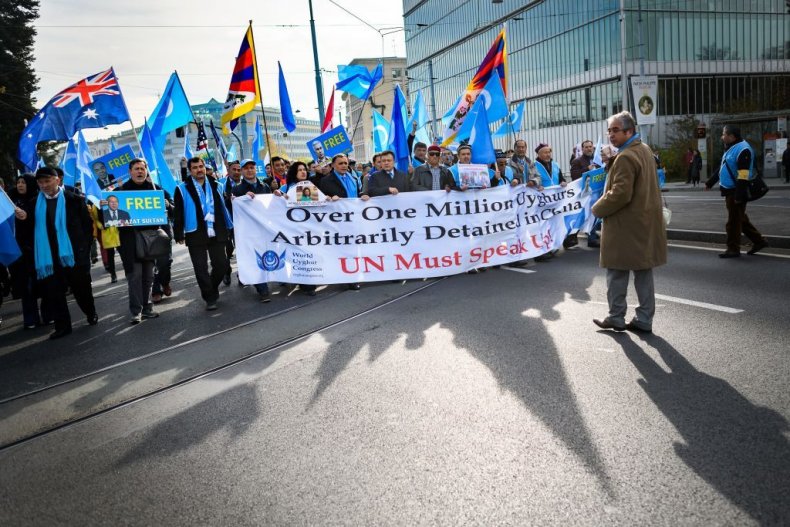 Believers in China, regardless of religious affiliation, can only legally worship in congregations that are registered and approved by the government, although many Chinese gather together to worship illegally in secret. International condemnation of China's policies suppressing religious freedom has been growing, with analysts and activists arguing that President Xi Jinping has been consolidating power through suppressing religious freedoms.
"The government restricts religious practice to five officially recognized religions in officially approved religious premises. Authorities retain control over religious bodies' personnel appointments, publications, finances, and seminary applications," Human Rights Watch explained in its 2018 report on China.
Speaking directly about the state-sponsored oppression of Uighurs, Nicholas Bequelin, Amnesty International's East Asia Director, said in September that Beijing must be stopped, reported Al Jazeera.
"The Chinese government must not be allowed to continue this vicious campaign against ethnic minorities in northwest China," he said. "Governments across the world must hold the Chinese authorities to account for the nightmare unfolding.... Hundreds of thousands of families have been torn apart by this massive crackdown."