Chinese Combat and Spy Ships Monitor Taiwan Missile Tests
A Chinese warship and an additional surveillance vessel were detected off the coast of Taiwan this week as the country began the first of two missile tests scheduled for April.
National Chung-Shan Institute of Science and Technology (NCSIST), Taiwan's defense developer, issued notices of the weapons evaluations last month. The tests are taking place in the waters southeast of Taiwan between April 7 and 9, with a second round planned from April 13 to 16.
According to Taipei's Central News Agency (CNA), the first of two Chinese vessels, Type 054A frigate Yuncheng, was detected early Tuesday as it traveled north about 70 nautical miles off Taiwan's outlying Orchid Island.
Taiwan's navy was also tracking a southbound electronic surveillance ship just 36 nautical miles off Orchid Island as missile tests began on Wednesday morning, state-funded CNA reported, citing a military source.
Both ships are said to be assigned to the South Sea Fleet of the People's Liberation Army (PLA) Navy, but Taiwan's defense ministry did not comment on whether the vessels were likely monitoring the NCSIST missile tests.
Shih Shun-wen, the ministry's spokesperson, told CNA the situation around Taiwan remained "normal."
When Taiwan's weapons developer conducted missile tests in early March, China's deep-sea scientific research vessel Dong Fang Hong 3, which reportedly has intelligence-gathering capabilities, was also detected near Taiwan.
NCSIST did not disclose the weapons systems it will test this month, but a former employee said the bulletin's no-go zone suggested researchers were test-firing Ray-Ting 2000 artillery rocket systems, according to CNA.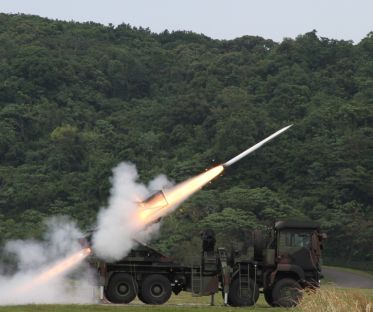 Also called RT2000 or Thunderbolt-2000, the mobile, truck-mounted rocket launchers are classed as anti-amphibious assault defensive weaponry, with strike ranges between 4 and 28 miles, depending on the type of payload.
The second set of tests next week may involve Tien-Kung III—known as Sky Bow III—land-based surface-to-air missiles.
Taiwan's defense budget is reported as 25 times smaller than that of China's, with the PLA also possessing an overwhelming manpower and hardware advantage over the democratic island, which it has previously threatened to seize.
Taipei's security strategy has seen a growing focus on so-called asymmetric warfare in recent years. The policy emphasizes the development and procurement of smaller, more mobile defensive strike capabilities—fast attack missile boats and sea mines—over larger conventional arms.
The island nation's continued research into indigenous missiles, meanwhile, remains a popular subject in public discourse.
Last month, an NCSIST official revealed Taiwan was mass-producing a long-range, land-based missile, with three other types in development.
The military-run institute did not disclose the model and range of the weapon in production, but reports from Taipei have speculated it to be the Hsiung Feng IIE surface-to-surface cruise missile.
Taiwan's air force received a small batch of the missiles in January. The weapons are widely reported to have an effective range of up to 745 miles—making them capable of reaching beyond the Chinese coast.