Tens of thousands of people have expressed their outrage after Fox News and Republican House Minority Leader Kevin McCarthy both referred to COVID-19 as the "Chinese coronavirus."
The phrase was one of the top trending topics on Twitter after McCarthy tweeted out a link of tips and advice from the Centers for Disease Control and Prevention (CDC), with people reacting to the racist connotations of the phrase.
"Everything you need to know about the Chinese coronavirus can be found on one, regularly-updated website," McCarthy wrote.
There have been a total of 114,457 confirmed cases of Coronavirus across the world, with more than 80,000 in mainland China, according to Johns Hopkins University.
The virus has also spread around the world to countries such as Australia, Iran, Italy and the U.S., where there have been more than 750 confirmed cases.
Thousands of people criticized McCarthy for referring to the COVID-19 as the "Chinese coronavirus," accusing him of helping to spread fear and hatred towards Asian people.
California rep. Ted Lieu: tweeted: "One reason @POTUS & his enablers failed to contain COVID2019 is due to the myopic focus on China. The virus was also carried into the U.S. from other countries & U.S. travelers. Calling it Chinese coronavirus is scientifically wrong & as stupid as calling it the Italian coronavirus.
"COVID2019 can be carried by anyone: a U.S. citizen, a Japanese tourist, an undocumented youth, or a Member of Congress. Coronavirus doesn't care about your party, gender or religion. It is not Chinese, it's a virus."
Activist and writer Charlotte Clymer added: "Republican Party is clearly coordinating messaging to call this the 'Chinese Coronavirus' in an effort to leverage xenophobic and racist nonsense and absolve Trump of his catastrophic handling of this crisis."
McCarthy also referred to COVID-19 as the "Chinese Coronavirus" in a tweet from March 1.
"Very supportive of the travel ban from Iran, as well as new restrictions to affected areas of South Korea and Italy. Though the risk remains small for Americans, the U.S. government is taking every possible precaution to keep Americans safe against the Chinese coronavirus," he wrote.
McCarthy has been contacted for comment.
Elsewhere, Fox News' Tucker Carlson also referred to COVID-19 as the "Chinese Coronavirus" on a segment of his show Monday night, while dismissing any suggestion that doing so could be seen as racist.
"The Chinese Coronavirus epidemic turns out to be just that, an epidemic. There's no denying that now," he said.
"This is real. You will be forgiven if the whole thing snuck up on you as if from nowhere, an obscure virus arising from a meat market in eastern China to sicken American citizens in Oregon, in New Hampshire and Illinois and midtown Manhattan. It sounds ridiculous. None of our leaders helped us to take it seriously.
"On the left, you've heard them tell you that the real worry is that you might use the wrong word to describe what's happening to the country. 'It's racist' they're telling you to blame the most racist nation in the world for the spread of this virus."
"The Chinese Coronavirus is a major event, it will affect your life. And by the way, it's definitely not just the flu," Tucker adds.
Tucker's monologue appeared with a graphic also containing the phrase "Chinese Coronavirus."
There have been 4,026 deaths from COVID-19 as of March 10, including at least 24 in the U.S. A total of 64,014 people have been able to recover from the virus since the outbreak occurred.
The graphic below, provided by Statista, illustrates the spread of COVID-19 across the world as of March 9.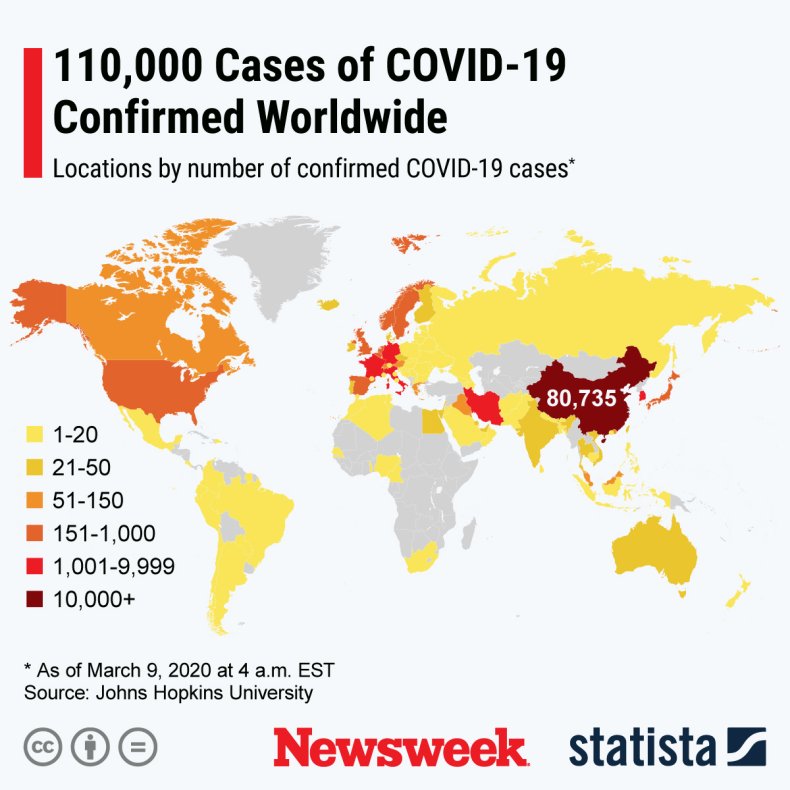 World Health Organization advice for avoiding spread of coronavirus disease (COVID-19)Hygiene advice
Clean hands frequently with soap and water, or alcohol-based hand rub.
Wash hands after coughing or sneezing; when caring for the sick; before; during and after food preparation; before eating; after using the toilet; when hands are visibly dirty; and after handling animals or waste.
Maintain at least 1 meter (3 feet) distance from anyone who is coughing or sneezing.
Avoid touching your hands, nose and mouth. Do not spit in public.
Cover your mouth and nose with a tissue or bent elbow when coughing or sneezing. Discard the tissue immediately and clean your hands.
Medical advice
If you feel unwell (fever, cough, difficulty breathing) seek medical care early and call local health authorities in advance.
Stay up to date on COVID-19 developments issued by health authorities and follow their guidance.
Mask usage
Healthy individuals only need to wear a mask if taking care of a sick person.
Wear a mask if you are coughing or sneezing.
Masks are effective when used in combination with frequent hand cleaning.
Do not touch the mask while wearing it. Clean hands if you touch the mask.
Learn how to properly put on, remove and dispose of masks. Clean hands after disposing of mask.
Do not reuse single-use masks.