Chinese Destroyer Appears Near Taiwan Amid Pelosi Tension—Taipei
As tensions continue to grow between China and the U.S. over the potential visit of House speaker Nancy Pelosi to Taiwan—which Beijing claims as part of its territory—Taiwanese media has reported that a Chinese missile destroyer has appeared off the coast of the self-governing island.
On Tuesday, the day Pelosi is rumored to visit the island, Taiwan's government-controlled news agency Central News Agency (CNA) reported that the Chinese destroyer appeared off the coast of Lanyu—also known as Orchid Island.
Unspecified military sources also spoke of seeing accompanying missile frigates appearing together with the destroyer in the past two days, CNA reports.
A Chinese marine survey vessel was spotted sailing north of the island outside Hualien Port on Monday, while a Chinese research vessel was seen sailing southeast of Lanyu in the evening of the same day.
Newsweek is attempting to verify these reports.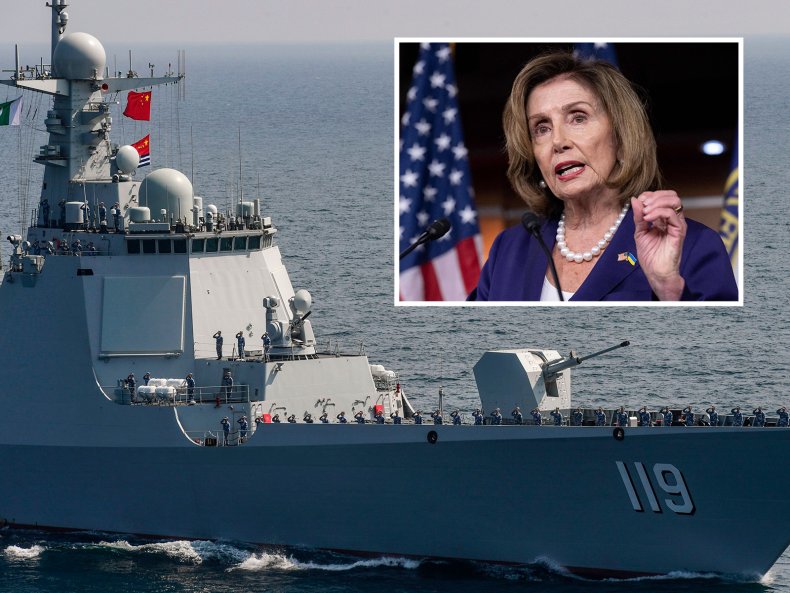 China is currently conducting military exercises in the South China Sea and the Bohai Sea, according to a statement by China's Maritime Safety Administration on Monday, but has not officially spoken of drills close to the island of Taiwan.
But the presence of Chinese military vessels near the island would play into the White House's concerns over a possible military provocation from Beijing in response to Pelosi's potential visit to Taiwan.
Pelosi's potential visit to Taiwan has unsettled Beijing, which has made several threats to the U.S. in the past few days, warning Washington that such a trip would strain relations between the two countries, as well as provoking a firm response from China.
From Beijing's perspective, Pelosi's visit to the self-governing island—which China's President Xi Jinping has called his country's "sacred mission" to "reunify" with the "motherland"—is a "provocation" from the U.S. in breach of its one-China rule.
"The one-China principle is a red line in China's relations with other countries, and we allow no one to cross this red line," China's permanent representative to the United Nations Zhang Jun told reporters on Monday, reinstating that a visit by the U.S. House speaker to the island would be "apparently dangerous and provocative."
Zhang's warning went a little further, repeating threats that were already made by China's Foreign Ministry spokesperson Zhao Lijian on Monday.
"China is fully prepared to respond," Zhang said. "If the U.S. insists on making the visit, China will take firm and strong measures to safeguard its national sovereignty and territorial integrity, and the U.S. has to bear all the serious consequences arising thereof."
The U.S. has in turn warned China over turning Pelosi's potential visit into a crisis, with Washington insisting that the first visit of a U.S. high-ranking official to the island in 25 years is not a challenge to Taiwan's status quo.
But the White House fears that Beijing might respond to Pelosi's visit with a military reaction that could include firing missiles near Taiwan and large-scale air or naval activities, according to spokesperson John Kirby.
President Joe Biden has also warned against a visit from the House speaker to the island, saying that the U.S. military believes such a trip to Taiwain "is not a good idea right now."
The standoff between the U.S. and China over Pelosi's visit to Taiwan might see a resolution later today, as the House speaker is rumored to visit the island this evening (Tuesday), as reported by the Taiwanese news channel TVBS.