Chinese Foreign Official Says U.S. Dominance in 'Decline' But Will Be Hard to Overtake
China's foreign vice minister said Friday that America's hegemony is falling, but noted that it would still be hard to surpass the U.S. as a leading world power.
Speaking to the Chinese state media outlet Guancha on Friday, Le Yucheng said the U.S. continued to represent the strongest, most powerful nation in the world, but that the country was suffering from an idealogical perspective.
"The U.S. decline is not a decline in strength but a decline of hegemony," Le said, according to the South China Morning Post. "No matter a country's strength, hegemonic power is bound to wither, hegemony is not popular."
Nonetheless, Le continued by stating that the U.S. was "still a strong and large nation in the number one spot," and that "it will be hard to overtake it over a relatively long period of time."
The Chinese foreign minister went on to criticize President Joe Biden for approaching China with an aggressive stance, and claimed that the administration is attempting to both destroy and contain China.
"The biggest challenge faced by a superpower like the United States will always come from within, and destroying China is by no means a prescription for solving American problems," Le said, according to The Post. "We hope that the United States will return to reason and the right path of dialogue and cooperation, with no need to turn resisting China into a policy, nor containing China into 'political correctness'," he continued.
Le added that U.S.-led international groups, such as the Asia-Pacific focused Quadrilateral Security Dialogue (Quad), and Group of Seven Nations (G7), are examples of the country attempting to define the "international community," while going against China. The foreign minister also rebuked the U.S. and other Western nations for accusing China of committing human rights violations in Xinjiang.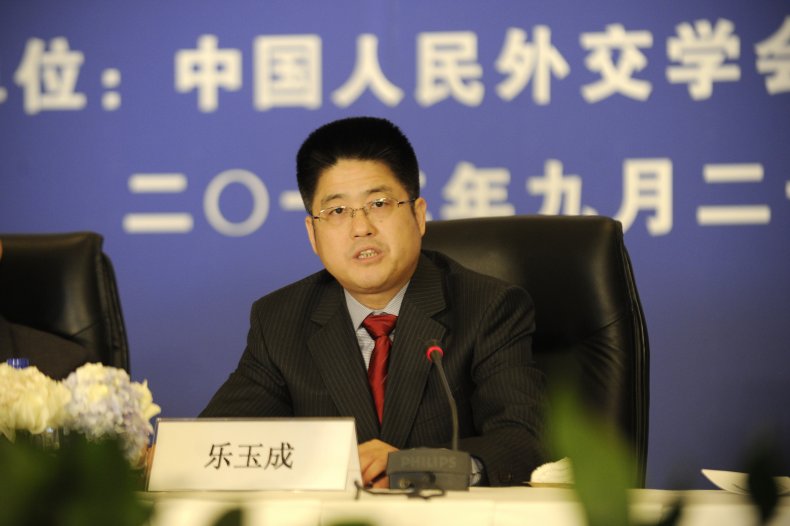 In January, the U.S. became the first country to officially declare China's actions to be genocide, following reports that the nation has placed over 1 million Uyghurs into detainment camps in the Xinjiang region and forced them to work in hazardous conditions against their will. The country has also been accused of using sophisticated techniques to hack into the phones and technologies of ethnic minorities.
Le's statements on Friday come as several U.S. officials are sounding the alarm that China's economy and military are growing at rapid rates.
Last month, Utah Republican Senator Mitt Romney warned that China is on track to become "the most powerful economy in the world and the most powerful military in the world," likely representing the most significant challenges to U.S. foreign policy.
"I think the president is increasingly aware of that challenge, as is his secretary of state, [Antony] Blinken, and I think they're looking to try to pull together our alliances to wake up to that reality and take action to dissuade China from the path of confrontation and military aggressiveness," Romney said during an interview on CNN's State of the Union.
Similarly, in a recent interview published in the Financial Times, senior NATO officer Stuart Peach remarked on China's rapid military expansion.
"It is quite shocking how quickly China has built ships, how much China has modernized its air force, how much it has invested in cyber and other forms of information management, not least facial recognition," Peach told the news outlet.
Newsweek contacted the White House for additional comment, but did not hear back in time for publication.