Chinese Helicopters Could Sink Taiwan's 'Aircraft Carrier Killers,' State Media Claim
China's bullish state-owned media has attempted to downplay Taiwan's newly unveiled "aircraft carrier killer" corvettes, saying the warships could be sunk by a single attack helicopter.
In an editorial published on Wednesday, Chinese Communist Party newspaper Global Times said Taiwan's new fleet of Tuo Chiang-class guided-missile corvettes would be potential targets for the People's Liberation Army Z-9 helicopter.
The island nation's latest domestically produced corvette was unveiled at the Lungteh shipyard in eastern Taiwan the day before. The ceremony was attended by President Tsai Ing-wen, who named the prototype "Ta Chiang."
The heavily armed corvettes will come equipped with an array of missiles and anti-surface weaponry. Military analysts say the fleet will be a key component of Taiwan's coastal defense, capable of effective hit-and-run tactics against the PLA Navy.
However, Chinese military commentator Song Zhongping told Global Times that Taiwan's Tuo Chiang-class warships would be bogged down by its missile and torpedo complement.
"It is a small ship with strong firepower, but its planned tactic against the PLA will not work," Song was quoted as saying.
The rapid attack vessel, which Taiwanese media outlets have dubbed the country's "aircraft carrier killer," would not reach Chinese warships in the event of a military conflict in the Taiwan Strait, he argued.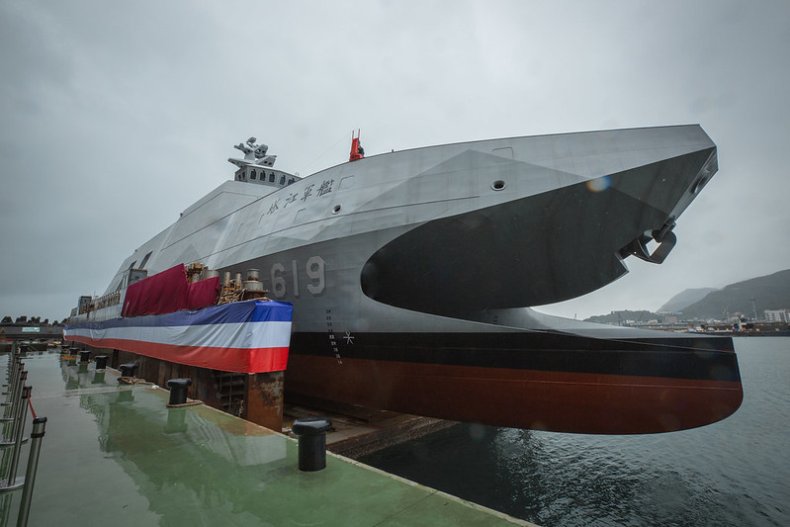 "The PLA may not use warships against the island's corvettes in the first place, but instead use aircraft to destroy them," Song said.
The report by the party tabloid said one of China's Z-9 helicopters would carry enough munitions to sink a Taiwanese corvette.
"This makes the Tuo Chiang-class corvette a target candidate for the Z-9," the article said.
PLA Z-9s have been taking part in live-fire military drills in the South China Sea since November. They are being launched from China's Type 075 landing helicopter dock, one of which is in the region, while a second was assigned to the East China Sea earlier this year.
The ship carries up to 30 attack helicopters.
Taiwan's navy will take delivery of its first fully kitted Tuo Chiang-class missile corvette in July next year. It expects to have a fleet of six by 2023, with five more to be delivered by 2025, it said in a statement Wednesday.
The navy had originally asked for three corvettes to be built by 2025, but it increased its order due to "increasing threats by the enemy," the statement said.
Last month, President Tsai announced Taiwan's first indigenous submarine program, which will deliver the first of eight submarines by 2025.
The "Made in Taiwan" submarines and corvettes, together with the country's existing land-based anti-ship missile launchers, are expected to be key in preventing a successful Chinese takeover of the democratic island, analysts say.