Chinese Media Blasts U.S. for Playing 'Psychological Game' as Navy Ships Sail Taiwan Strait
China's state-run media slammed Washington for playing a "psychological game" after two U.S. Navy destroyers sailed through the Taiwan Strait over the weekend.
In an editorial published Monday, the Communist Party-affiliated newspaper, the Global Times, accused the Trump administration of increasing tensions amid a trade battle after the U.S. sailed two destroyers through the Taiwan Strait on Saturday.
"The US is sending political signals by sending warships through the Taiwan Straits," the article read. "In the future, Washington may send larger warships to the Taiwan Straits, conduct military training and drills, and even collaborate with Taiwan's military in an attempt to deter the mainland."
The article continued: "Increased trade tensions between Beijing and Washington and Tsai Ing-wen administration's constant provocations have put further strain on the cross-Straits situation. Now, Washington has put warships to the show in the West Pacific region."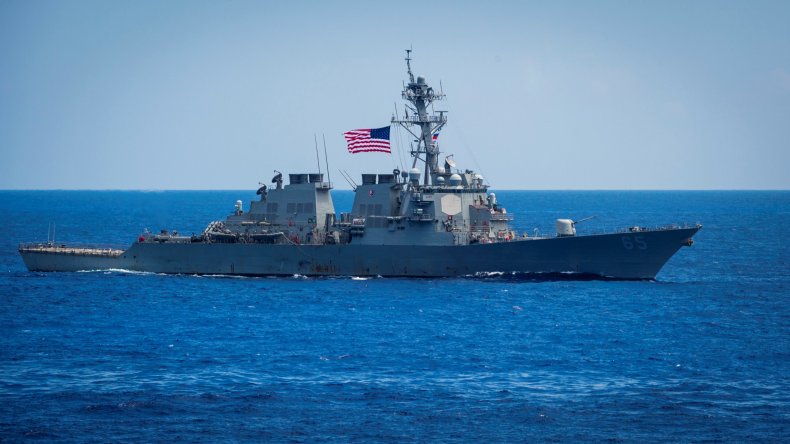 On Sunday, Liu Jieyi, director of the mainland's Taiwan Affairs Office and China's former ambassador to the UN, accused Washington of strategically playing the Taiwan card, the South China Morning Post reported. "We staunchly oppose any move that harms China's national interest. We won't accept that," Liu said. "The Taiwanese public should clearly understand the real purpose behind these US moves and not help them to play the 'Taiwan card.'"
In a statement, Captain Charlie Brown, a spokesman for the U.S. Pacific Fleet, confirmed that the two navy ships had "conducted a routine transit through the international waters of the Taiwan Strait on July 7-8." He also added that "US Navy ships transit between the South China Sea and East China Sea via the Taiwan Strait and have done so for many years."
Professor Steve Tsang, a political scientist and director of the SOAS China Institute, told Newsweek that U.S. naval ships can lawfully conduct transit of the Taiwan Strait, so the passage of warships through the high seas is not normally news. "But, it being Taiwan, it has a symbolic significance," he added. "Whether it was intended or not, there would be a message that Americans do not accept that the Taiwan Strait is off limits. That is quite clear."
Beijing claims Taiwan as its own and has never renounced using force to bring, what it views, a wayward province under its control. Taiwan has repeatedly declared that it has no interest in being governed by China's ruling Communist Party.
In March, China threated that it will take military and diplomatic countermeasures against America after President Donald Trump signed the Taiwan Travel Act, a bill that encourages high-level official visits between the U.S. and Taiwan.