The People's Liberation Army Navy has conducted "intensive" combat exercises in three major seas surrounding the country, Chinese military channels reported this week.
The Chinese navy's simultaneous release of information and images from its Northern, Eastern and Southern theater commands came ahead of the Biden administration's first overseas diplomatic visits to Tokyo and Seoul.
According to China's state broadcaster CCTV, PLA warships and warplanes took part in recent live-fire exercises in the Yellow Sea, as well as the contested East and South China seas, where the Chinese government has territorial disputes.
The "combat-oriented" naval exercises in the Yellow Sea included main and secondary autocannon firing by corvettes Wuhai, Datong and Yingkou, the national television station said Sunday. Type 052 destroyer Qingdao and frigate Yantai and were ordered to sink an "enemy frigate" during the same mock operation, Fujian-based Southeast Television (SETV) reported Tuesday.
In the East China Sea, where Beijing claims rights over the Japan-controlled Senkaku Islands, Type 051 destroyer Jinan practiced torpedo countermeasures while frigate Changzhou launched torpedos against a simulated submarine target, CCTV said. Anti-submarine aircraft were also present during the drill.
A far seas operation force comprising four ships held attack exercises against "enemy aircraft and surface vessels" in the South China Sea, SETV reported. Among them was Type 052D destroyer Yinchuan, Type 071 amphibious transport dock Wuzhishan, frigate Hengyang and support ship Chaganhu.
Chaganhu, a Type 091 replenishment vessel, was also part of a 34-day far seas mission which took the PLA Navy across the International Data Line deep into the Pacific, the Chinese military said last month.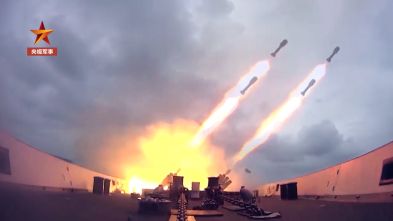 The South China Sea operation also included search and rescue and driving training, said Sunday's CCTV military report. Similar exercises are expected to continue in the area for the entirety of March, with China's maritime authority announcing a no-go zone around Leizhou Peninsula until the end of the month.
China's state-run broadcaster said the naval forces from the three theater commands conducted more than 10 training items in total but did not reveal when exactly the drills took place.
The announcement, however, coincided with the visits to Japan and South Korea by Secretary of State Antony Blinken and Secretary of Defense Lloyd Austin.
The top Biden officials arrived in Tokyo early Tuesday and will be in Seoul on Wednesday for double "2+2" sessions with their foreign and defense ministry counterparts.
On Thursday, Blinken will be joined by national security adviser Jake Sullivan as the pair host the administration's first in-person sit-down with Chinese diplomats Yang Jiechi and Wang Yi in Alaska.