Joe Biden and Xi Jinping's Diplomats to Talk Over 'Deep Disagreements'
Senior White House officials will meet Xi Jinping's top diplomats next week for the first time since President Joe Biden took office, with Antony Blinken preparing to spell out Washington's most pressing concerns during a two-day sit-down on American soil.
Secretary of State Blinken tweeted on Wednesday that he would be meeting senior official Yang Jiechi and Foreign Minister Wang Yi in Alaska on March 18. Yang, a former ambassador to Washington, is a high-ranking Politburo member and director of China's Central Foreign Affairs Commission.
Before Blinken and Yang's first telephone conversation in February, the Chinese diplomat had given a speech warning the Biden administration not to cross Beijing's "red line." In recent weeks, Wang has also listed requirements for a reset of the strained relations between the two nations.
The U.S. and Chinese diplomats will "engage on a range of issues, including those where we have deep disagreements" in Anchorage, wrote Blinken, who will be joined by Jake Sullivan, the president's national security adviser.
Beijing has said bilateral relations are at their worst in more than 40 years. The countries are at loggerheads over China's trade practices and human rights violations, as well as its political and economic coercion against regional neighbors.
The Chinese foreign ministry confirmed on Thursday that the talks would take place between March 18 and 19. In an announcement carried by state-owned press agency Xinhua, spokesperson Zhao Lijian said the Chinese diplomats would travel to Alaska—at the invitation of the United States—for "high-level strategic dialogue."
China's description of next week's meeting differs from Blinken's. The State Department head told members of the House Foreign Affairs Committee that it was "not a strategic dialogue."
There was "no intent" for any subsequent engagements unless there were "tangible outcomes" on issues of concern, Blinken told committee members on Wednesday.
The secretary of state, who called China the "biggest geopolitical test of the 21st century," said Beijing's policies in Xinjiang would be on the agenda.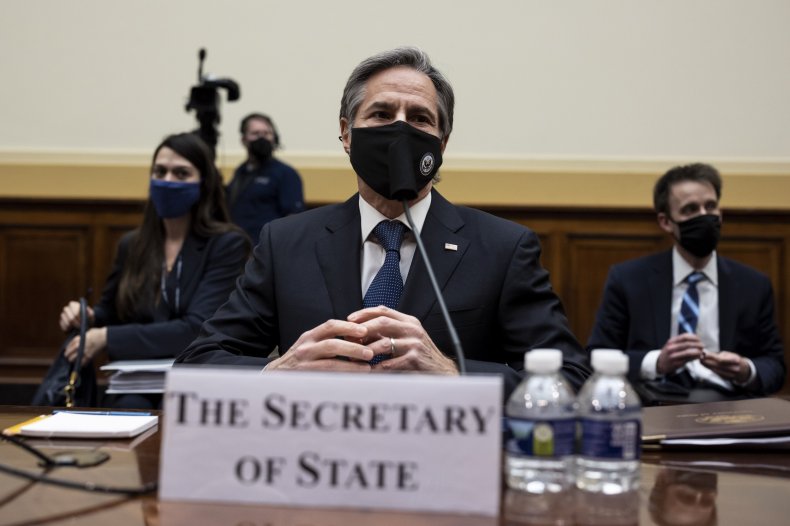 Following some uncertainty this week, the Biden administration has clarified its position that the situation in the northwest China region constitutes genocide. Rights groups and media reports say more than 1 million Uyghur Muslims and other minorities have been subjected to mass internment, forced labor and sterilization against their will.
These accounts have led to a growing campaign, including on Capitol Hill, for a boycott of the 2022 Winter Olympics in Beijing. The calls have been met with fierce opposition from China.
"If China claims that there is nothing going on, let it give access to the international community, to the United Nations," Secretary Blinken said at the committee hearing. "If they have nothing to hide, show it to us, show the world."
He told lawmakers that further punitive measures, such as sanctions or visa restrictions, were possible.
China's foreign ministry has repeatedly pushed back against accusations of human rights abuses in Xinjiang. Xi's top diplomats are expected to do the same in Anchorage while also demanding that Washington cool its support for Taiwan.
Before the Alaska talks, Blinken and Defense Secretary Lloyd Austin will make the Biden administration's first diplomatic visits abroad, traveling to Tokyo and Seoul for "2+2" meetings with their respective foreign and defense ministries.
A State Department bulletin said Blinken and Austin would be in Japan on March 16 and 17 and in South Korea on March 17 and 18.
The destinations are a sign of the emphasis the Biden administration has placed on partnerships and security in the Indo-Pacific region.