Chinese New Year 2019: Facts, Sayings to Celebrate the Year of the Pig
Millions around the world are gearing up for a second new year celebration. Chinese New Year, which is also known as the Spring Festival, will be celebrated on February 5.
There are many interesting traditions that make Chinese New Year so different from New Year's holiday celebrated by cultures outside of China. Chinese New Year follows the lunar calendar and typically fall between mid-January and mid-February.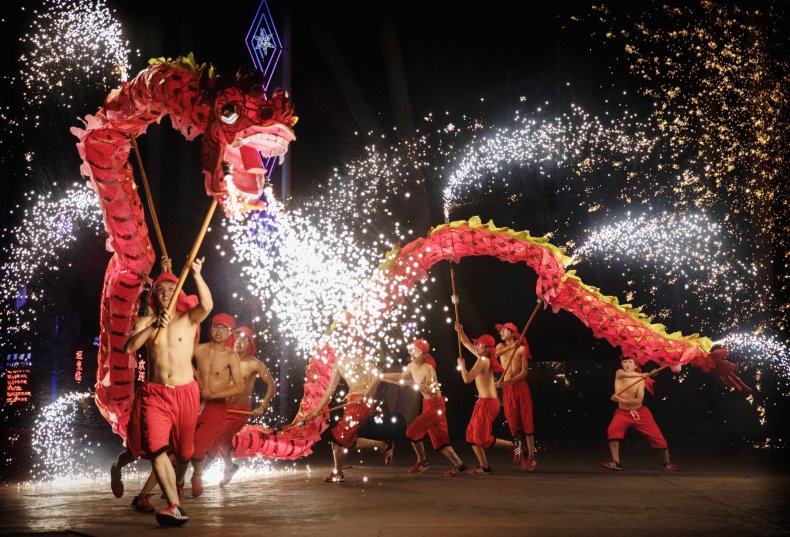 Newsweek has gathered 8 interesting facts about Chinese New Year.
February 5 will kick off the Year of the Pig. Each lunar cycle in China is comprised of 60 years, with every 12 year period defined as a small cycle. Each of those 12 years is represented by an animal: Rat, Ox, Tiger, Rabbit, Dragon, Snake, Horse, Sheep, Monkey, Rooster, Dog and Pig.
The Year of the Pig is the twelfth sign of the Chinese zodiac and it signifies wealth and prosperity. According to legend, people share some personality traits with the animal that represents the year they were born in.
China is not the only country to celebrate Chinese New Year. The holiday is observed in Hong Kong, Taiwan, Vietnam, Singapore and other Asian countries. In Vietnam, for example, the holiday is known as Yet Nguyen Dan.
The celebration around Chinese New Year lasts 15 days and concludes with the Lantern Festival.
People celebrate with a reunion dinner on Chinese New Year's Eve, which lands on February 4 this year, with their families. After the reunion dinner, families watch the CCTV New Year's Gala, according to Travel China Guide. The graphic below was provided by Statista, highlighting the biggest temporary migrations of people on Earth.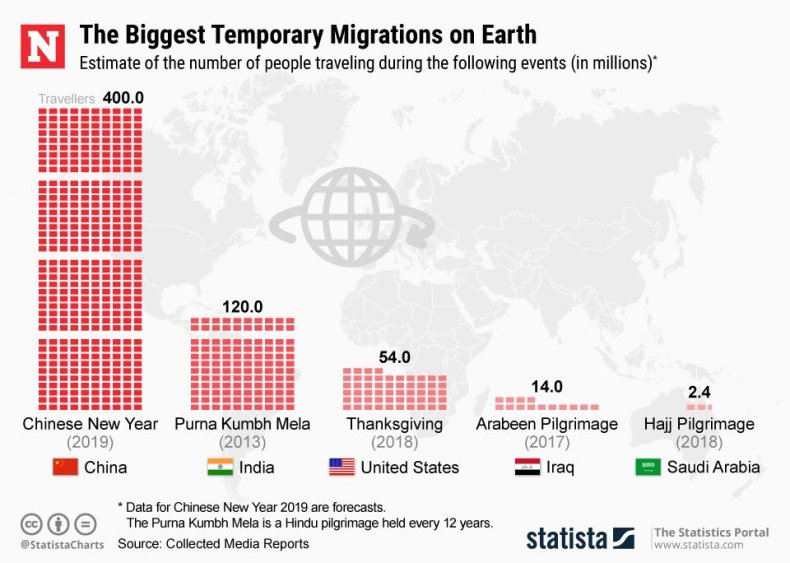 Traditionally, people give out red envelopes, called hongbao in Mandarin, filled with money as a way to sending good luck and well wishes. According to Chinese tradition, a demon called Sui would terrorize sleeping children during New Year's Eve. One night, parents gave their child eight coins to play with and to stay awake. Although the child fell asleep, the coin scared off Sui. The coins were actually Eight Immortals disguised to protect the child, Refinery29 reported.
Fireworks displayed during Chinese New Year are part of a tradition of lighting bamboo stalks on fire to scare away evil spirits, according to CNN.
Some superstitions during the Chinese New Year period include: people are not allowed to wash their clothes on the first or second day of the celebrations and they are not allowed to wash their hair on the first day of the lunar year because it is seen as "washing your fortune away."
Chinese New Year Sayings
"Happiness, Prosperity, Longevity"
"Happy New Year, I wish you good health and lasting prosperity."
"Wish you luck in the Year of the Pig."
This article was updated to include an infographic.