Chinese New Year 2019: Year of the Pig Parade in New York City, Date, Time and Location
As the Chinese year of the dog draws to a close, millions of people around the world are preparing to ring in the year of the pig—and that includes New Yorkers.
On February 17, New York City will host its 20th free annual Lunar New Year parade. Kicking off at 1 p.m. in Chinatown, lower Manhattan, the parade will see the traditional Chinese dragon and participants in colorful costumes wind from Mott & Canal to Chatham Square, heading to East Broadway towards the Manhattan Bridge. It will wrap up by heading towards Eldridge and Forsyth Streets towards Grand Street beside Sara D. Roosevelt Park.
The graphic below was provided by Statista, highlighting the biggest temporary migrations of people on Earth.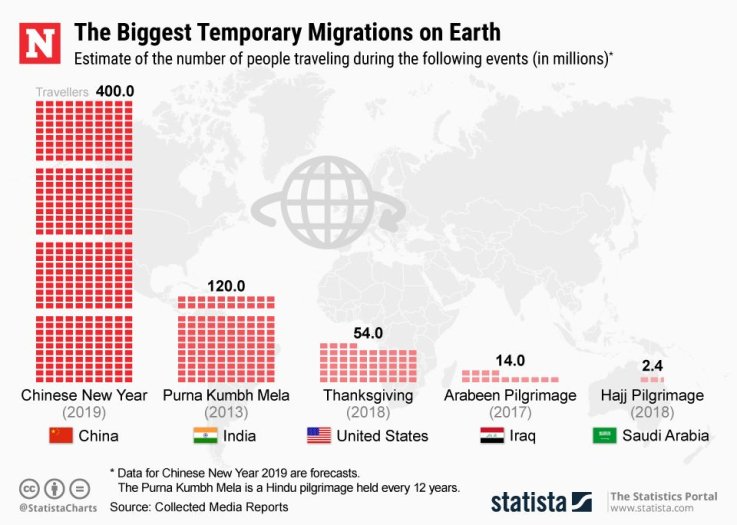 The New York City Parks service recommends heading down to the parade route as early as possible to make sure you get a spot with a good view. Revelers can also enjoy food vendors and cultural performances, as Chinatown becomes a sea of red.
And don't worry if you can't make the annual Lunar New Year Parade. Chinese New Year is celebrated for around 15 days, this year running from February 4 until February 19. In the Big Apple, events are running throughout this period. On February 9, a celebration for children will be held at the Snug Harbor Cultural Center, Staten Island, where attendees can learn about the Chinese Zodiac, make crafts and gorge on treats like dumplings and spring rolls.
The Lunar New Year is celebrated not only across China—in regions as diverse as Tibet and Guangxi—but also other countries including South Korea and Vietnam. As such, the Arts, Culture and Fun: Tet Lunar New Year fest on February 9 at St. James Recreation Center in the Bronx neighborhood will mark the occasion with Vietnamese poetry, dance, music and other festivities.
According to Chinese mythology, the pig is the 12th animal of the zodiac. The story goes that the animals were numbered according to the order in which they arrived at a party thrown by the Jade Emperor. In some stories the pig is said to be last because he slept in, while others state he was reconstructing his home after it was wiped out by a pesky wolf.
This article has been updated to expand on the popularity of the Lunar New Year and how widely celebrated it is, and to add an infographic.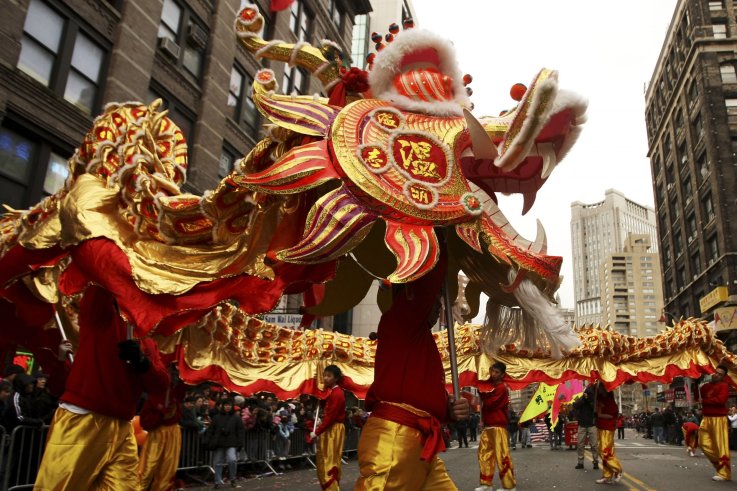 Chinese New Year 2019: Year of the Pig Parade in New York City, Date, Time and Location | U.S.