Chinese Official Coy About 'National Reunification Law' to Capture Taiwan
A Chinese official failed to rule out the possibility of Beijing drafting a "national reunification law" to seize the democratic island nation of Taiwan when quizzed by state media on Wednesday.
China would "take all necessary measures" to ensure the "peaceful reunification" of Taiwan with the mainland, Taiwan Affairs Office spokesperson Zhu Fenglian told reporters at a regular briefing, before saying Beijing would "smash to pieces" any attempts by Taipei to claim independence.
Her answer came in response to a question from Xinhua News Agency, China's state-run news outlet, leading some cross-strait observers to speculate that the exchange was planned.
China's ruling Communist Party claims ownership of Taiwan, a de facto state since the end of the Chinese civil war in 1949, and says one of its core interests is to bring the self-ruled island under Beijing's control.
In 2005, the party under President Hu Jintao created the Anti-Secession Law to make provisions for the "non-peaceful" takeover of Taiwan in the event the neighboring democracy declared independence.
The legislation promises to grant Taiwan a high degree of autonomy, a reference to the "one country, two systems" approach China has deployed in Hong Kong and Macau.
This approach was the best way to achieve "national reunification" while considering the "objective differences" between residents in China and Taiwan, said Zhu.
One country, two systems is rejected by all major Taiwanese parties, including President Tsai Ing-wen and her ruling Democratic Progressive Party.
However, the characterization of Tsai as seeking independence or "secessionism" might be considered misleading—she says she advocates for the "status quo."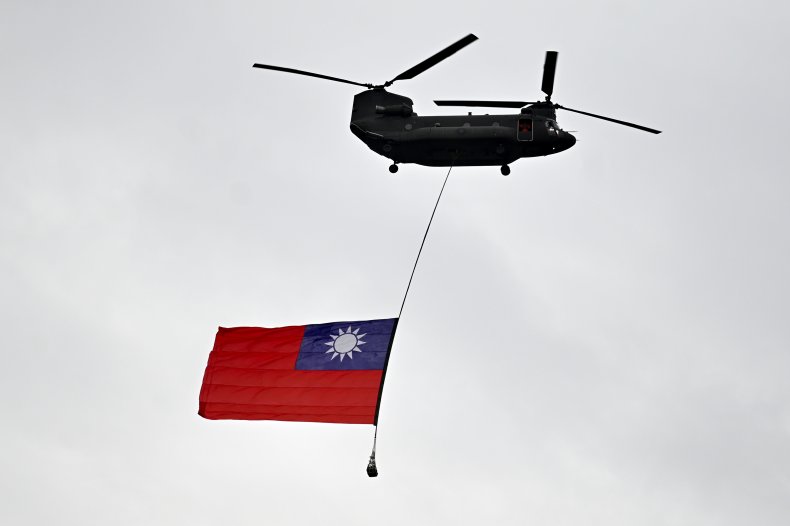 "We don't have a need to declare ourselves an independent state," she told the BBC in January after she won re-election. "We are an independent country already and we call ourselves the Republic of China (Taiwan)."
Earlier this month, at a forum hosted by China's state-owned tabloid Global Times, cross-strait experts agreed that the prospect of bringing Taiwan under Chinese control without resorting to force was growing smaller.
Calls followed for Beijing to show Taipei it was ready to use non-peaceful means—whether that was the party's intention or not—in order to sway public opinion on the island. Among the mooted suggestions was the drafting of a "national reunification law" to formalize and legalize its goal.
It is unclear how such a law would work with the Anti-Secession Law. Analysts say they could coexist or one could be integrated into the other.
Taiwan's Mainland Affairs Council dismissed the notion of such a law late on Wednesday.
"We would never accept or recognize it," a spokesperson told Taipei newspaper Liberty Times.
"Taiwan's mainstream public opinion has long been to maintain the Taiwan Strait status quo and reject one country, two systems," the statement said.
Last week, a Beijing law professor who advocated for the Hong Kong national security law called on the Chinese government to draft identical legislation for Taiwan.
Tian Feilong of Beihang University said it was time the Chinese leadership made preparations for the "non-peaceful reunification" of the island and its 23.5 million inhabitants.
In November, Beijing's Taiwan Affairs Office admitted for the first time that the government was compiling a wanted list of "diehard Taiwan secessionists" with the view of punishing them under Chinese criminal law.
China's state media has suggested President Tsai and her premier, Su Tseng-chang, would likely be among the first to be included in the blacklist.