Chinese Scientist Working on Coronavirus Claims Pets Can Catch Infection, Says Owners Should Monitor for Symptoms
Pets can catch the mysterious new virus that has already killed almost 200 people, according to a Chinese expert who has urged people to monitor their domesticated animals.
Li Lanjuan, an epidemiologist and member of the team China has assembled to confront the new coronavirus, claimed the bug, dubbed 2019-nCoV, can be transmitted from mammal to mammal. She did not say if there had been cases of infected pets.
The World Health Organization (WHO) has previously stated there is no evidence that pets, like dogs or cats, can be infected with the virus. It's not clear if 2019-nCoV "has any impact on the health of animals and no particular event has been reported in any species," the agency said. Newsweek has contacted China's National Health Commission for comment.
Lanjuan told China Central Television, according to a translation by China Daily: "If pets go out and have contact with an infected person, they have the chance to get infected. By then, pets need to be isolated. In addition to people, we should be careful with other mammals especially pets."
Since workers at a wholesale food market in the city of Wuhan, Hubei province, started to fall ill late last year, the new coronavirus has killed 170 people in 7,783 cases across more than a dozen countries as the infographic from Statista below shows. All of the deaths have occurred in mainland China, and largely Hubei.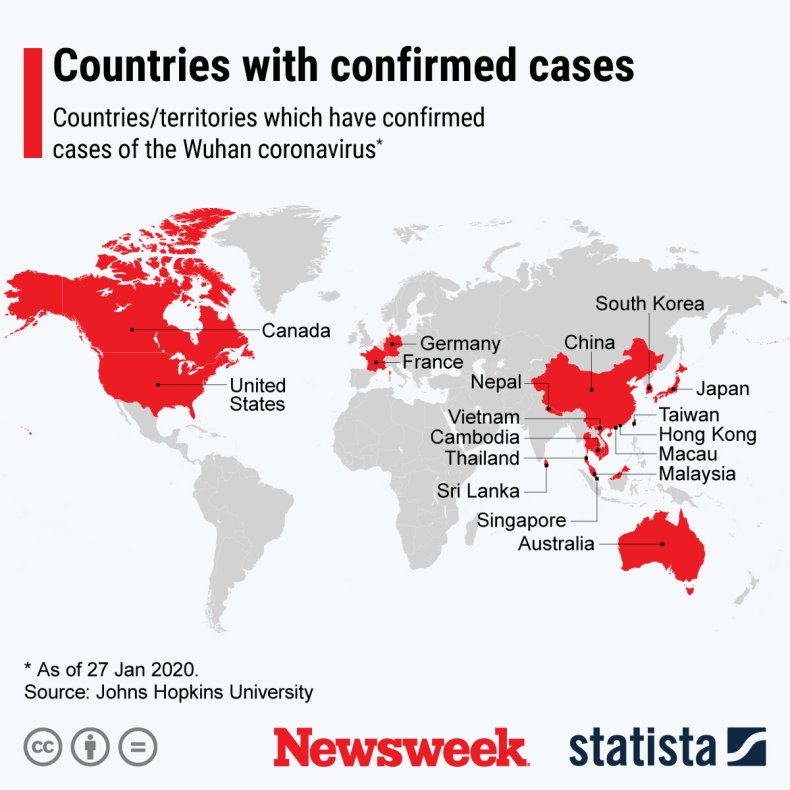 The coronavirus is thought to have initially passed from animals to humans in the market where live and dead animals were sold, and later transmitted between humans. So far, person-to-person transmission has been confirmed in three countries outside of China.
As its new, scientists know relatively little about the bug, which is a member of the coronavirus family and causing symptoms such as a fever, dry cough, shortness of breath and trouble breathing. Coronaviruses can cause conditions as mild as the common cold to more severe infections like Severe Acute Respiratory Syndrome (SARS) and Middle East Respiratory Syndrome (MERS).
According to the WHO, the virus has an incubation period of between two to 10 days. More data from patients is needed to determine whether it can pass from people who don't have symptoms or during the incubation period, the body said.
The information we do have indicates that people should follow standard hygiene measures when visiting markets where live animals or products are sold, as well as wet markets, the WHO said. That includes regularly washing hands with soap and water after touching animals or products, and avoiding putting hands in your nose, mouth or eyes after touching sick animals or spoiled animal products. People should also avoid eating raw or undercooked animal products, and raw meat, milk, or organs "should be handled with care, to avoid cross-contamination with uncooked foods, as per good food safety practices."
"Any contact with other animals possibly living in the market (e.g., stray cats and dogs, rodents, birds, bats) should be strictly avoided," the WHO said.
Paul Hunter, a professor in medicine at the U.K.'s Norwich School of Medicine, University of East Anglia, told Newsweek last week that we may never know where the virus originated. But he said snakes are the most likely source.
"The virus has already been detected in both bats and snakes prior to this outbreak and the strains in both bats and snakes are similar to each other and the strains from human cases," he said. "Human cases are more like the strains in snakes so that is the more likely."
Hunter explained: "I suspect the most likely transmission pathway would be from aerosols produced during handling of the live animals and during butchery and food preparation, which would then be inhaled or contaminate surfaces that would then be touched by people."
He added: "Ideally we would like to isolate the virus from food animals in the market, but it is likely that the infected batch of animals are long gone."