Wuhan Pneumonia: What Are the Symptoms of China Coronavirus 2019-nCoV?
Health officials in the U.S. have asked clinicians to be on the look out for patients with symptoms of a mystery virus from China, which has been identified in a man in Washington state.
The U.S. Centers for Disease Control and Prevention (CDC) said the man had recently returned to Seattle from Wuhan, a central city in Hubei Province. This is where an outbreak of viral pneumonia started late last year.
Since December 2019, almost 300 people in mainland China have fallen ill and several have died after catching a new type of what is known as a coronavirus, according to the CDC. Cases have also been identified in Thailand, Japan, and South Korea.
According to according to a statement from China's National Health Commission, President Xi Jinping said that all-out efforts must be made in the prevention and control of the bug, particularly as new year celebrations are due to start on January 24. During this period, Chinese citizens will make up to three billion trips in what is the largest human migration on the planet.
At the start of January, the CDC put in place a number of precautions against the potential spread of the bug dubbed 2019-nCoV. That includes health officials being alert to patients who have been to Wuhan and returned with respiratory symptoms.
Symptoms of 2019-nCoV include:
A fever
Dry cough
Shortness of breath
Trouble breathing
WHO spokesperson Tarik Jašarević told a press conference on Tuesday: "Reports suggest that infection can cause mild to severe disease and be fatal in some. Based on current data, some new cases seem to experience milder diseases which is within the milder end of the spectrum of symptoms caused by respiratory illnesses".
He said "an animal source seems the most likely primary source of this outbreak with limited human-to-human transmission occurring between close contacts."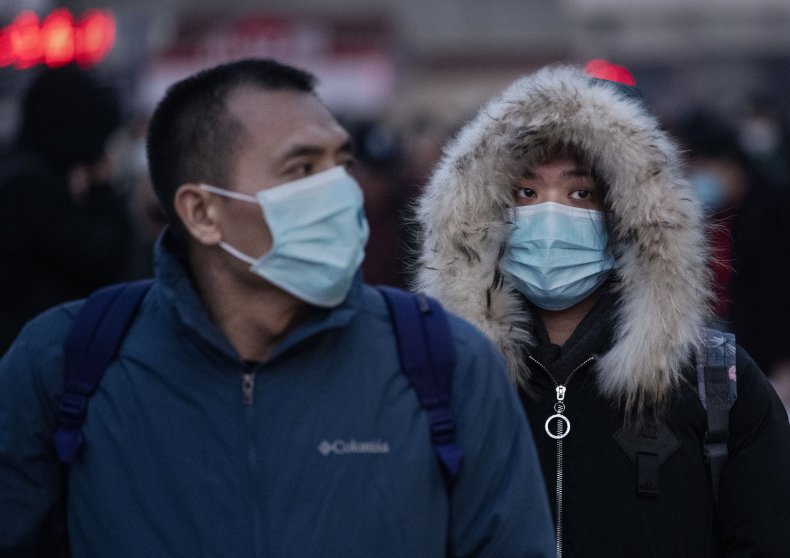 To stop the spread of the bug, the WHO advises people to wash their hands regularly, cover their mouth and nose when coughing and sneezing, thoroughly cooking meat and eggs, and avoiding close contact with anyone showing symptoms of respiratory illness, such as coughing and sneezing.
Coronaviruses are members of a large family of viruses which can cause conditions as mild as the common cold, to more severe infections like Severe Acute Respiratory Syndrome (SARS). Symptoms of this group of viruses can include a fever, cough, shortness of breath and breathing difficulties, with more serious cases involving pneumonia, severe acute respiratory syndrome, kidney failure, and death, according to the WHO.
Mary Rodgers, a principal scientist in diagnostics at the healthcare company Abbott Laboratories told Newsweek: "It is very likely that this virus is transmitted via the respiratory route, so the usual guidelines for avoiding exposures to respiratory viruses will likely apply—frequent hand washing, covering coughs, and avoid touching your face. These are things you should always follow when traveling to avoid getting sick. "