Was the Chinese Spy Balloon Recovered? Navy Working to Learn Its Secrets
A suspected Chinese spy balloon was shot out of the sky by the U.S. military at the weekend, after traveling across a vast swathe of U.S. and Canadian territory.
The high-altitude aircraft was allowed to travel in U.S. airspace as President Joe Biden accepted a recommendation not to take it out while it remained over land, amid safety concerns for those on the ground. A recovery operation is underway to secure and assess the debris after it was blasted out of the sky over the Atlantic Ocean.
The balloon was first spotted north of the Aleutian Islands on January 28, and it moved over Alaska and into western Canada on January 30. It then crossed back into U.S. territory on Tuesday, before being sighted over Montana—home to one of America's three nuclear missile silo fields—on Wednesday. Modeling suggests it drifted across the Pacific from mainland China.
It was shot and punctured by an F-22 fighter at 2.39 p.m. ET on Saturday, around six nautical miles off the coast of Myrtle Beach in South Carolina, North American Aerospace Defense Command (NORAD) officials said. It had been flying at an altitude of around 18,000 meters (60,000 feet).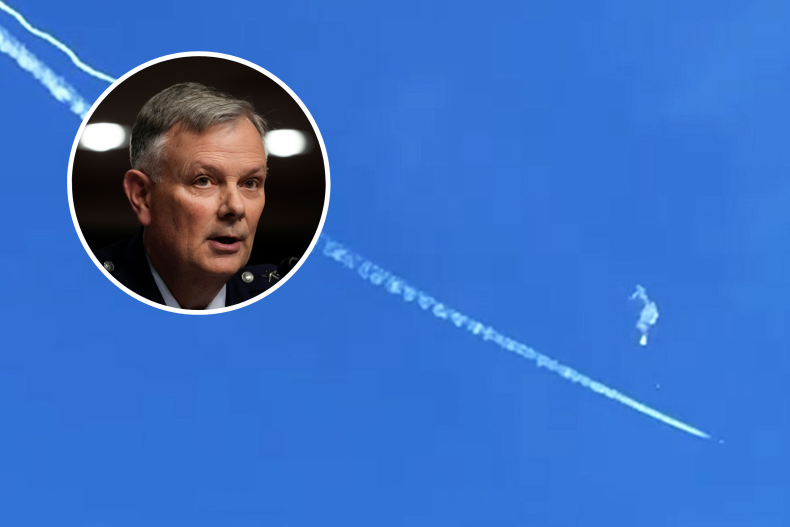 General Glen VanHerck, NORAD commander, said in a statement that at the president's direction the U.S. Northern Command, which he also oversees, brought the balloon down "within sovereign U.S. airspace and over U.S. territorial waters to protect civilians while maximizing our ability to recover the payload."
The stratospheric balloon's debris landed in 47 feet of water over around a seven-mile area. Officials told the Associated Press that the recovery would be completed in a short timescale, and that the remnants of the craft were expected to be taken for further analysis at an FBI lab in Quantico, Virginia.
NORAD said on Sunday that U.S. Air Force and Navy personnel "are working to recover the balloon and payload."
Tom Shugart, an adjunct senior fellow at the Center for a New American Security and a navy serviceman for over 25 years, told Newsweek that he had seen messages on the Automatic Identification System—used for tracking vessels—which showed a U.S. Navy amphibious assault ship "that appeared to be heading toward the site of where the balloon was shot down at the time it was shot down" as well as a government-owned survey vessel that "was operating at slow speeds around 30 miles off the coast of South Carolina" the following morning.
In a statement on Saturday evening, North Myrtle Beach Police confirmed the U.S. military was collecting the debris, adding that "it is possible some of those pieces may wash ashore."
"Debris should not be touched, moved, or removed. Such items are part of a federal investigation and tampering with them could interfere with that investigation," the force said.
Defense officials previously said that they believed the balloon was designed to collect information on military sites within the U.S., but that it didn't give China intelligence beyond what it could already obtain through other means—suggesting its primary intention was to enflame tensions.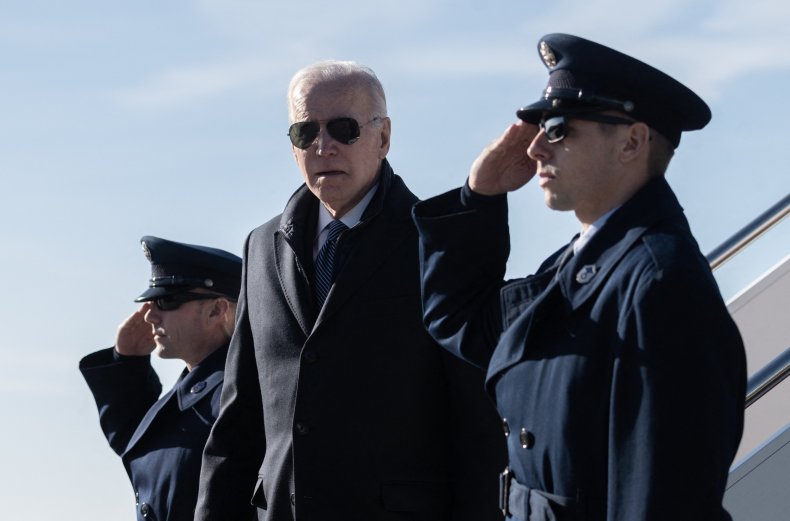 Analysis of the wreckage will likely center on not just the design of the aircraft, but what sort of equipment it was carrying, and therefore what information it was able to gather. Newsweek has contacted NORAD for comment.
"There's a number of reasons the wreckage would be useful to have," Shugart said. "Obviously, there's some intelligence gains on the part of the U.S. for [...] having a better idea of what kind of equipment, the capabilities that were in that equipment, what kind of data may have been extricated from that Chinese surveillance balloon in the course of its going over the U.S."
He suggested it was likely the balloon had communication systems that could transmit in real time the information it was gathering. Noting the conflicting stories given by U.S. and Chinese officials about the nature of the balloon, Shugart added: "If the government could collect evidence that gave a clear indication that it was a surveillance platform and not a meteorological device [...] there could be some messaging there to expose the duplicitousness of the Chinese government."
China has insisted the suspected spy balloon was a civilian aircraft that had accidentally drifted over the U.S. On Monday, it said America had "seriously impacted and damaged both sides' efforts and progress in stabilizing Sino-U.S. relations" by using military force.
Xie Feng, the Chinese vice foreign minister, said he had lodged a formal complaint with the U.S. Embassy on Sunday over the "attack" by the U.S.
Pentagon officials publicly confirmed the balloon was in U.S. airspace on Thursday. According to the Associated Press, both Chuck Schumer, the senate majority leader, and U.S. officials said that following the announcement the balloon changed course.
This ran counter to the Chinese claim that the balloon had limited steering capabilities and had drifted off its course.
Update 02/06/23, 1:00 p.m. ET: This article was updated to include comments from Tom Shugart.