Chinese State Media Calls Botched U.S. Drone Strike in Kabul 'Terrorism,' Demands Penalty
A Chinese state-run media outlet said Saturday that a U.S. drone strike that killed 10 civilians in Afghanistan last month was an act of "terrorism" that should be met with criminal punishment.
In a critical editorial, the Global Times said the U.S. should pay a price for its mistake and called for the incident to be investigated by the International Criminal Court.
"It was a serious act of state terrorism and constituted a war crime. Since the U.S. has almost never seriously held its soldiers accountable for the killing of civilians in Afghanistan and the Middle East, we strongly call on the International Criminal Court (ICC) in The Hague to investigate this matter," the Global Times wrote.
"We also strongly call on the international community with conscience to press the U.S., demanding Washington to cooperate with the international investigation and severely punish those responsible for the killing," it added.
The editorial came one day after U.S. General Kenneth McKenzie admitted that the August 29 attack mistakenly killed 10 civilians, including seven children. The drone strike took place days after Islamic State terrorists killed 13 U.S. service members and over 100 Afghans in a suicide bombing at the Kabul airport.
The strike was originally described as a necessary move to prevent further attacks on American troops, but ultimately led to the deaths of innocent civilians.
"This strike was taken in the earnest belief that it would prevent an imminent threat to our forces and the evacuees at the airport, but it was a mistake and I offer my sincere apology," McKenzie told reporters Friday. "We did not have the luxury of time," he added. "We struck under the theory of reasonable certainty."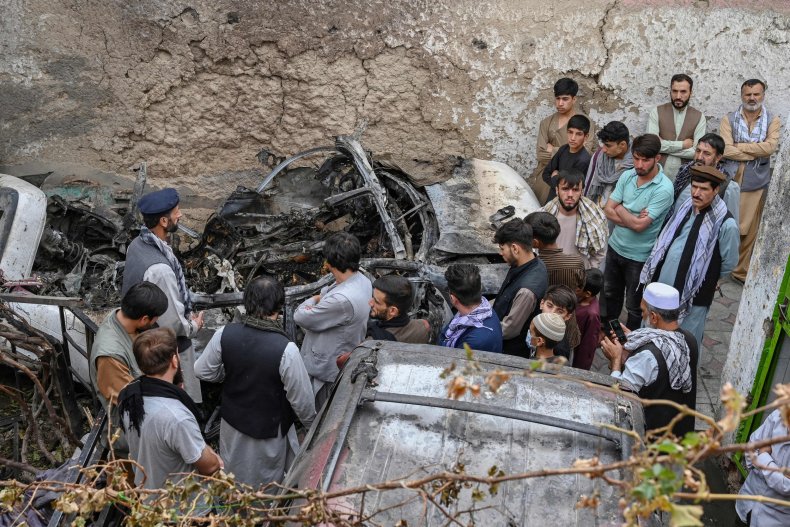 The U.S. government is now considering reparations for those who were killed, but McKenzie said that it could be difficult to reach people on the ground in Afghanistan. The Global Times said Saturday that such compensation for those killed is the "least that should be done to address this crime."
The botched strike has since prompted sharp criticisms from Democrats and Republicans alike, including from Representative Ilhan Omar (D-MN) and former President Donald Trump.
McKenzie said Friday that while the attack was a mistake, it was not a "rush strike," and that there was suspicious activity that prompted the move. He added that he initiated an investigation within 24 hours of the strike to review footage and other information available.
"At the time of the strike, based on all the intelligence available and what was being reported, I was confident that the strike had averted an imminent threat to our forces at the airport," McKenzie said Friday. "I'm here today to set the record straight and acknowledge our mistakes."
Newsweek contacted the White House for additional comment, but did not hear back in time for publication.