Chinese State Media Calls for Building Up China's 'Nuclear Deterrent' Due to 'Bullying Impulse' of U.S.
Hu Xijin, the editor-in-chief of an English daily tabloid published by the ruling Chinese Communist Party, urged his nation to expand its nuclear arsenal in response to "bullying" from the U.S. in a new editorial.
In the article published by The Global Times on Saturday, Hu argued that China needed to build up its stockpile of nuclear weapons as a "deterrent," as U.S. officials have been increasingly critical of the Chinese government amid the coronavirus pandemic. The editor argued that this would "safeguard national security."
"In the past, China's storage of nuclear weapons was deemed sufficient to generate adequate nuclear deterrent, however, it doesn't mean the same storage will be big enough in the future to curb US government's strategic ambitions and bullying impulse against China," Xijin wrote.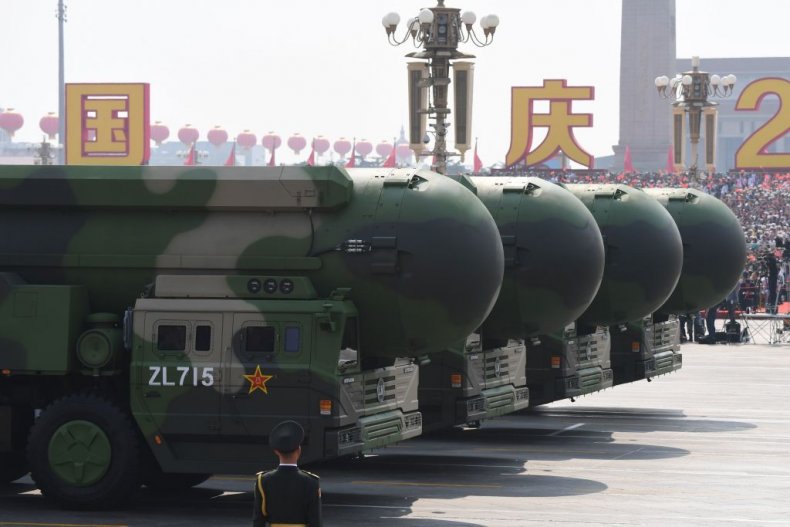 Continuing, the editor argued that the U.S. was currently "more likely to exert all its power at its disposal to suppress and intimidate China." He warned that "China needs to possess the real power to prevent the U.S. politicians from gambling with its nuclear armament and harming China."
Hu clarified that he is not a "warmonger" and does not want a nuclear war. However, he argued that building up China's nuclear arsenal would be a defensive measure to prevent the U.S. from striking first. "China is committed not to be the first to launch nuclear weapons, and it will never threaten non-nuclear countries with its nuclear arsenal," he added.
The Global Times editor previously posted his suggestion to the Chinese social media platform Weibo. He tweeted about the post on Friday.
"I said on Chinese social media that China needs to expand the number of its nuclear warheads to over 1,000 to strengthen nuclear deterrent, given US' rising strategic ambitions and impulses targeting China," Hu wrote. "It received over 60K likes. China pledges no-first-use and it loves peace."
In a statement emailed to Newsweek on Monday, Hua Chunying, a spokesperson for China's Foreign Ministry, said that Hu was expressing his personal viewpoint.
"This is the personal view of Mr. Hu and he enjoys the freedom of speech in China," Hua said.
"China's policy on arms control is consistent. We believe that the country that possesses the biggest nuclear arsenal has special, prior responsibility and should further reduce nuclear arsenal drastically. China has always followed the principle of no-first-use of nuclear weapon," she said. "We pursue a very responsible and restrained policy."
According to 2019 data compiled by the International Campaign to Abolish Nuclear Weapons, China currently possesses about 290 nuclear weapons in its arsenal. The U.S. and Russia have far more nuclear weapons, with a reported 6,185 and 6,500 respectively. France has the third highest number of nuclear weapons, possessing just a few more than China with about 300.
President Donald Trump, Secretary of State Mike Pompeo and some top Republicans have been increasingly critical of China, as they attempt to blame the East Asian nation for the fallout of the coronavirus pandemic. The novel virus was first discovered in Wuhan, China, and Chinese officials initially covered up the outbreak. In the intervening months, China has faced criticism for its lack of transparency about the outbreak, while speculation has mounted that the virus could have possibly leaked from a research lab.
Scientists have dismissed conspiracy theories that the virus was manufactured, but they have not ruled out the possibility that a virus being studied may have leaked from a Wuhan research facility. Trump and Pompeo have pushed the narrative that the virus came from a lab, but intelligence officials have said they do not have proof to back up the theory. Many scientists have also expressed skepticism, arguing that it is far more likely that the virus jumped naturally from animals to humans without leaking from a lab.
"We don't have certainty, and there's significant evidence that this came from the laboratory. Those statements can both be true," Pompeo said last Wednesday.
Meanwhile, an internal Chinese government document reported by Reuters last week warned that global anti-China sentiment has reached a high not seen since 1989's Tiananmen Square crackdown. The document warned that the fallout from the coronavirus pandemic could even potentially lead to military confrontation with the U.S.
Polling data from Pew Research Center showed that Americans broadly view China as a threat to the U.S. The poll, which was conducted from March 3 to 29, showed that about 9 in 10 Americans view China's global influence and power as a threat, including 62 percent who see it as a "major" threat.
This article has been updated with a comment from Hua Chunying, a representative of China's Foreign Ministry.