Chinese State Media Says Pompeo Will Be Destroyed by 'Endless Resistance,' Have Legacy Worse Than Bannon, Amid Consulate Spat
The editor-in-chief of a Chinese state-run newspaper said Friday that Secretary of State Mike Pompeo will be destroyed by "endless resistance," the latest development in escalating tensions between the two nations.
"Pompeo seems very ambitious and wants to create an epic confrontation between great powers to put himself in the history books. Unfortunately for him, he misunderstands the current world; endless resistance will destroy him, making him look even worse than Bannon in the end," Global Times Editor-in-Chief Hu Xijin wrote in a tweet, referencing former White House strategist Steve Bannon.
Xijin's criticism of Pompeo comes on the same day Chinese officials accused the secretary of state of declaring a "new crusade" against Beijing.
Chinese foreign ministry spokeswoman Hua Chunying wrote on Twitter early Friday morning that Pompeo's apparent efforts to establish new relations between the two powers are "as futile as an ant trying to shake a tree."
"It's about time that all peace-loving people around the world stepped forward to prevent him from doing the world more harm," she wrote.
Chunying was referencing Pompeo's speech Thursday at the Richard Nixon Presidential Library and Museum in California, which was to commemorate the former president's establishment of diplomatic ties with China most 50 years ago.
But Pompeo appealed to other nations to no longer "continue blind engagement" with America's top economic competitor, calling China a "new tyranny."
"China is increasingly authoritarian at home and more aggressive in its hostility to freedom everywhere else," he added.
Newsweek contacted the U.S. State Department for comment but did not hear back in time for publication.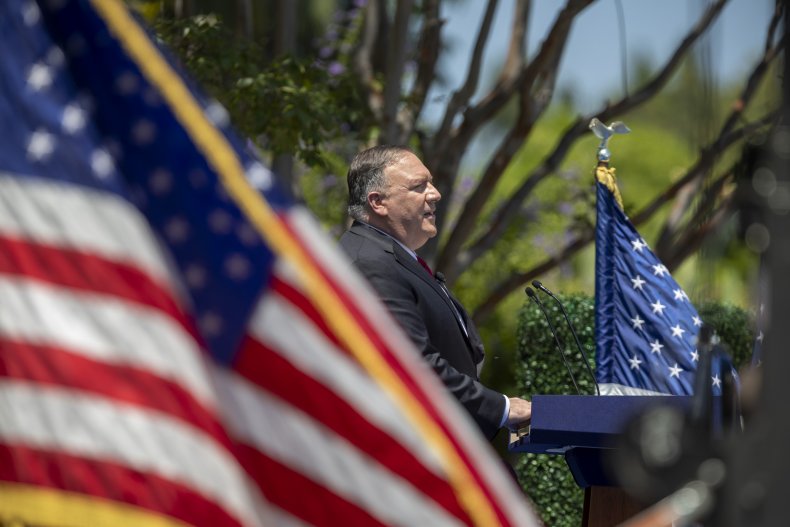 Pompeo's remarks come at a time when U.S.-China relations are already frosty, amid trade tensions, territorial disputes, human rights issues and the Trump administration's continued insistence that China should be blamed for the coronavirus pandemic.
On Monday, Trump called coronavirus the "Invisible Chinese Virus" in a tweet promoting the use of face coverings. Two days later, the State Department said China must shut down its consulate in Houston, after much speculation that it has acted as a U.S. espionage hub for the Chinese government.
In a statement confirming the order, State Department spokeswoman Morgan Ortagus said it was given "to protect American intellectual property and American's private information." She added that the U.S. would not tolerate "violations of our sovereignty and intimidation of our people."
Late Thursday night, the Chinese government announced it would retaliate against the U.S. and ordered the closure of its consulate in Chengdu.
In a Friday editorial, the Global Times, a daily tabloid run by the Chinese Communist Party, said that China's decision to order the consulate's closure was justified.
"We believe in China that no one wants to see a free fall in China-US relations, but the latest reciprocal measure taken by China demonstrates that we won't indulge in the US provocations," the editorial said. "China will not flinch in order to safeguard its bottom line."
The editorial expressed regret that the two powers had to close each other's consulates but argued that the U.S. "severely provoked China first."
"China's reciprocal measure accords with international norms," the editorial said. "We have no other choice."
The editorial also aimed sharp criticism at the Trump administration, blaming it for "dismantling the construction of China-US relations almost with a bulldozer."
Newsweek contacted the Global Times for further comment but did not hear back in time for publication.