Chinese Super League: Is It Really a Threat to the Premier League?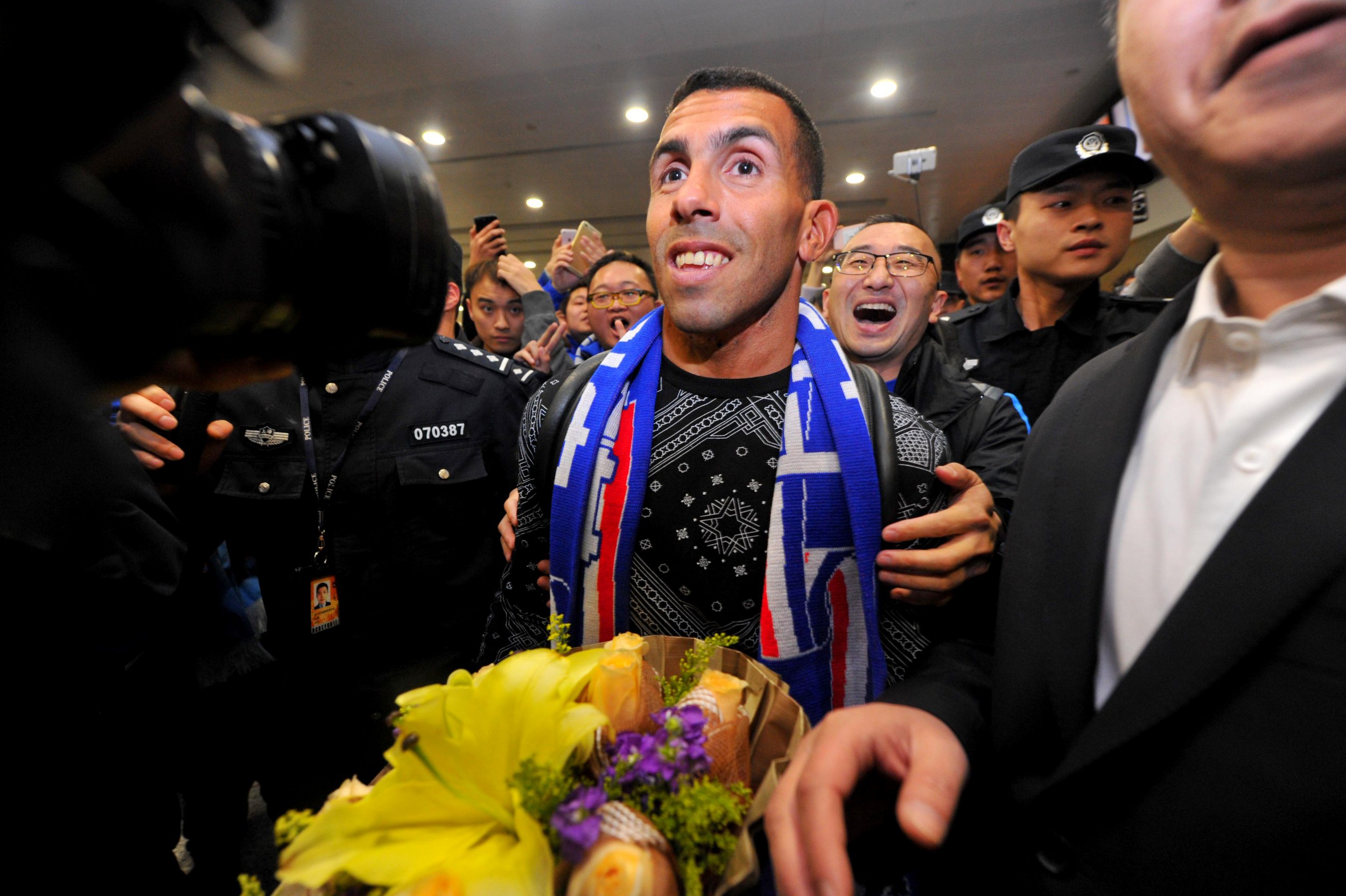 It's becoming something of a January tradition. A few rumors, a big money signing, a Premiership manager bemoans China's ability to outspend on players. In 2016, it was Ramires and Wayne Rooney. This year, Oscar (for £51 million) and Carlos Tevez (possibly £70 million) have gone; Diego Costa is the subject of rumors, and Yaya Touré reportedly turned down a huge offer to play in China.
Mauricio Pochettino, manager of Tottenham Hotspur, said this week that China is paying "crazy money" and it "looks like they broke the market." Tevez will earn a reported £615,000 per week. That does seem crazy.
But should the football leagues and major clubs of Europe be worried?
The Chinese league is only doing what the English Premier League has done to its rivals in Europe for years in hoovering up the best available talent.
The £5.14 billion broadcasting deal that the Premier League signed with broadcasters Sky and BT in 2015 was deeply concerning for German clubs, in particular: their ability to compete for players with mid-ranking Premier League clubs is disappearing fast. At the time, Karl-Heinz Rummenigge, chief executive of Bayern Munich said the "transfer tsunami will increase in strength and height."
The Premier League now has nine of the top 20 highest-earning clubs in the world, more than any other league, according to Deloitte. Yet German clubs still compete strongly in Europe, while English clubs may lose one of their qualifying places in the lucrative UEFA Champions League. The best players don't always get the best results. If Premier League managers in England are worried, they should talk to their German counterparts to see how to succeed while being outspent.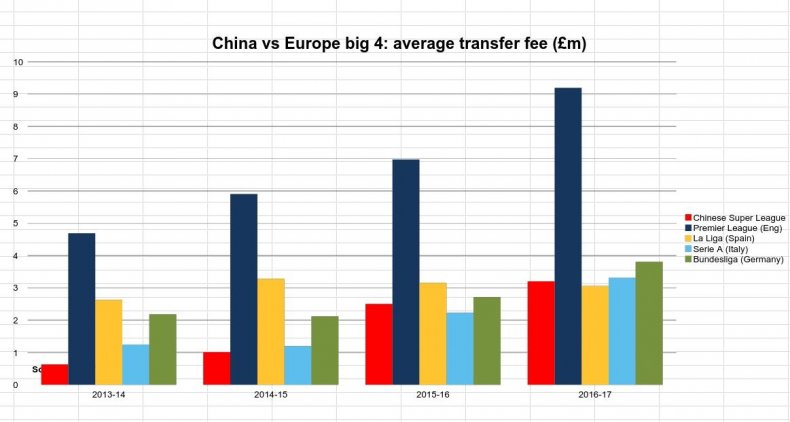 It is also worth noting that the Chinese authorities are putting a cap on how many foreign-born players are allowed on the pitch. The number is to be restricted to three, from the current four. Whether that will have any meaningful impact on transfers is hard to say: it may just encourage Chinese clubs to go for fewer, but even more prestigious, signings.
But before declaring Chinese spending as game-ending, it's worth looking at a few numbers.*
Chinese transfer spending is still a fraction of Europe's, especially England's. The reason for the current alarm is because the Chinese league runs from March, so the pre-season transfer activity is most active in January and February. This corresponds to the mid-season window in Europe, which is quieter than the summer transfer market: clubs aren't keen to make big acquisitions as it can upset a side's season halfway through.
Hence the current headlines. But take the overall year's deals, and China is still way behind other leagues in terms of transfers. In the winter window, China has spent £140 million, and the Premier League £107 million. Include the summer transfers, and the Premier League is over £1.2 billion, five times China's £250 million.
Looking at individual transfer windows can often throw up anomalies. For instance, the Mexican league outspent the Italian, German and Spanish leagues in the winter window of 2014-15, but you don't see any headlines about Mexico taking over the world. French clubs outspent everyone except the English Premier Leage in 2013, but that was a largely Paris Saint-Germain spree that has petered out.
The strange thing about football transfers is that we tend only to report spending. If you were running a business, you wouldn't just look at money out, you'd look at the money coming in too. So we should look at the transfer balance. This helps smooth out the intra-league transfers: when clubs from the same league buy from each other, it gets reported in the headlines. The Premier League's £1 billion-plus reported spending includes deals such as Manchester City buying John Stones from Everton for £47 million. That figure doesn't show up when you look at the overall transfer balance of the league.
China's net transfer spending has grown, but is still way behind that of the Premier League. In 2015-16, the last complete season (the current winter window is still open), the Chinese Super League's net transfers were £292 million and the Premier League's were £771 million. That's still a huge difference. The current 2016-17 net figures are looking pretty similar. (Curiously, all the recent alarm over China is three years late: Chinese clubs actually outspent the Premier League in net transfers in the winter window back in 2013.)
The strange thing is, other European leagues have been outspent for years. In 2013-14 and 2014-15, La Liga in Spain was a net receiver of transfer funds, rather than spender.
It is also instructive to look at the average transfer fee. The Chinese Super League is now close to that of Spain, Italy and Germany, all between £3 million and £4 million. But all are way behind the £9 million average of England.
The question is not whether China will outspend the Premier League for footballers. It might never, not overall. What China might do, and arguably has started, is to outspend Europe when it comes to a few of the big-name footballers.
So how does Europe compete?
When it comes to players, salaries are eye-catching, but they aren't everything. Players also want titles and glory, and the prestige of a winner's medal from the main leagues and cups in Europe. Will the resumes of Oscar and Tevez be so celebrated with a Chinese Super League title on them?
Players also care for quality of life. For some that means nightclubs, which China has plenty of. Others will not be attracted to the smog in some cities, or may find the culture hard to adjust to. In that case, Europe's very liveable cities such as Madrid and Milan will still have appeal, compared to the breakneck building speed of China's urban areas.
Will that mean some players settle for less cash and more glory? European clubs will hope so. If the stories about Touré, Rooney and others are true, it suggests they might.
* All figures are from Transfermarkt
Rob Minto is the author of Sports Geek: A Visual Tour of Sporting Myths, Debate and Data . (Bloomsbury, £12.99/eBook £10.99)