Chipotle Altercation Sees Irate Employee Throw Scissors at Complaining Customer
An argument over a late order turned sour at a Chipotle Mexican Grill restaurant in Baltimore on Tuesday, escalating to the point that verbal jabs turned violent.
In a video shared by Fox 45 News, the customer filming the incident, Anthony Evans, 56, can be heard complaining about his pickup order being 30 minutes late, as well as the allegedly poor response he got from the staff when he mentioned the matter.
"You messed up my order, and then I come and I complain and you just get ignorant and start clapping your hands," Evans is heard saying. "This is going right on Facebook."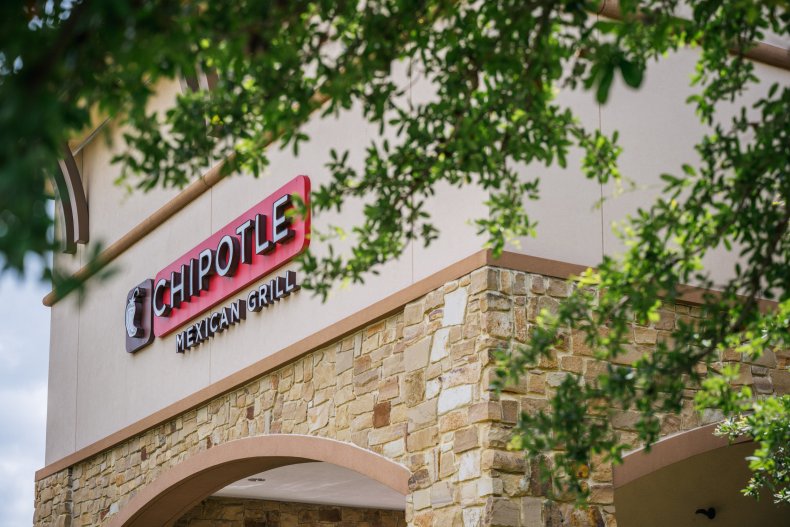 Later, a female employee claiming to be the manager shouts back at Evans and throws a pair of scissors at him before storming off.
"I'm the manager. You can call whoever you want to, b****," the woman can be heard saying. At one point, she says that her name is Nicole, and other employees confirm that she is the manager.
Evans is then heard accusing the employee of assault and saying that he will call the police. By the time officers arrived at the restaurant, the employee in question was nowhere to be found. She is currently wanted for aggravated assault.
"At Chipotle, the health and safety of our guests is our greatest priority," said Laurie Schalow, chief corporate affairs officer for the company, in a statement sent to Newsweek. "We have spoken directly to the guest regarding this matter and have terminated the employee in question."
In another statement to Newsweek, Baltimore police detective Niki Fennoy said, "This is an open and active investigation. At this time, we have no updates to share."
This incident comes as restaurants across the U.S. continue to grapple with labor shortages and staff revolts. In recent months customers have shared signs spotted at restaurant chain locations, including some Chipotles, saying that they were closed due to staff shortages or, in some cases, because employees walked out en masse.
In a post from Twitter user Devita Davison, a sign at one Chipotle location reads:
"Attention Chipotle customers. Want to know why we're closed? Ask our corporate offices why their employees are forced to work in borderline sweatshop conditions for 8+ hours without breaks. We are overworked, understaffed, underpaid, and underappreciated. Almost the entire management and crew have walked out until further notice. People should be > profits. Repost this if you agree. Help spread awareness #freechipworkers #fairwages #fairhoursfairwages #giveusabreak."
This story was updated with statements from Chipotle and the Baltimore City Police Department.