Maryland Woman Ravaged by COVID Remains Hesitant of Vaccines: 'I'm Still Not Sure'
Vaccine hesitancy remains a major issue in the U.S., even as about half of the population is now fully vaccinated against COVID-19. While many stories have emerged of patients changing their minds on vaccines after being diagnosed with the disease, one report from Maryland indicates that some people might not even be swayed by that.
Baltimore woman Juanita Roldan, 47, had been in the hospital for a week with COVID-19 when she spoke to WBAL TV. Roldan told the outlet that despite her at-times dire fight with the virus, she remains hesitant and unsure about getting vaccinated.
"I didn't get vaccinated for multiple reasons," Roldan said. "For one, I knew that there were certain symptoms and stuff people were getting from being vaccinated. I didn't want to do deal with it, so I just decided not to get vaccinated."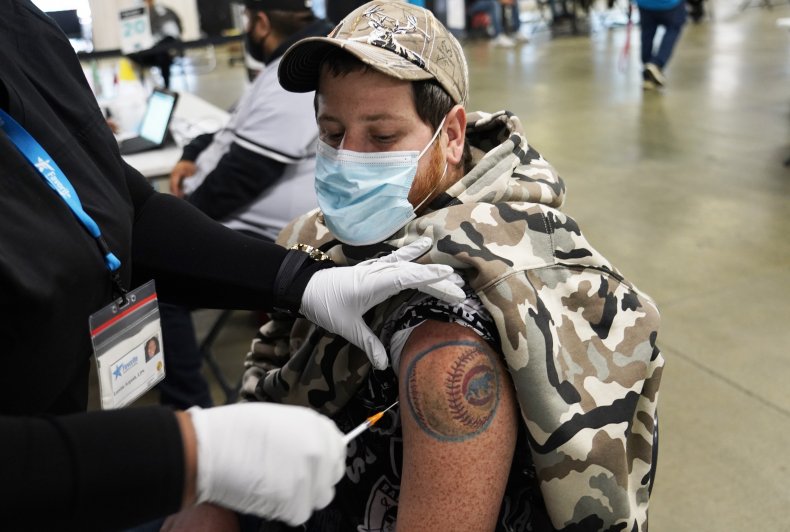 Like most vaccines, the various shots for COVID-19 are known to have various unpleasant side effects that subside quickly. According to the CDC, these includes tiredness, headaches, chills, fever, nausea and muscle pains. The CDC recommends treating these symptoms with simple over-the-counter pain medication, like ibuprofen. More serious side effects are considered to be rare.
While Roldan remains unsure about the prospect of getting vaccinated for COVID-19, she did indicate that her position has softened somewhat. Prior to her hospitalization, she characterized her resistance to vaccination in much stronger terms.
"I'm aware that it would've helped me but I'm pretty much adamant in not receiving it up until today. I'm still not sure if I want to receive it," Roldan said.
Roldan was admitted to Northwest Hospital last weekend after showing symptoms of COVID-19. This included headaches that would start in the morning and last all day, as well as elevated blood pressure. She also lost her sense of smell. Yet she remains unsure about getting vaccinated against the virus despite describing the worst moments of her hospitalization in dire terms.
"Two nights ago, felt like I was literally dying," she said.
The CDC has said that people who have already had COVID-19 and survived should still get vaccinated, as it is not clear how long the resistance built up during such times lasts.
Experts "do not yet know how long you are protected from getting sick again after recovering from COVID-19," the CDC website states. "Even if you have already recovered from COVID-19, it is possible—although rare—that you could be infected with the virus that causes COVID-19 again."
Maryland ranks among the top 10 states and territories in the U.S. for vaccination rate, with 59 percent of its population fully vaccinated, ahead of larger states like New York and California, according to Johns Hopkins University. Gov. Larry Hogan has called vaccines the most effective method of fighting the virus, but declined to reissue a statewide mask mandate.