As labor shortages continue to plague the restaurant industry, a customer at one understaffed Chipotle took matters into her own hands last week.
Another patron, identified only as Nikki, recorded the incident and posted the video on her TikTok page, where it has amassed 185,000 views.
"When you dare your coworker to go try to cash people out at Chipotle because it is busy and you want food," Nikki captioned the footage.
Her clip showed the woman making herself at home behind the counter, where she comfortably cashed out orders—all while wearing a different uniform from other Chipotle employees.
"In full uniform from OUR job," said the go-getter's amused co-worker. "Nobody said nothing."
Nikki added in a comment, "Everyone was just looking confused but went with it. She just took a couple people [and] walked away."
The two customers left shortly thereafter, she said.
The video sparked laughter as well as appreciation online, as some viewers said they were all too familiar with similarly short-staffed restaurants.
"The one in my town needs the help," commented another Chipotle customer. "Last week they done ALL walked out mid-rush."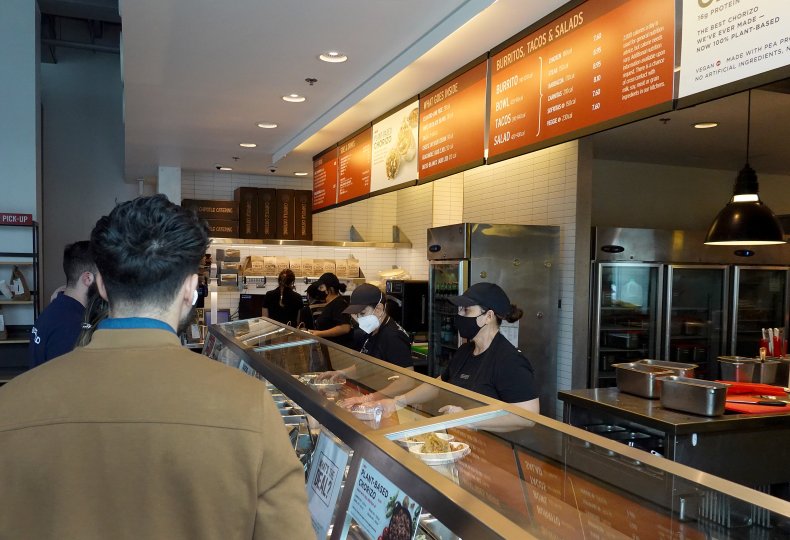 "I would've appreciated the help [because] being short staffed during a rush isn't for the weak," said another viewer.
Like many restaurants nationwide, Chipotle is suffering from a labor shortage. Although the restaurant industry has picked up job growth after it was decimated by the COVID-19 pandemic, a strong majority of businesses are still actively seeking to fill positions—even as they face the mounting headwinds of a slowing economy.
According to a National Restaurant Association survey between July 14 and August 5, 84 percent of restaurant operators said they will likely hire more employees over the next six months if qualified applicants are available. Meanwhile, 50 percent of establishments said that "recruiting and retaining employees" was their top business challenge in July.
In November 2021, a Chipotle restaurant in Kentucky was forced to close after half of its staff walked out, including the manager. A former manager at the location claimed that employees worked 50-70 hours a week while enduring threats and degrading treatment from their customers. During the company's Halloween "Boorito" promotion last year overwhelmed staff at a New York Chipotle walked off their shift to demand better working conditions.
In August, Chipotle paid $20 million to an estimated 13,000 New York City workers after it was found to have violated the city's paid sick leave and fair workweek laws.
Newsweek reached out to Nikki and Chipotle for comment.