Chloé Zhao's Former School Says Oscar-Winning Student Was Always Determined
Chloé Zhao's former school praised the director's curiosity and determination ahead of Sunday night's Oscars.
Zhao has now made history becoming the first Asian woman to win an Oscar for best director for her film Nomadland, which also netted a Best Actress award for Frances McDormand.
"This is for anyone who had the faith, and the courage to hold on to the goodness in themselves, and to hold on to the goodness in each other, no matter how difficult is to do that," Zhao said in her acceptance speech on Sunday night.
"And this is for you. You inspire me to keep going."
The Beijing-born nominee was up for the best director award for her hotly-tipped drama, Nomadland and has been breaking records all awards season.
Zhao was the first Asian woman to win Best Director - Motion Picture at the 78th Golden Globe Awards in February and if she takes home the statuette at the Academy Awards, she will also be the first Asian woman to bag the prestigious accolade.
As something of a nomad herself, Zhao, 39, grew up in China but attended high school in the U.K. where she was enrolled as a pupil in a boarding school called Brighton College—an experience she has likened to the Harry Potter books.
At age 15, with little to no English, Zhao was sent to "one of those Hogwarts boarding schools" in the south of England.
And her former classmates and teachers couldn't be prouder.
"Everyone at Brighton College is incredibly proud of Chloé," Alison and Julian Withers, Zhao's boarding housemistress and housemaster, told Newsweek.
"We were her housemaster and housemistress during her time here, and remember her very well," they said.
The school has described Zhao as "always a determined and driven pupil, with a wonderful sense of humor and a keen sense of curiosity."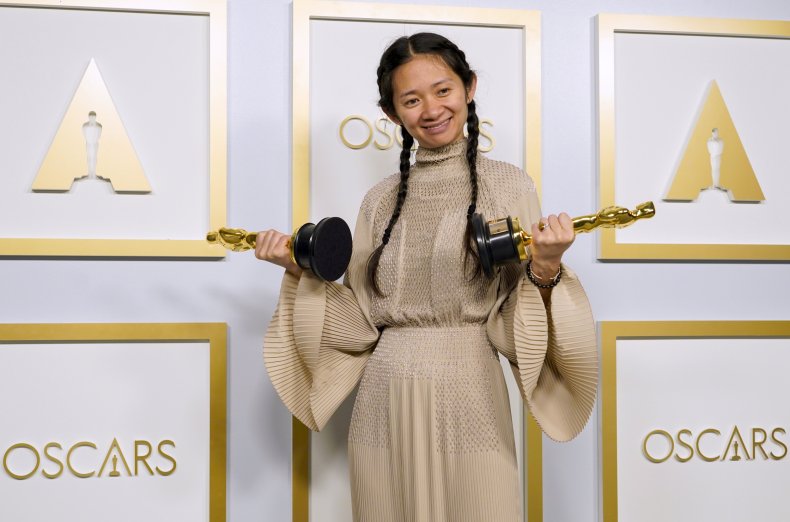 "She liked to question things, and she was always fascinated by people and different cultures," they continued.
"She contributed to the life and soul of the boarding house, and we are delighted for her in her success."
Nomadland was awarded top honors at the Bafta Film Awards earlier this year, with Zhao only the second woman to win best director in the awards' 53-year history.
She gave a shout-out to her old high school in her acceptance speech at the time, saying: "I think I just made my teacher at Brighton College very proud."
Zhao's former classmates also paid tribute to her rising star on their alumni Instagram page, saying she has made all old Brightonians very proud.
"Chloe, you've made us ALL very proud!" they wrote in a post about the director. "At the 2021 BAFTAs, Chloe Zhao (Fe. 1998-2000) not only became only the second-ever woman to win Best Director, but her film @nomadlandfilm won Best Film, Best Actress and Best Cinematography.
They added: "We couldn't believe it when she gave the College a shout out in her speech, and we're all so delighted for you, Chloe!
"Next stop, Oscar glory!"
This article was updated to include Zhao's Oscars win.