Chris Christie Mocked Online Amid Calls for Resignation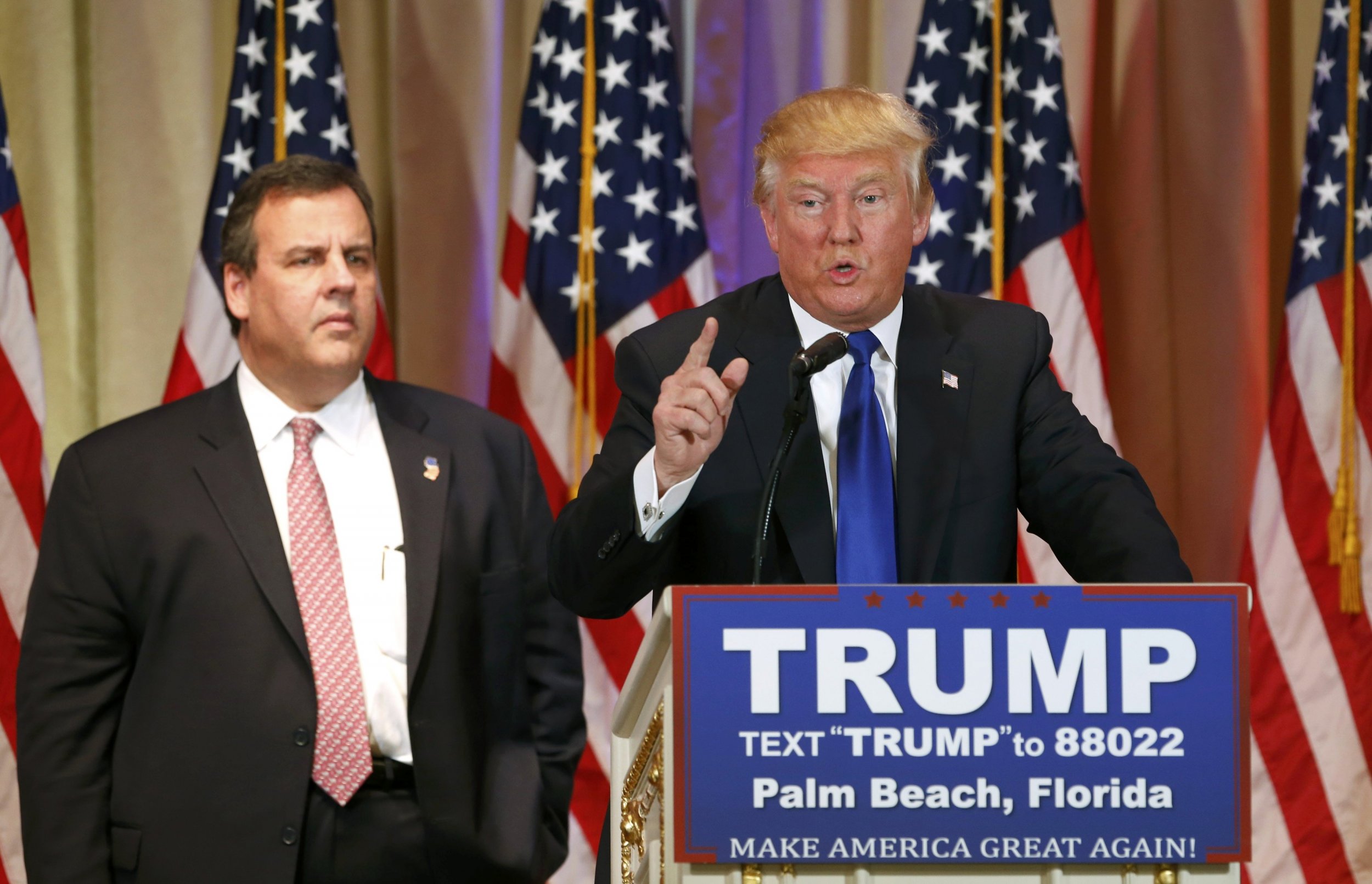 Chris Christie's endorsement of Donald Trump was met with heavy criticism last week, but on Tuesday night, it looked as though the New Jersey governor finally realized the impact of his actions.
During Trump's Super Tuesday victory speech in Palm Beach, Florida, Christie stood behind the businessman and stared into the void, leading many viewers wondering if he'd been taken hostage or was just having a minor existential crisis. Tweets and Vines and memes quickly captured his confused, blank stare, which seemed to silently be saying one thing: I've made a huge mistake.
As The Washington Post put it: "Nobody is coming for you, Chris Christie. Nobody is coming to save you." Others thought Christie's morose stare was the physical embodiment of the Simon and Garfunkel song "The Sound of Silence," which opens with the classic line "Hello darkness, my old friend."
Earlier on Tuesday, six New Jersey newspapers, including the Asbury Park Press and the Cherry Hill Courier-Post, published a joint editorial calling on Christie to resign as governor in the wake of his Trump endorsement and failed presidential campaign. The papers said they were "disgusted" with the governor's support for Trump "after he spent months on the campaign trail trashing him" and noted he's using state money to travel around the country and stump for Trump. Christie abandoned his presidential campaign on February 10.
"We're fed up with Gov. Chris Christie's arrogance," the papers wrote. "We're fed up with his opportunism. We're fed up with his hypocrisy."
The editorial also notes that Christie was out of New Jersey for 261 full or partial days in 2015. During a press conference Monday, the governor refused to answer any questions that weren't related to President Barack Obama's Supreme Court justice nomination because, he said, didn't want to.
The editorial was published on Super Tuesday, the busiest day in the primary election calendar, which saw a dozen states vote. Trump won in seven states—Alabama, Arkansas, Georgia, Massachusetts, Tennessee, Vermont and Virginia—putting him securely in the lead for the GOP nomination, with 316 delegates. A Republican candidate needs 1,237 delegates to be nominated.
Texas Senator Ted Cruz, who has 226 delegates, won in Texas and Oklahoma Tuesday, while Florida Senator Marco Rubio has 106 delegates after winning in Minnesota.