Chris Cornell's Greatest Hits: Grunge Icon Dead at 52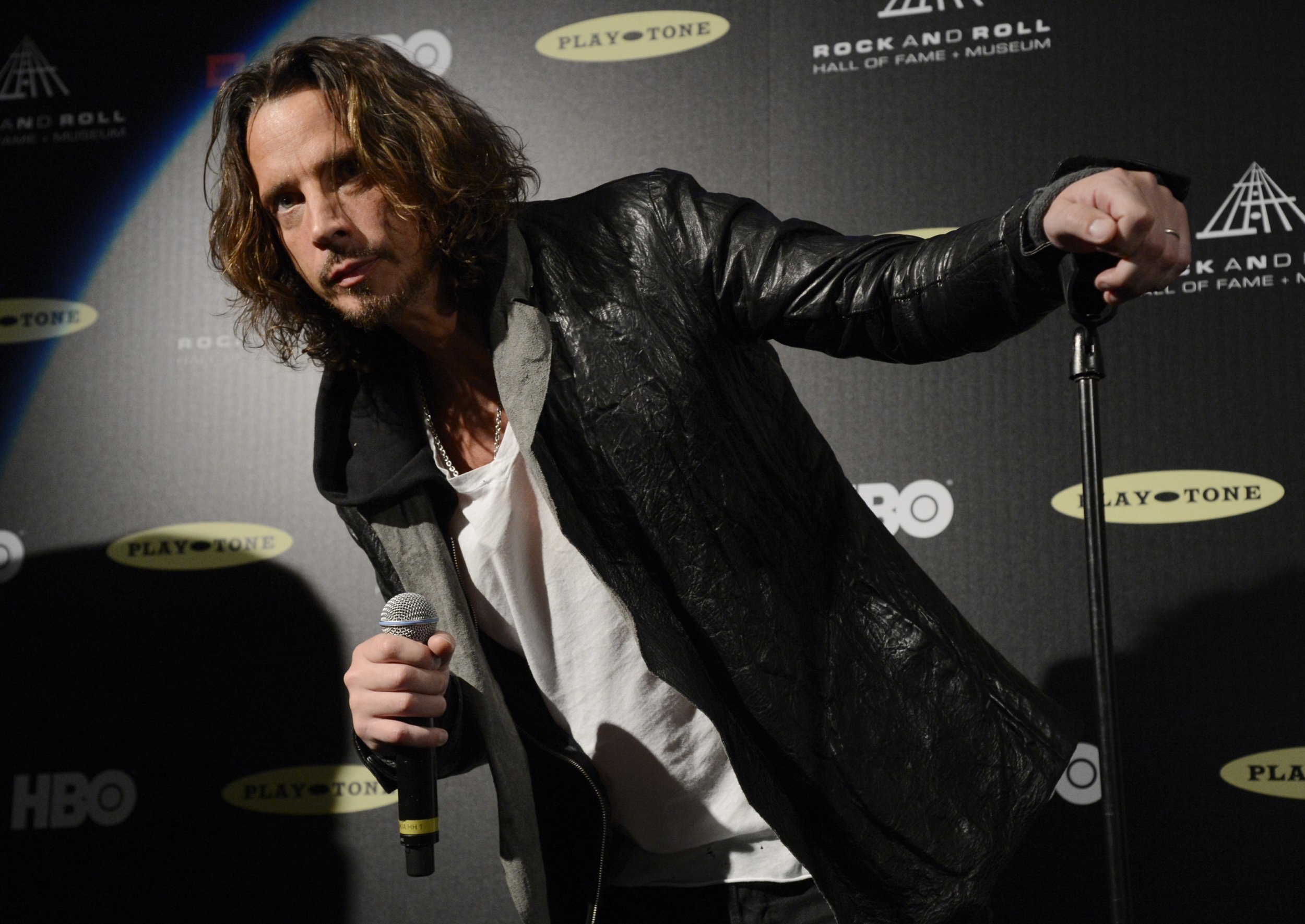 Fans of Chris Cornell are mourning the loss of the Soundgarden frontman after he died unexpectedly in Detroit on Wednesday night, aged 52.
The singer, who also fronted supergroup Audioslave, was known for his ominous lyrics, coupled with the bravado of his legendary four-octave voice. A cornerstone for the 1990s Seattle scene, Cornell surpassed the archetype of the sullen indie poet. His vocal power could shake stadium arenas with Led Zeppelin-esque belting more potent than any of the commercial juggernauts of the 1980s hair metal scene—grunge's detested antithesis.
Cornell now joins the growing list of the Seattle music scene's fallen idols, including Alice in Chains' Layne Staley, Stone Temple Pilots' Scott Weiland and perhaps most famously, Nirvana's Kurt Cobain.
Here are some of the late frontman's many great musical achievements:
Read More: Newsweek's interview with a 35-year-old Chris Cornell, talking MTV, Soundgarden and going solo.
"Outshined" from Badmotorfinger (1991)
One of Cornell's earliest hits alongside other early Soundgarden's classics such as Jesus Christ Pose and Rusty Cage. The gritty riff and Cornell's soaring vocals, singing lines like the iconic "I'm looking California, and feeling Minnesota," became a staple of the band and its frontman.
"Blow Up The Outside World" from Down on the Upside (1996)
Though Kurt Cobain's death in 1994 marked grunge's demise to many, Soundgarden continued to top charts and receive glowing reviews. Blow Up The Outside World spent four weeks at the top of the Billboard Rock charts after a series of successes for the band. Its wailing guitar verses, frustrated lyrics and violently angry chorus signaled a mastery of the genre Soundgarden helped create.
"Fell On Black Days" from Superunknown (1994)
A song by a popular rockstar from his band's bestselling album could sound disingenuous. This one does not. The songwriter best described the fear of how frivolously happiness can give way to dark thoughts, which the song expresses.
" You're happy with your life, everything's going well, things are exciting—when all of a sudden you realize you're unhappy in the extreme, to the point of being really, really scared," he told Melody Maker in 1994. "There's no particular event you can pin the feeling down to, it's just that you realize one day that everything in your life is FUCKED!"
"Cochise" from Audioslave (2002)
Cornell joined forces with Rage Against the Machine's rhythm and riff trio for three albums, most of which contained brawny guitar anthems, which were missing from the charts at the time. The cool funky groove of "Cochise," not to mention the firework-heavy video, was a timely reminder of his hard rock capabilities.
"Black Hole Sun" from Superunknown (1994)
Arguably Soundgarden's most recognizable song, its comment section on any social media is overfilled with tributes to Cornell. The technicolor weirdness of the ironic video is as memorable as Cornell's sardonically apocalyptic poetry.
"Like A Stone" from Audioslave (2002)
Mournfulness has always been a Cornell staple though. "Like A Stone" felt like such an honest slice of panic about mortality and not knowing if you can ever be reunited with lost loved ones. Rumors spread that Cornell had written the song about friend Layne Staley's death. He denied this.
"You Know My Name" from Carry On (2006)
In one fell swoop, Chris Cornell relaunched his solo career and the James Bond movie franchise with "You Know My Name." It defied the conventions of the more cherished Bond songs—a speedy number with a male rockstar and a title not matching that of the movie—but Daniel Craig's first charismatic outing as 007 fits the song like a glove… or a bulletholed Tom Ford suit.
"The Keeper" from Machine Gun Preacher (2011)
Writing a Simon and Garfunkel-esque folk ballad for a biopic about a born-again former gang biker turned vigilante defender of South Sudanese orphans is not within every rock frontman's wheelhouse. Chris Cornell's contribution to the Machine Gun Preacher soundtrack earned him a Golden Globe nomination and gave him an acoustic mainstay in his concert setlist.
"Can't Change Me" from Euphoria Morning (1999)
After the exodus of grunge and the Seattle scene from the U.S. zeitgeist, Cornell released his first solo record. Far from a collection of throwaway B-sides, the album was complex, poppy and its first single carried a manouche jazz bounce in its guitar line. True fans would have heard Cornell's recording of the song in French—a bonus on the album's deluxe version.
"Hunger Strike" from Temple of the Dog (1991)
In 1990 Cornell lost a friend— Mother Love Bone vocalist Andrew Wood died from heroin overdose. He and a handful of other musicians that would soon lead the grunge assault on the mainstream of the 1990s as Soundgarden and Pearl Jam released a record together in tribute. Say Hello 2 Heaven was the track most closely dedicated to Wood's death.
Hunger Strike—a duet with Pearl Jam's Eddie Vedder and personnel from both Cornell and Vedder's bands on guitar, bass and drums is for many, the record's crowning glory—a great send-off to a musical talent, sadly missed.