Chris Evans and Jenny Slate's Relationship Brought Much-Needed Joy to 2017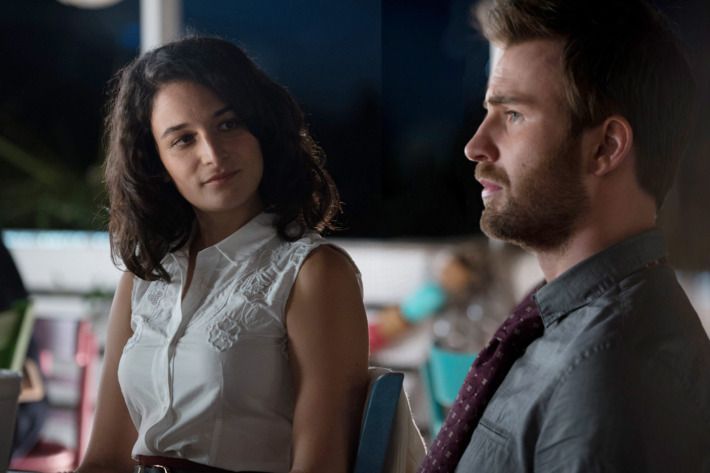 This year was a tough one in Hollywood, with 2017 concluding on months of sexual misconduct allegations. As more women share stories of alleged abuse, we're realizing the City of Stars isn't as idyllic as La La Land made it out to be.
But despair not! Because there is some good news coming out of Los Angeles. According to People, Jenny Slate and Chris Evansare once again dating. The actors have yet to confirm their relationship status publicly, but the report cites an anonymous witness who spotted Slate helping Evans apartment hunt in New York City.
The Gifted co-stars met on the set of that film in late 2015 and began dating in 2016. After a nine month run, in February 2017, news broke that they split up. It was a moment of mourning for Captain America and Marcel the Shell fans all over the internet.
But the really juicy part came a month after the breakup. Jada Yuan's compelling Vulture profile on Slate, in which the Obvious Child star opened up about the joys and drawbacks of dating a Marvel superhero. She spoke about her coping methods after the split: crying through You've Got Mail, buying an entirely new apartment and getting drunk with her friend Mae Whitman.
Reading that profile was not unlike flipping through a romance novel. Slate's quotes on Evans are love poems: "Chris is truly one of the kindest people I've ever met, to the point where sometimes I would look at him and it would kind of break my heart." Her description of finally getting together (after Gifted had wrapped) is as satisfying as any big movie kiss. "Eventually, when it was like, Oh, you have these feelings for me?, I was looking around like, Is this a prank?" she said. And finally, her explanation for the break-up—that Evans was too famous for her to handle—is heartbreaking.
Unsurprisingly, this intimate peek into a celebrity romance earned Slate and Evans attention—a lot of it. Fans and media tracked the actors closely, hoping against hope for evidence that it wasn't truly over, that there was still some good, heartwarming gossip to cling to this year.
In October, Us Weekly reported Evans and Slate had dinner together in Atlanta when he was filming Avengers: Infinity War. Then they started playfully tweeting at each other.
Evans posted a video of his dog, and Twitter users immediately pointed out the laughter in the background sounded an awful lot like Slate.
A few days later, Slate tweeted about her "supportive boyfriend" who does "dreamy and generous things," including help her buy new turtlenecks.
Now, with People reporting that Chris Evans and Jenny Slate got back together, the happy ending we all needed is here. And even if it doesn't last "ever after," it's good enough for now.