Why Chris Evans' Instagram DM to Lizzo Is Getting Fans Excited
Chris Evans is getting Lizzo's fans excited that they might become the next celebrity power couple.
The pair have exchanged several light-hearted private messages in recent months, which have been shared by the singer Lizzo on her TikTok account.
Evans replied to her latest video in which she "revealed" that the pair were going to have a baby—however, the timing of his response has led fans to believe there might be more to their relationship than just flirtation.
What Is the Latest Between Lizzo and Chris Evans?
Last week, Lizzo let her fans in on a secret and made a serious announcement in a TikTok video. In response to a comment from a fan suggesting they knew that Lizzo was pregnant with Chris Evans' baby, she created a new video with the Captain America: The First Avenger music playing in the background.
Lizzo went on to say she and the father of the baby had been trying to keep it personal and private but she was actually sucking it [her stomach] in, and she was going to have a "little America."
The video got over 2.9 million likes on TikTok and even caught the attention of Chris Evans who replied to the news in Lizzo's Instagram DMs.
In Lizzo's latest TikTok video, she mimes "All the rumors are true" and writes that she's secured the child support bag. She then shares a screenshot of her interaction with the Captain America star. He said to her "Hi! Just heard about our little bundle of joy" followed by a crying laughing emoji, "my mother will be so happy lol."
She then shared a separate screenshot of Chris saying "Just promise me no gender reveal parties lol."
Alongside the video, Lizzo captioned it "OMG YALL—HE SAW THE BABY BUMP! WE DID IT! NOW YALL GOTTA NAME LIL MERICA!!!!! WHAT YALL BOUTA NAME MY BABY ?!"
Why Fans Are Excited About the DM?
While the Insta exchange may be some lighthearted fun, Lizzo's fans were quick to point out a small detail that could imply some romantic subtext.
Evans' message was sent at 4:53 a.m., which hundreds of fans managed to spot too. Lola724_ got the ball rolling by saying: "OK but he was thinking about you at 4 in the morning hunny this must be serious."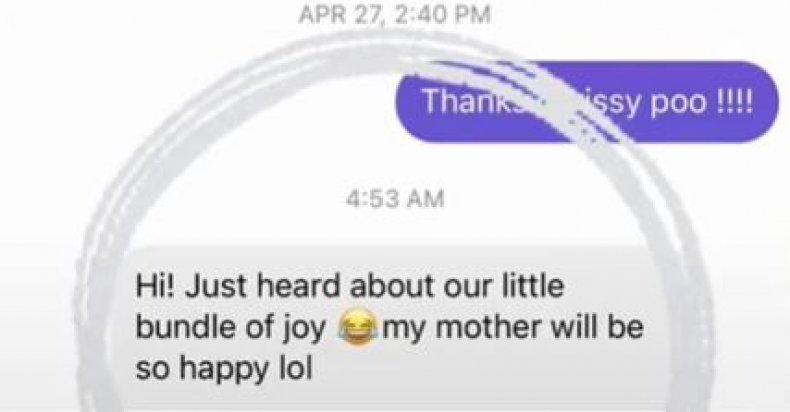 @jiminsidegurll wrote "4:53am in the morning!? girl he thinking THINKING about you."
Some fans "spoiled the fun" by pointing out that he's probably in a different time zone but many more of Lizzo's followers played along.
They suggested baby names for their child such as Chrizzo, Christopher DeShawn Evens Jr, and Jamal Evans.
@Chaoticaroline summarized Lizzo's fans' excitement best by commenting "Lizzo we are all living vicariously through you girl get that man for all of us" followed by some crying emojis.
Chris Evans and Lizzo's DM History
Back in April 2021, Lizzo revealed to her followers that she'd drunkenly slid into Captain America's DMs by sending him a couple of emojis.
He responded to her message, setting her mind at ease by saying "No shame in a drunk DM" with a kissing emoji "god knows I've done worse on this app lol," ending with the head-slapping emoji. This may have been a reference to his accidental social media post where he posted a not-safe-for-work screenshot from his photo album.