Former cybersecurity chief Chris Krebs is following through with his legal threats after Trump campaign lawyer Joe DiGenova called for his execution last week.
On Tuesday, Krebs, who was fired by President Donald Trump last month over their disagreement about alleged election fraud, filed a lawsuit against DiGenova, accusing the attorney and the president's reelection campaign of defamation and infliction of emotional distress.
In an appearance on Newsmax on November 20, DiGenova said that the former Department of Homeland Security (DHS) official "should be drawn and quartered."
The lawsuit is seeking monetary damages and the removal of the video from Newsmax's archives.
Krebs' team is also accusing Trump, members of his legal team and Newsmax of engaging in "a calculated and pernicious conspiracy" to injure both Krebs, a lifelong Republican, and other GOP members, including Georgia Governor Brian Kemp and Arizona Governor Doug Ducey, for contradicting the president's unsubstantiated claims about widespread voter fraud in the presidential race.
"Newsmax, the campaign, and DiGenova have a symbiotic relationship," the lawsuit says. "Newsmax disseminates and amplifies the campaign's and DiGenova's attacks on perceived political threats and allegations of election stealing, which pleases viewers, prompts endorsements from President Trump, increases ratings, supports the political goals of the campaign, and helps raise more money from duped supporters."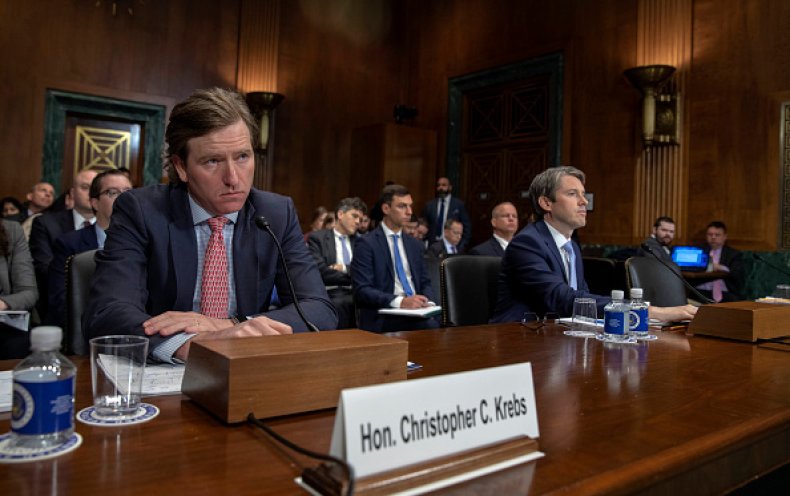 Krebs was fired via Twitter after calling the 2020 presidential election "the most secure in American history" as the president and his team continued to fight the results in court.
Krebs has continued to encourage other Republican officials to speak up, telling CBS News, "It's the right thing to do."
"It is well past the time where all leaders of the Republican Party need to accept the outcome of this race and move on—and accept that Joe Biden is the president-elect," he said on Sunday.
Last week, Krebs, the former director of DHS's Cybersecurity and Infrastructure Security Agency, hinted that he would pursue a legal challenge against DiGenova, who called him a "class A moron" for not believing the election was stolen through widespread voter fraud. Krebs told the Today show, "I've got an exceptional team of lawyers that win in court, and I think they're probably going to be busy."
DiGenova's remarks also caught the attention of Georgia voting official Gabriel Sterling, who called on Trump to "stop inspiring people to commit potential acts of violence" during a press conference last week.
"Someone's gonna get shot. Someone's gonna get killed, and it's not right. It's not right. I don't have anything scripted. Like I said, I'm going to do my best to keep it together. All of this is wrong," Sterling said. "DiGenova, who said for Chris Krebs to get shot? He's a former U.S. attorney. He knows better."
The viral clip has been viewed more than 10.6 million times.
Newsweek reached out to the Trump campaign for comment but did not hear back before publication.