Meet Chrishell Stause's New Partner, Musician G Flip
Selling Sunset's Chrishell Stause has moved on from her boss Jason Oppenheim. On the Selling Sunset: The Reunion, Chrishell revealed she was dating award-winning Australian musician, G Flip.
Their relationship just comes five months after her split from Jason Oppenheim. The beginning of their relationship played out in the most recent season of Selling Sunset, but by the final episode, they had gone their separate ways over their different views on family.
During Selling Sunset: The Reunion, hosted by Tan France, which dropped on Netflix on Friday, May 6, Chrishell announced she was dating Australian singer G Flip, much to her co-star's visible shock.
So, who is Chrishell's new partner?
Newsweek has everything you need to know.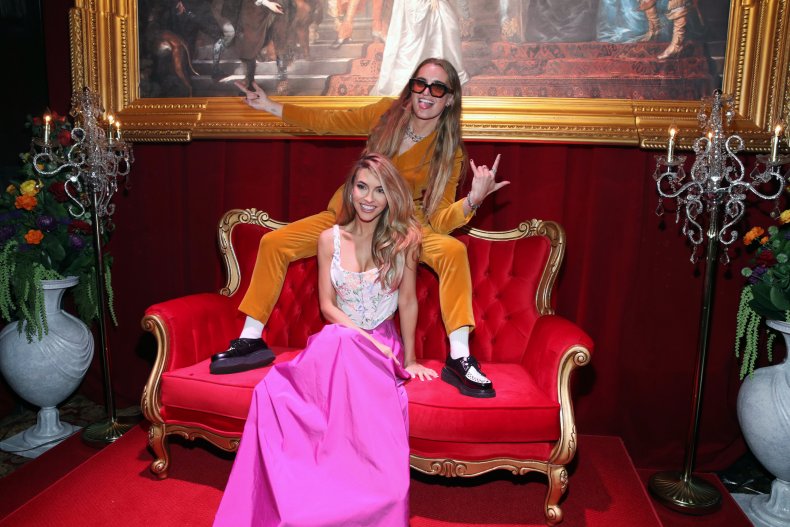 Who is G Flip?
G Flip is the professional name of Australian musician Georgia Claire Flipoc.
The 27-year-old is a singer, songwriter, producer and drummer, and musician from Melbourne, Victoria.
They were previously the drummer for the Melbourne-based band EMPRA but unfortunately, the band split in 2017. As a result, G Flip pursued a solo career.
G Flip released their first solo track, "About You" in 2018 and it was an instant success.
They released their debut album, About Us, in August 2019, which charted at Number 6 in Australia, and in the same year, won the Breakthrough Independent Artist of the Year at the Australian Independent Record Labels Association (AIR) Awards.
G Flip has also been nominated for several prestigious awards, including the J Award for Unearthed Artist of the Year in 2018 and won the ARIA Emerging Artist Scholarship.
Their latest single, Get Me Outta Here, will be available to stream and download on Friday, May 13.
Rumors were sparked that G Flip and Chrishell were together when they were spotted holding hands in early May in Colorado, U.S.
On March 18, Stause had posted a photo with G Flip in an Instagram gallery with the caption "Grateful for every person in these pics." They have also been spotted flirting in the Instagram comment section and on Twitter.
For example, after watching Selling Sunset, one fan tweeted: "CHRISHELL, you're too pretty to be with a man," and G Flip replied: "Agreed."
They also attended the Bridgerton Season 2 premiere together in March 2022. Now, Chrishell has put all of the speculations to bed by confirming their romance.
She said on Selling Sunset: The Reunion: "You don't get to choose where you meet someone. You don't get to choose when you meet someone in their life.
"So recently, I've met someone that is in a different place in their life as well. I recently have been spending a lot of time with someone that's very important to me. Their name is G Flip.
"They're non-binary, so they go by they/them [pronouns], and they are an extremely talented musician."
Stause gushed the pair met after G Flip approached her to appear in their upcoming music video, but fans will have to wait and see if she does appear in the video when it drops on Friday, May 13.
Addressing the surprise from her co-stars and her ex Jason Oppenheim, Stause said: "I'm still very attracted to masculine energy and a good human.
"I hear people talk about these things and [say] 'I knew from a young age,' and that's not me. I'm just very open to good energy and I don't know what my future holds, but it is a complicated issue to talk about."
In response to the Stause news, Jason Oppenheim said: "They seem like a badass, for one.
"And two, the smile that's been on your face the last couple of minutes makes me very happy. I'm proud of you."
Selling Sunset Seasons 1 to 5 are streaming on Netflix now.