'Chrisley Knows Best' Stars Todd and Julie Indicted by Grand Jury for Tax Evasion
Georgia's Northern District Court handed down a federal indictment to Chrisley Knows Best stars Todd and Julie Chrisley for tax evasion and other financial crimes on Tuesday. The indictment came less than 24 hours after Todd came out on Instagram with the "cloud hanging over" his family: a claim that a former employee stole from and scammed the family, and then lied to federal investigators. Peter Tarintino, the Chrisley's former CPA, is also charged in the indictment.
Atlanta's WSB-TV reported the couple and their CPA were charged with tax evasion and wire fraud. The 12-page indictment also alleges the couple used their production company, 7C Production, to hide money earned from their USA Network reality series from the IRS.
"Just because you're rich and on a TV show doesn't mean that the law is not going to come get you when you commit a federal crime," BJay Pak, U.S. attorney for the Northern District of Georgia, told Nicole Carr of WSB-TV.
"They had a production company named 7C Production, which was paid the fees that the TV stations paid for the show. Of course, that was not declared as income in federal tax returns," Pak said.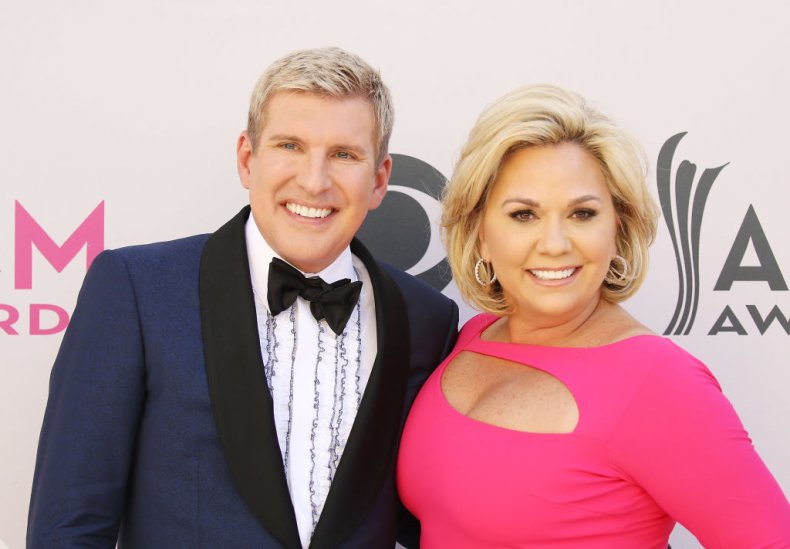 The scope of the indictment covers nine years and alleges the couple paid nothing in income taxes between 2013 and 2016.
On Monday, Todd Chrisley posted a lengthy Instagram statement revealing the secret the family has kept for many years. Chrisley stated that a former employee stole from the family "big time" by creating phony documents, forging signatures, bugging their phones and threatening violence towards other employees if they revealed this former employee's wrongdoing.
"To get revenge, he took a bunch of his phony documents to the U.S. Attorney's office and told them we had committed all kinds of financial crimes, like tax evasion and bank fraud," Chrisley wrote in his Instagram post.
Chrisley claims this former employee, who has yet to be named publicly, received immunity from prosecution in exchange for them turning over proof of financial crimes by the couple.
"We want to express our gratitude to everyone who helped place us where we are today in our lives. We thank you for your support and we will continue to work every day to earn your respect, loyalty, and admiration," Chrisley's post concluded.
Pak, however, is eager to prove the Chrisleys wrong in court.
"The fact that he's denying it so far—we look forward to the day to prove all this in court. We're very confident in the evidence," Pak told WSB-TV.
Even though the Chrisley's claim Florida residency, they've been hit with multiple accusations of falsifying their permanent residency in order to avoid paying state taxes. The Chrisleys were hit with a $700,000 tax lien in 2017 for failing to pay Georgia state income taxes. WSB-TV reported the couple had not paid state income taxes between 2004 and 2011.
The seventh season of Chrisley Knows Best premiered on the USA Network in April.