Chrissy Teigen Slams QAnon for Peddling Pedophilia Conspiracy Theories About Her Family
Model and social media icon Chrissy Teigen railed against the far-right online conspiracy theory group QAnon Tuesday, ridiculing the countless forums and social media posts connecting her and husband John Legend to Jeffrey Epstein.
Teigen expressed her frustration with the QAnon conspiracy theorists in a series of Tuesday tweets questioning how and why social media has facilitated such "crazy," baseless pedophilia ring accusations. Teigen described the metaphorical quicksand of pursuing legal action against the QAnon websites because members believe the memes, comments and fan page posts connecting her and Legend to the late billionaire and accused sex trafficker Epstein are true. She said they are not.
"[I]f I take legal action, it gets worse because then, to them, it's true and I'm trying to 'silence' them. It's on posts about anything. Random 90 days fan pages, meme accounts, anything. Even if the content is normal, the comments are....this s**t," Teigen remarked in a tweet thread blasting the "Q" conspiracy theorists.
"u know what is not great? I still have to read on social media many times a day that John and I are pedophiles and look at photoshopped/miscaptioned photos of us on 'Epstein Island' and I just have to deal with it because 'people are crazy these days,'" Teigen continued.
Epstein's lush Little Saint James estate in the U.S. Virgin Islands was raided by police and FBI agents in August after the convicted sex offender killed himself in a Manhattan prison cell awaiting trial on sex trafficking charges. The island, sometimes referred to in media reports as "Pedophile Island," is where victims claimed Epstein had sex with girls.
Teigen noted the ubiquitous presence of pedophilia ring conspiracies online, saying "it's not just weirdos in random towns. [T]hese people are all over."
She ridiculed the skewed reality behind people posting the crude and doctored QAnon images which falsely place her and Legend on the island with Epstein. Teigen has two children with Legend, whom she married in 2013.
"I had a real life before this. I mean...going to the grocery store and s**t, parks alone with my kids. now I have a list of people in my area who genuinely believe we are in a pedo ring that is always *ALMOST* about to be exposed," Teigen tweeted.
She continued, "anyhow that is my morning rant. f**k you, f**king miserable Q s**tf**ks, you absolute f**king losers."
In a seemingly unrelated comment about Voicenote on iPhones last Friday, Teigen appeared to echo a similar sentiment toward the speech to text Google Chrome feature: "You guys say incorrect information with such confidence. it's amazing. proud of u."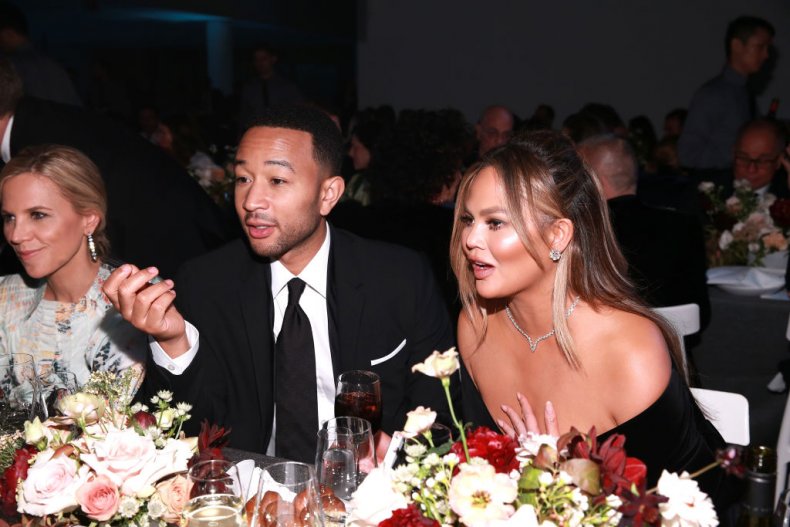 QAnon gained widespread online notoriety and have ardent support among attendees of President Donald Trump's ongoing campaign rallies. The nebulous group's theories connect back to the belief that one high-up, seemingly omniscient government official has the "truth" outside of mainstream media news. A vast range of absurd figures have been accused of holding such a title, including John F. Kennedy Jr., who died in a plane crash in 1999.