Chrissy Teigen Says Year of Sobriety Ended Her 'Crazy Anxiety'
Chrissy Teigen is celebrating reaching a milestone in her sobriety—one whole year without a drink.
The model and actress took to Instagram to reflect on her year without alcohol and how it has led to her recovering from her anxiety.
"Not a drop of alcohol in 365 days! I miss feeling loopy and carefree sometimes, but to be honest toward the end, it didn't give that fun feeling anymore anyhow," the model wrote in a lengthy and frank Instagram caption.
"I drank to end crazy anxiety that later mostly went away when I—get this—quit drinking! Sigh."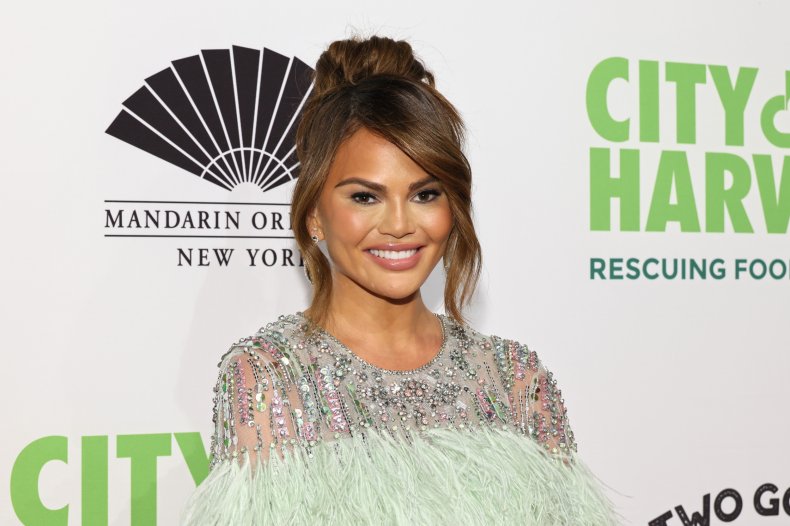 The mom of two and wife of pop star John Legend went on to say that she currently feels "really good" but is often "frustrated" at how she can't remember certain days in her life because of alcohol.
"Sometimes I get really frustrated looking back on days I should remember way better than I do because of alcohol," she explained. "Like when I drank cafe patron and fell asleep while an Outback Steakhouse chef taught me (my friends) how to make a bloomin onion at my house. I wish I was awake for that."
The 36-year-old also said she wishes she remembered "any awards show" and reflected on photos from events and "huge moments" when her eyes look "gone" due to drinking.
The model announced that she was ditching alcohol in 2021 telling fans at the time: "I knew in my heart it wasn't right. It makes you very short with people. People think it's cutesy and fun to go on these boozy brunches, but there's more to it. I've never once been like, 'I'm sure glad I had that boozy brunch!'"
"I used to think it was kind of nutty to have to go totally sober but now I get it. I don't want to be that person... I have to fix myself," Teigen added.
In January 2022, Teigen made it to her six-months-sober milestone and revealed that she didn't even crave booze anymore.
Legend and Teigen were left distraught at the loss of their third child in September 2020, after the then-pregnant model was treated in the hospital for excessive bleeding due to a weak placenta.
In her latest post, the model concluded her reflection on her sobriety by telling fans she doesn't know if she will never have a drink again but that she is sure she never wants "to be that way again."
She concluded: "And for now, none is best. I'll let the bad dreams come up and try to sort them out in therapy, without booze. Prayers for a blooming onion redo, @outback??"