Christian Eriksen Fitted With Internal Pacemaker After Collapsing on Soccer Field
Danish professional soccer player Christian Erikson has been fitted with an internal pacemaker and defibrillator mechanism after collapsing during a European Championship match, the Danish soccer federation said.
Eriksen was discharged from the hospital Friday, six days after he went into cardiac arrest in the middle of an opening Euro 2020 game against Finland, the Associated Press reported. The federation announced on Twitter his operation had been successful and he would be going home to spend time with family following a visit with the national team in Helsingør.
The account also tweeted a statement from Eriksen with the announcement, who said he was "doing well under the circumstances."
"Thank you for the massive number of greetings-it has been incredible to see and feel," he wrote. "It was really great to see the guys again after the fantastic game they played last night. No need to say, that I will be cheering on them on Monday against Russia."
Read more from Newsweek: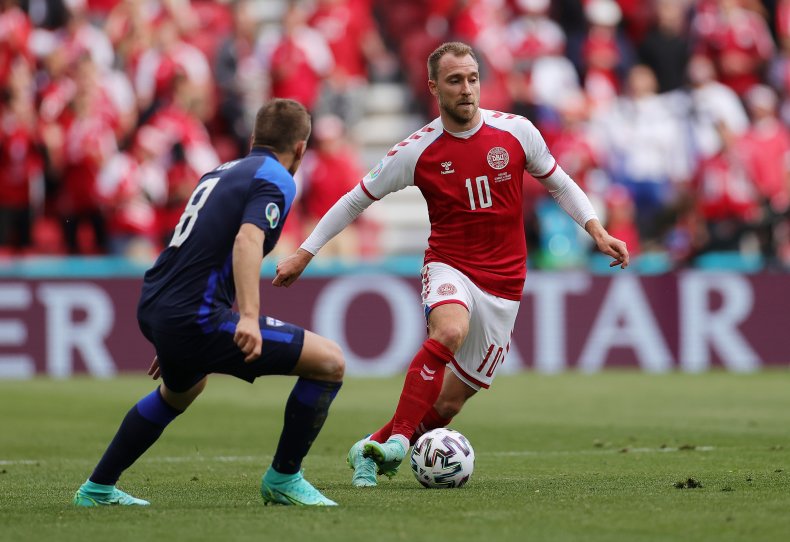 UEFA, European soccer's governing body, has indicated teams could face fines in response to players removing drinks provided by sponsors at press conferences at Euro 2020.
Portugal captain Cristiano Ronaldo removed two bottles of Coca-Cola from in front of his microphone during a press conference on Monday, a gesture imitated by Italy's midfielder, Manuel Locatelli, on Wednesday night following his team's game Switzerland.
Meanwhile, on Tuesday, France star Paul Pogba, a devout Muslim, removed a bottle of alcohol-free Heineken.
UEFA, however, has warned similar stunts could have repercussions in the future and has reminded players and teams of their contractual obligations.
"UEFA has reminded participating teams that partnerships are integral to the delivery of the tournament and to ensuring the development of football across Europe, including for youth and women," the body said in a statement on Thursday.
Read more from Newsweek.