Christianity Today Editor Compares Donald Trump Presidency to Abusive Husband After Backing Removal From Office
The editor of an evangelical magazine compared Donald Trump's presidency to an abusive husband and said it will be "horrific" for Christians spreading gospel if they are associated with the commander-in-chief.
Christianity Today editor in chief Mark Galli told The Atlantic he felt it was unfortunate that other Christians were willing to defend President Trump "to the end," and argued that the "moral character" of leaders was important.
He also said Democrats were no "exemplars of moral virtue," adding that America as a whole was in a "deeply troubling state."
The Christianity Today editor's comments came shortly after he published an op-ed calling for President Trump to be removed from office after he became the third president in U.S. history to be impeached.
In the editorial written by Galli, the soon-to-retire editor said it was "time to call a spade a spade" and described facts in the impeachment case as "unambiguous."
"The president of the United States attempted to use his political power to coerce a foreign leader to harass and discredit one of the president's political opponents," he wrote.
Speaking to The Atlantic following publication of the Christianity Today editorial, Galli said he had thought about writing an "on the one hand, on the other hand" article, but argued that logic "falls apart at some point" with President Trump.
"Imagine, for example, that a woman is being verbally abused by her husband," Galli continued. "He's a great father—he gets along with the kids, and he's a great supporter. So, you think, 'Alright, he's verbally abusive to me, he has kind of a hot temper. But he's got these other things going for him, so I'm not going to rock the boat too much. I might try to get him to calm down, but I can live with it.'
"Then he starts to become violent, and dangerously violent. He's still a good provider. He still loves the kids. But nobody would say, 'You need to weigh this!' They would say, 'Get the man out of the house immediately.'"
The Christianity Today editor added that "moral balancing" did not apply in such a situation, adding: "And the same seems to be true of the Trump presidency."
Asked about his view that the association between Christians and President Trump would damage the Church's ability to spread gospel later in the interview, Galli said the damage would be "horrific" and argued the "moral character of our leaders" was important.
"Unfortunately, a number of my brothers and sisters will just defend him to the end," Galli said. "They somehow think that's going to be a good witness to the Gospel. It's unimaginable to me how they think that, but they do."
He later said the Democratic Party representatives were not "exemplars of moral virtue" either.
Newsweek has contacted the White House for a response to the Christianity Today editor.
President Trump became the third president to be impeached in American history on Wednesday after the Democratic-controlled House voted in favor of two articles of impeachment. The graphic below, provided by Statista, illustrates the House vote on Trump's impeachment.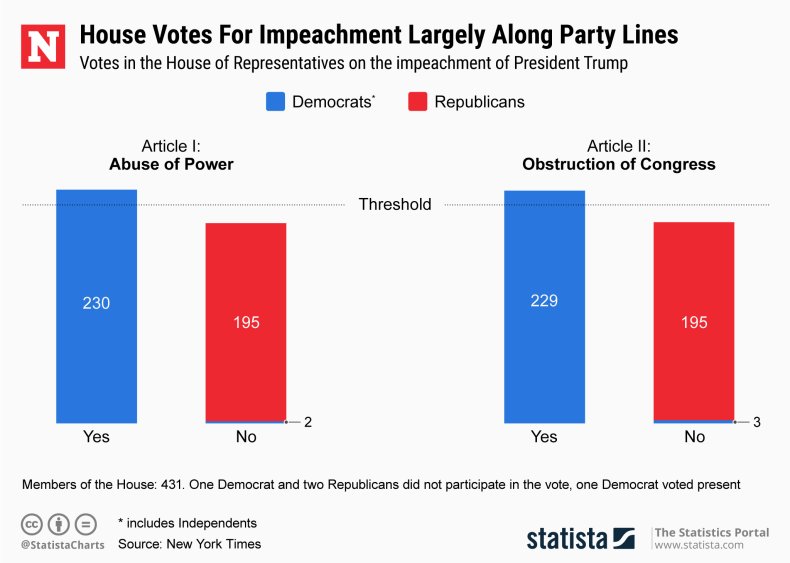 The articles charged the commander-in-chief with obstruction of Congress and abuse of power in his alleged attempt to pressure Ukraine into opening an investigation into former Vice President Joe Biden and his son, Hunter.
President Trump has repeatedly denied allegations against him and has described the impeachment process as a "witch hunt" and "hoax."
House Speaker Nancy Pelosi has not yet confirmed when Democrats will pass the approved articles of impeachment onto the Republican-controlled senate for a trial.