Donald Trump's New Impeachment Strategy Is to Deny It Ever Happened: 'It's a Hoax'
One day after a historic vote made Donald Trump the third U.S. president to be impeached by the House, the president deployed a new strategy to rally his base—denying it ever happened.
Following more than six hours of partisan debate on the House floor, the lower chamber on Wednesday evening voted 230-197-1 on the abuse of power article and 229-198-1 on the obstruction of Congress article, officially impeaching Trump for attempting to press Ukraine President Volodymyr Zelenskiy to probe the family of former Vice President Joe Biden while withholding foreign military aid to the country.
The next afternoon, Trump responded to his impeachment by telling reporters that it was a hoax. "I don't feel like I'm being impeached because it's a hoax," he said. "It's a set up, it's a horrible thing they did."
"They happen to have a small majority and they took that small majority and they forced people," the president continued, "I watched Pelosi out there saying, 'Oh, no, we don't want to talk to anybody.' They tried to get them to do what they had to do and many of those people were like Jeff [Van Drew], where they didn't want to go that way."
"To me it doesn't feel like impeachment," he repeated. "It doesn't feel like impeachment."
"It's a phony deal and they cheapened the word impeachment, it's an ugly word, but they cheapened the word impeachment. That should never again happen to another president."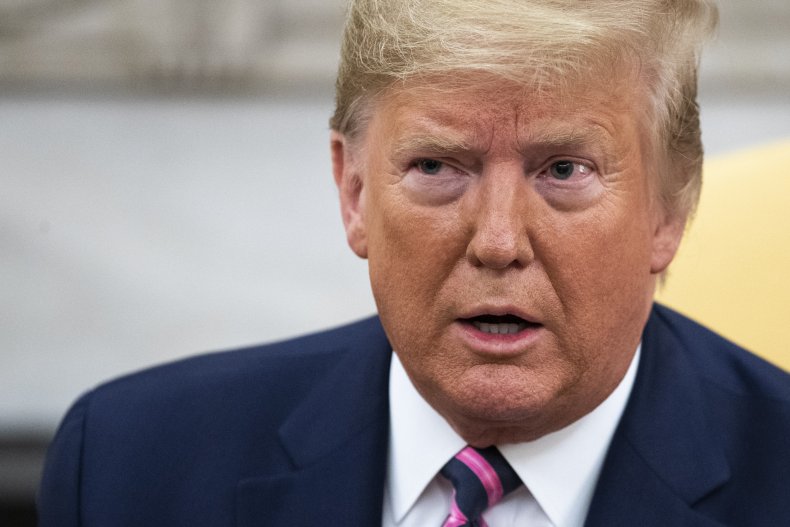 Trump's attempts at denying he was impeached one day prior came hours after he retweeted a user who falsely claimed that "the House can't impeach" so therefore the president "has not been impeached."
The power to impeach lies solely with the House. According to Article One of the Constitution, "The House of Representatives shall choose their Speaker and other Officers; and shall have the sole Power of Impeachment." If the official is then convicted in a Senate impeachment trial, they will be removed from office.
Despite a few Democrats breaking party ranks to oppose the allegation that Trump deserved to be removed from office for committing high crimes and misdemeanors, the president still made history with the number of votes cast against him. Both articles of impeachment received the largest—abuse of power—and second largest—obstruction of Congress—support in the history of presidential impeachments in the U.S. The amount of votes for Trump's impeachment were greater than that of former presidents Andrew Johnson and Bill Clinton.
Every House GOP member voted along party lines. However, four Democrats defected. Collin Peterson (D-Minn.) and Jeff Van Drew (D-N.J.), who became a Republican Thursday, voted against both articles of impeachment, Tulsi Gabbard (D-Hawaii) voted present for both articles, and Jared Golden (D-Maine) only voted for the abuse of power charge.