Sitting in Oval Office with Trump, Rep. Jeff Van Drew Announces Switch to Republican Party
Rep. Jeff Van Drew of New Jersey, who was elected as a Democrat and was one of several defectors to vote against impeaching the president, made the extraordinary announcement at the White House Thursday that he was officially switching parties to become a Republican, a move that had been expected from the freshman lawmaker for days.
Seated next to Van Drew in the Oval Office, President Donald Trump told reporters he had a "very big announcement."
"Jeff will be joining the Republican Party," he said.
Van Drew then pledged his "undying support" to Trump, invoking the analogy used by Ronald Reagan that the Democratic Party left him.
"I believe that this is just a better fit for me. This is who I am," Van Drew said. "It's what I always was, but there was always more tolerance for moderate Democrats... and I think that's gone away."
In response, the president endorsed Van Drew. House Minority Leader Kevin McCarthy (D-Calif.) and Vice President Mike Pence, who were also present, pledged their support, too.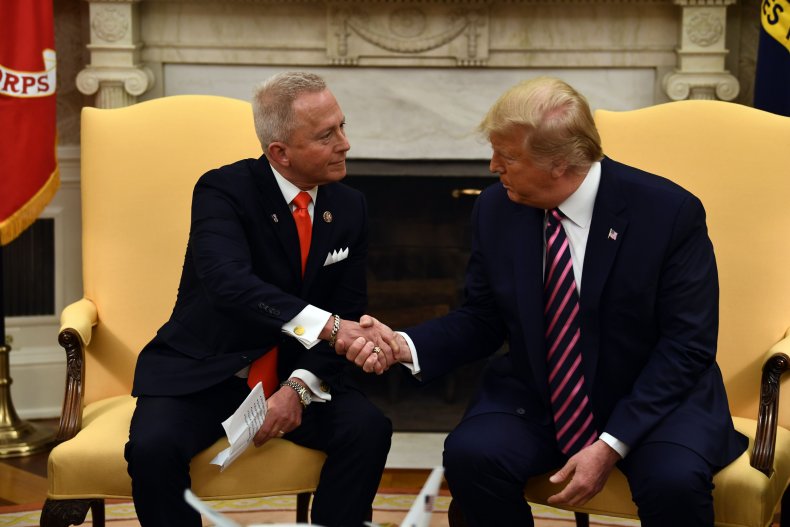 Democratic Caucus Chair Hakeem Jeffries (D-NY) informed Van Drew in a letter that due to his resignation, "you are no longer a Member of the House Democratic Caucus effective immediately."
Just hours earlier at the U.S. Capitol, Van Drew declined to tell reporters if and when he planned to make the rumored party switch.
The change in party affiliation comes after internal polling conducted earlier this month among his constituents showed his re-election chances as an anti-impeachment Democrat did not bode well. The vast majority of respondents said Van Drew, who flipped a Trump district, does not deserve re-election and that he should be replaced in the primary with a different Democratic candidate.
News of his plan to change parties, which first leaked over the weekend, prompted several top staff members to resign in opposition from his Washington, D.C., and local district offices.
House Republican's campaign arm was quick to tout Van Drew's shift. They encouraged "any remaining Democrats not consumed by a hatred of Donald Trump and who have a desire to govern for the betterment of the American people to join our freedom-loving Republican Party."
"Jeff Van Drew should be commended for refusing to blindly follow Nancy Pelosi's stampede of hate-filled Democrats over the edge of the political cliff," National Republican Congressional Committee Chairman Tom Emmer said in a statement. "This is further proof that the socialist Democrats' hatred of President Trump and obsession with removing him from office will cost them their majority next November."
But Van Drew's realignment to the ideological right appears to hinge solely on his stance against Trump's impeachment, which he previously told Newsweek he feared such action would only bolster the president's re-election and further divide the country. Van Drew even reportedly believed Trump was "crazy" and was "obsessively anti-Trump."
Asked Tuesday which issues he agreed with Republicans on, Van Drew would only name "American exceptionalism."
"This is the best nation in the world," he said. "I've been told often—and actually, there have been quotes—that many [Democrats] do not. They do not believe the idea that America is any better than any other country in the world."
His voting record in Congress also suggests he's no GOP supporter.
Van Drew has issued fewer votes that agree with Trump's stance than nearly every Republican, aligning just 7 percent of the time. Several vulnerable Democrats vote far more often with the president, topping out around 35 percent.
Reps. Alexandria Ocasio-Cortez (D-NY), a self-described democratic socialist, Republican-turned-independent Justin Amash (I-MI), who voted to impeach Trump, and Will Hurd (R-TX), a frequent Trump critic, vote with the president 14, 64 and 81 percent of the time, respectively.
Bob Patterson, the conservative Republican running to unseat Van Drew, had one message for the "liberal Switcheroo: Bring it on."
"Let's get one thing straight: South Jersey Republicans will not nominate a pro-choice, pro-amnesty, pro-Norcross, anti-Trump candidate, no matter what letter Van Drew has after his name," Patterson said in a statement. "South Jersey citizens deserves a congressman who will fight for them and their conservative values—not a liberal opportunist who fights for himself."
This story was updated to include a statement from Bob Patterson.
Jason Lemon contributed to this report.