Christine O'Donnell's Black-and-White Moral Code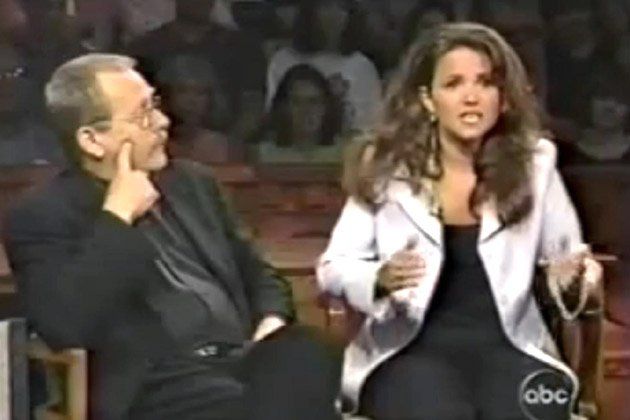 Politicians new to the national limelight naturally come with the risk of a skeleton or two in their closets. But if we're to take Bill Maher's word for it, the Republican candidate for Senate in Delaware, Christine O'Donnell, has far more of them than the average pol.
On Real Time With Bill Maher last Friday, days after O'Donnell secured the nomination, Maher unveiled the first of what he says will be a weekly series of clips of her appearances on his 1990s roundtable-debate program, Politically Incorrect. From the sampling of clips already on YouTube, it's clear O'Donnell appeared on the show as the moral absolutist foil to Maher's liberal guests. Anyone who followed the Delaware race already knows about O'Donnell's unbending stance on another moral issue: masturbation. But in the clip unveiled by Maher last week, the GOP nominee (apparently in an attempt to explain that she is qualified to lecture about the moral dangers of Halloween) states bluntly that she has "dabbled in witchcraft."
"I was never in a coven," O'Donnell quickly clarifies, referring to a community of witches. "One of my first dates with a witch was on a satanic altar and I didn't know it, and there was little blood there and stuff like that."
Well, then. One would think even Tea Partiers might be unnerved by witchcraft, but it's doubtful O'Donnell's support will erode because of things she said on TV during the 1990s. The more pressing concern for her campaign has to be how moderate voters will react to an emerging theme, that of apparent moral absolutism. The latest Maher clip implies that she looks at Halloween and sees "witchcraft." In another clip, she seems to argue that one should never lie under any circumstances. And as recently as three years ago, she called homosexuality an "identity disorder." O'Donnell's staff did not immediately respond to e-mailed questions. Last week, O'Donnell did say that her faith had "matured. And when I go to Washington D.C., it will be the Constitution on which I base all of my decisions."
Meanwhile, Maher says he has more video clips in his stockpile, and that he'll release them unless she appears on Real Time. "Christine, it's like a hostage crisis," Maher says. "Every week you don't show up, I'm going to throw another body out." How many of those skeletons will Delaware voters be able to ignore?