Why the Castle–O'Donnell Delaware Senate Race Is Tuesday's Must-Watch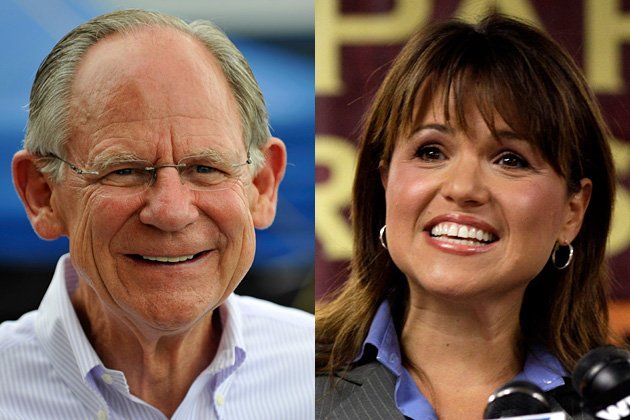 Primary season might be winding down, but Tuesday night's Republican Senate primaries in Delaware and, to a lesser extent, New Hampshire, are still among the most important of the year. The results will be a bellwether for whether Republicans can take control of Congress in November, and could help shape the national scene heading into the 2012 elections.
Here's the scoop: Christine O'Donnell, an oddball perennial candidate who condemns masturbation and believes she's being followed, is launching a last-minute sprint, hoping to pull off an underdog win against moderate Mike Castle. As I wrote on Thursday, she received a huge boost when Sarah Palin endorsed her. And now—likely in part because of that—her poll numbers are surging: according to Public Policy Polling, she's up on Castle, 47 percent to 44 percent. That's within the margin of error, so PPP says the race is too close to call.
Now, there's no guarantee she can pull off the race. PPP, although it's a liberal firm, tends to skew a little right, which would favor O'Donnell. And the extent of O'Donnell's wackiness is only beginning to emerge. Her advantage is that she's surging late, giving voters little time to learn about her, as Dave Weigel says. Nonetheless, it's entirely plausible that O'Donnell could win tomorrow night. Here are the three reasons it's the race to watch.
1. Control of Congress. The Delaware seat was held for umpteen years by Joe Biden; Ted Kauffman, a former Biden aide, is now a placeholder senator. And it was widely expected that Joe's son Beau, currently the state attorney general, would run to replace his father. His decision not to run was seen as a coup for Republicans at the time: in Mike Castle, they had a candidate with a strong track record who was liberal enough to appeal to Delaware's voters. O'Donnell's late surge shows she can't be counted out, but it's far, far less likely that she would win a general election (a Rasmussen poll last week showed her down 11 points to Democratic nominee Chris Coons, who trails Castle by the same margin in a head-to-head). Nate Silver of FiveThirtyEight calculates that the likelihood of a GOP Senate majority is slashed in half if O'Donnell and Ovide Lamontagne, a New Hampshire candidate, both win (more on this below).
2. The Tea Party vs. the GOP establishment. Yeah, we know—you're sick of this narrative. But the Delaware battle has seen more internecine vitriol than any other race (with the possible exception of the Tancredo–Wadhams–Maes hate triangle in Colorado). I mean, how often does a state party chair call a candidate running under his party's name "a delusional liar"? There are a range of concerns on both sides. Castle is viewed as unreliable because of his pro-choice and pro-gun-control stands. But for many Republicans—there's overlap, to be sure—O'Donnell is at best nearly unelectable and at worst a wingnut. The Weekly Standard has been all over the story, delving into her background probingly; that so annoyed conservative radio host Mark Levin that he sent a profane e-mail to reporter John McCormack. TWS's Jay Cost lays out the point and counterpoint here. And Dick Armey's FreedomWorks, one of the most influential institutions in the Tea Party movement, is taking a pass on the race.
3. Whither Palin? It's another test of Sarah Palin's pull. In effect, an O'Donnell win would be like Joe Miller writ large. While Miller's defeat of a sitting U.S. senator (Lisa Murkowski) was unexpected, it was in Palin's front yard. Knocking over Castle—who, given his track record and venerability, is essentially falling victim to the overplayed but real anti-incumbent narrative—would be a huge coup that would enhance her already massive reputation. If O'Donnell falls, it won't be a huge blow, since she was a long shot anyway. Hotline on Call reports that Palin is pushing hard for her candidate, with robocalls and radio ads running today.
While Delaware is the main event, the New Hampshire race has many of the same themes. There, Tea Partier Ovide Lamontagne (who, if elected, would likely captain the congressional all-name team) is surging against Kelly Ayotte, a former state attorney general, in the race to replace retiring GOP Sen. Judd Gregg. PPP has Lamontagne slashing her lead from 39 to 7 percentage points. A Lamontagne victory would be a helping hand to Democrat Paul Hodes, who's running behind Ayotte but would be competitive against the less-mainstream contender; in theory, Democrats could even pick up the seat, a strange phenomenon this year.
In particular, the race is interesting as a proxy battle. In one corner is Palin, who endorsed Ayotte and is robocalling for her as well. That's further proof of Palin's political wiles—although her reputation is as a Tea Party favorite, she's been willing to back candidates who are more moderate, including Ayotte and California Senate candidate Carly Fiorina—even if it infuriates conservatives. In the other corner is Jim DeMint, the firebrand South Carolina senator (like Palin, he endorsed O'Donnell in Delaware). The outcome could boost the stock of whoever backs them; there are already whispers that DeMint is trying to position himself as a candidate for president or perhaps a kingmaker in two years.