Americans will have to reckon with the tragedy of people dying from COVID due to Thanksgiving celebrations that went against official advice, weeks before vaccines may start being rolled out. Experts have now urged people to postpone regular Christmas parties to prevent record numbers of infections and deaths.
At a press telebriefing on Wednesday Cindy Friedman of the CDC's travel branch said the safest option was to postpone winter travel during the upcoming holidays and stay home, much like over Thanksgiving.
She said that the volume of travel over Thanksgiving was high, and even if a small percentage of those individuals were sick it would translate into hundreds of thousands of infections.
Jennifer Dowd, associate professor of demography and population Health at the University of Oxford, U.K., told Newsweek: "All deaths are tragic, but taking the risk to gather [during the holiday season] and then losing a family member who is possibly within weeks of a vaccination would be especially heartbreaking. No one wants to be shot in the trenches while the peace treaty is being signed."
Manisha Juthani, associate professor of medicine and epidemiology at Yale School of Medicine, told Newsweek: "As an infectious disease physician, it is extremely tragic to know that there are preventable deaths on the horizon from public health interventions we can do now while waiting for vaccine uptake in the months to come. I won't be surprised if we have over 3,000 deaths per day in a month.
"I anticipate that we will be marking our holiday season and the new year with record high hospitalizations and deaths while, ironically, administering vaccines at the same time."
The U.S. is in the jarring position of smashing records for COVID deaths and hospitalizations amid promises that vaccines are weeks away from being gradually rolled out to those most at risk, and potentially to the general public by spring.
After months of clinical trials, pharmaceutical and biotechnology companies Pfizer and Moderna recently asked the U.S. Food and Drug Administration for permission to roll out their vaccines, hoping for emergency authorisation later in December.
As their applications are considered, over 100,000 people are in hospital with COVID on Wednesday, according to the COVID Tracking Project—almost double the toll seen in the first peak in spring that was followed by a dip to around 29,000 in September. 2,760 deaths were recorded Wednesday, The New York Times reported, breaking the record of 2,752 set in the spring.
The graphic below, provided by Statista, illustrates the soaring rate of current COVID-related hospitalisations in the U.S.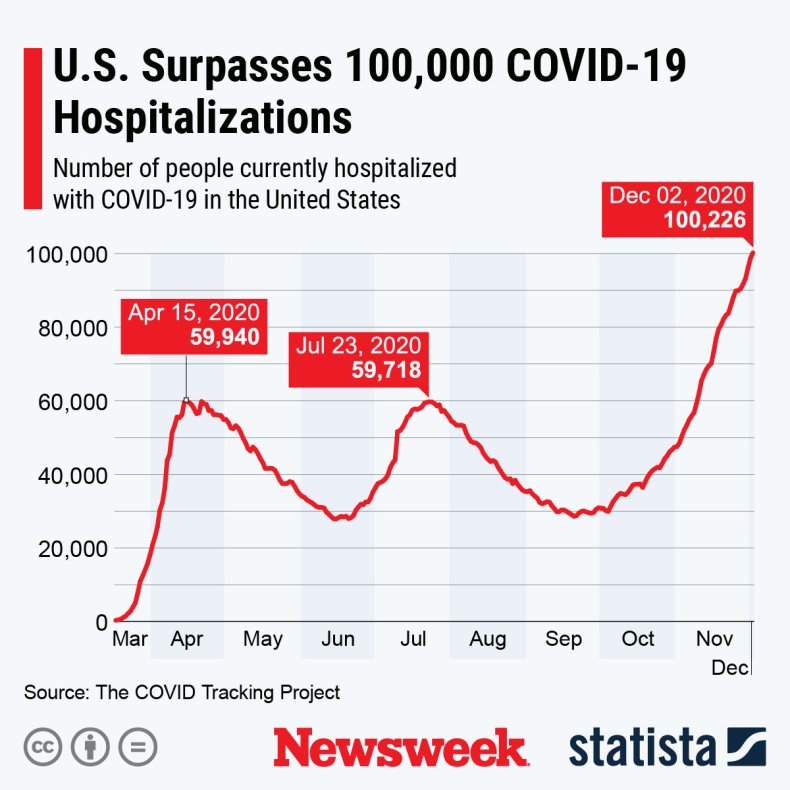 In the face of such figures, Centers for Disease Control and Prevention director Robert Redfield forecast in an address to the Chamber of Commerce Foundation on Wednesday that COVID may kill "close to" 450,000 by the end of January. The death toll currently stands at over 270,000, the highest in the world.
Experts told Newsweek that some Thanksgiving parties held against the advice of the CDC, which recommended celebrations be kept among households, were likely superspreading events. As deaths lag behind cases by up to four weeks, the resulting deaths may be seen in the coming weeks.
By Christmas, they expect to see the equivalent of a 9/11 per day in terms of deaths. Fearing Christmas and other winter festivities will set off a similar pattern, they urged people to reconsider celebrating as they normally would.
Juthani said: "What we do now will more likely impact hospitalizations and deaths in January. The end of December can still be impacted so it is never too late to still make a difference in the number of lives saved."
The CDC recommends people protect themselves from the virus by following steps including frequently washing their hands, keeping at least 6 feet away from people outside one's household, and wearing a mask in public, particularly if it is difficult to socially distance.
"All maskless celebrations around food when people are eating are high risk events that will lead to asymptomatic spread, symptomatic cases, hospitalizations and deaths," said Juthani. "Even if no one at your Thanksgiving dinner gets sick, it is likely that someone was asymptomatic, infected someone else that went back to work, maybe with immunocompromized patients like in a nursing home, and infected more people. The same scenario is very likely for Christmas and New Year's Eve."
She went on: "Vaccines are on the way. We can postpone gatherings for a little bit longer so that we can all start to emerge into some sort of normalcy in the months to come."
Peter Drobac, a physician and specialist in infectious diseases and public health at the Saïd Business School at the University of Oxford, U.K. told Newsweek: "It's tragic [that people are dying], not least because access to effective vaccines appears to be so close.
"It's tragic because most of these deaths would be preventable if we would just start doing the basics. No other country is suffering like this."
Drobac said Thanksgiving travel and parties "poured gasoline on the fire" of the pandemic. "If we don't find safer ways to celebrate the upcoming holidays, more people will die. It's that simple. I hate to sound so grim and grinchy. But we're so close to turning the corner."
He advised people to make sacrifices this holiday season "so that our loved ones are still around for the next one."
Drobac went on: "This is not about cancelling Christmas, it's about celebrating differently. Gather outdoors if you can, and on zoom if you can't. Have a second celebration in the spring, when it's safer. Doesn't a May Thanksgiving barbecue sound wonderful? How about a New Year's Eve bonfire on the summer solstice?
"Let's be smart, we just need to get through winter and things will start to brighten up."