Dr. Fauci Warns Americans Shouldn't Become 'Complacent' Because of Successful COVID Vaccine News
Dr. Anthony Fauci, a key member of the White House Coronavirus Task Force, warned that the Americans should not become "complacent" about following COVID-19 guidance in the wake of the news of two promising vaccines.
Pharmaceutical companies Pfizer and Moderna have both announced successful vaccine trials, with vaccines that appear to be 90 percent and 94.5 percent effective, respectively, in preventing infections. But these vaccines are not expected to be widely available to the general public until the spring. Meanwhile, new COVID-19 infections are averaging well above 100,000 per day as daily deaths increase across the country.
Fauci, the director of the National Institute of Allergy and Infectious Diseases, told CNN on Tuesday that the number of daily infections "are going to go up" over the next several weeks. "That's the reason I keep almost pleading with the American public that clearly we're not going to have a national shutdown, but we need to intensify common easy to do—relatively speaking—public health measures that are not shutting down the country, not shutting down the economy," he said.
The public health expert stressed the importance of wearing masks, asserting, "They work, use them." He urged Americans to avoid congregating in large groups, "particularly indoors."
While Fauci touted the success of the Pfizer and Moderna vaccines, he explained that the U.S. is still facing several months of the pandemic before they become widely available. "We don't want the extraordinary success of these two vaccines to get people to be complacent," he said.
Fauci pushed back against skepticism regarding the vaccines, as polls have shown a large percentage of Americans are leery of getting vaccinated when they become available. "I will take a vaccine and I will recommend to my family to also take it," the public health official said.
The U.S. continues to have the highest number of infections and deaths due to COVID-19 of any country in the world. As of Tuesday morning, the country had reported a total of more than 11.2 million infections and nearly 247,000 deaths, according to The New York Times tracker. New infections are soaring, averaging more than 155,000 cases per day across the county. Over the past week, the U.S. has seen on average more than 1,100 daily deaths. Mortality analysis by Johns Hopkins University shows that the death rate from the virus in the U.S. stands at about 2.2 percent.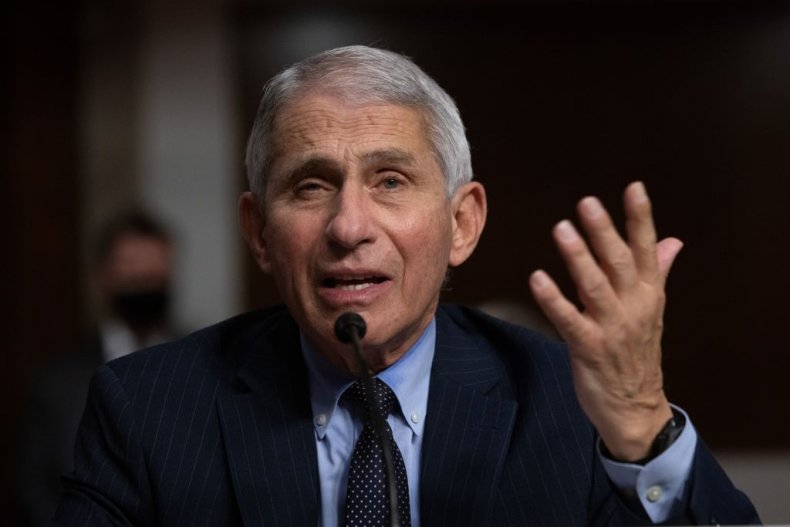 Despite the surge in infections, President Donald Trump's administration continues to send mixed messages about how to respond to the pandemic. While Fauci and other White House Coronavirus Task Force members have urged more stringent regulations, Dr. Scott Atlas, a radiologist with no training in infectious diseases who Trump has brought on as a special adviser, urged Michigan residents to "rise up" against new COVID-19 orders from their Governor Gretchen Whitmer, a Democrat.
"I don't want to say anything against Dr. Atlas as a person, but I totally disagree with the stand he takes. I just do, period," Fauci told NBC News on Monday, commenting on his Michigan remarks.
Newsweek reached out to the White House for further comment, but it did not immediately respond.