Christmas Tree Shortage Due to Supply Chain as Shoppers Urged to Buy Before Thanksgiving
Although families have not yet cut the turkey for Thanksgiving, shoppers are being urged to think about buying Christmas trees now due to shortages caused by supply chain woes and climate change.
The heatwave that parched the U.S. last summer has had an impact on tree farms, leading for the new plantings to not grow as much as expected.
The American Christmas Tree Association has warned that supply chain issues and weather problems will mean that trees will be in short supply, so they're recommending that those hoping to secure a real tree to buy earlier and expect to pay more this year. The association added that artificial trees, as well as live ones, would be likely to cost more this year due to the shortages.
"I would say half of what we planted last year is not going to survive," Geoff Wiley, a farmer at Trinity Tree Farm in Issaquah, Washington, told King 5 on Sunday.
Christmas trees can take a decade to grow, depending on the type. Fortunately, many of Wiley's mature trees made it through the heatwave and he plans to replant more, but he said this damage may lead to more shortages in the coming years.
Wiley added that he heard that other tree farms weren't as fortunate. "It's horrible to watch it because you see it happening and then you can't do anything to control it and you have to wait and see how bad the damage is going to turn out to be," he said.
A steady increase in consumer spending, as well as the heightened demand for the trees at this time of year, has added pressure to the industry, he added.
"We just get swamped with so many people and so the trees go faster and faster," Wiley said.
Meanwhile the Riverview Christmas Tree Farm in Sioux Falls, South Dakota, has fewer trees available this year than usual. It is asking families to buy them soon to avoid missing out due to the shortages and they expect all their Christmas trees to be gone by December 1.
"It was kind of the perfect storm with the drought of 2012 killing the babies and then last two years we just really haven't gotten much rain in the summer so it's really limited growth of our current trees," Todd Gannon, owner of Riverview Christmas Tree Farm, told the KELO news channel on Sunday.
He added that his farm—which receives Christmas trees from all over the country—has about 25 percent fewer trees available than usual.
Gannon urged customers to be organized in the run-up to Christmas if they are looking to get a tree.
"Come early. We still have a really good supply right now there's still over a thousand trees ready to go home but by the end of Thanksgiving weekend, most of those will probably be gone," he said.
Blossom Hill Orchard and Farm in Preston, Minnesota, said on Facebook Friday that it will not be selling Christmas trees this year due to shortages from its Wisconsin supplier.
Jami Warner, Executive Director of the American Christmas Tree Association, told Newsweek: "Despite recent headlines, the majority of U.S. consumers will be able to find the perfect Christmas tree for their home this year. However, this is not the year to find a tree last-minute, or to in wait for a retailer sale. It's possible that those sales won't occur, or that when they do, the inventory will be limited. Plan ahead, and buy early.
"For consumers with specific trees in mind, we encourage them to sign up for email updates with their preferred tree retailer to be notified when trees are available. If ordering online, we also recommend that consumers order early to account for possible shipping delays.
"With many consumers viewing the post-Thanksgiving weekend as the "Christmas kick-off," we recommend that consumers know where they're going to purchase their tree within the next several days. Even if you're not planning to buy your tree until closer to the holiday – and again, we recommend consumers buy early – now's the time to know where, what type, and when you're planning to pick up your tree for the season."
The global supply chain has been under pressure, as demand soars but the pandemic has caused labor shortages and manufacturing delays. This in turn has led to higher freight costs and longer delivery times.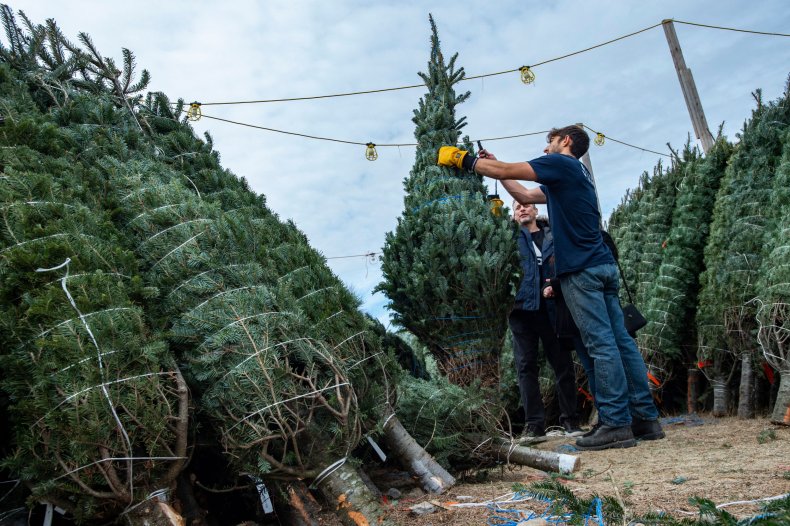 11/25/2021 - 03.08 a.m. ET - This article was updated to include comments from the American Christmas Tree Association.