Who Is Christopher Schurr? Grand Rapids Officer Who Shot Patrick Lyoya
The police officer who shot Patrick Lyoya has been identified as Christopher Schurr.
Lyoya, a 26-year-old Black man, was unarmed and face down on the ground when he was shot in the back of the head moments after a traffic stop in Grand Rapids, Michigan, on April 4.
Video of the confrontation sparked fury and protests when it was released earlier this month. The footage showed the white officer on top of Lyoya, an immigrant from Congo, and he can be heard shouting at him to take his hand off the officer's taser.
An autopsy found he died of a single gunshot wound to the back of the head.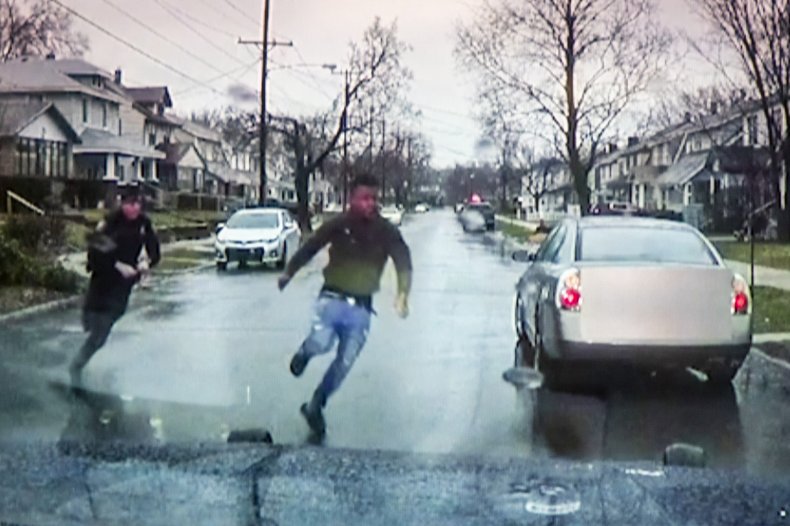 Schurr's name had been circulating since his face was seen in videos of the encounter, but his identity wasn't confirmed until Grand Rapids Police Chief Eric Winstrom reversed course and confirmed it on Monday. Lyoya's family, lawyers and activists had been calling for the officer's name to be released.
In a statement, Winstrom said he was acting "in the interest of transparency, to reduce ongoing speculation, and to avoid any further confusion."
However, no details about Schurr's service with the Grand Rapids Police Department were released.
Schurr remains on "administrative leave, stripped of his police powers until the conclusion of the Michigan State Police investigation into potential criminal charges and the completion of GRPD's Internal Affairs investigation to determine whether all applicable departmental policies were followed," Winstrom said.
Schurr, 31, was one of the officers assigned to patrol the east service area in Grand Rapids, according to the city's website.
He grew up in Byron Center, Michigan, and joined the Grand Rapids Police Department in 2015 after graduating from Siena Heights University in Adrian, Michigan.
He was a top pole vaulter, and set a school and conference record with a vault clearing 17 feet, 1 and three quarter inches at the Wolverine-Hoosier Athletic Conference Championships in 2014, according to MLive.
Schurr told MLive that he was planning to marry his high school sweetheart during a missionary trip to Africa that year.
He explained that he couldn't afford a wedding as well as the trip to Kisi, Kenya, to build homes for Corinth Reformed Church in Byron Center, so he and his fiancée had decided to marry there.
"Me and my fiancée (Brandey Bruin) went to Kenya on a missions trip last year," he said. "We were asked to go again this year, but we couldn't afford a wedding and the trip, so we decided to combine them."
Schurr said they also planned to wear traditional African outfits at their wedding.
"We're going to do a wedding their style. I have an African outfit already and my fiancée will pick out some fabric and she'll make a Kenyan-style dress," he said.
Lyoya's family wants Schurr to be fired and charged.
Ben Crump, a civil rights attorney representing the family, described Lyoya's death as an "execution" and called for the officer involved to be "terminated for engaging in unnecessary, excessive use of deadly force."
He also said Lyoya's family requested "that the state attorney charge him [the officer] to the full extent of the law for killing their son, for breaking their hearts, for making his young children orphans, fatherless."
The Grand Rapids Police Department has been contacted for comment. Schurr could not immediately be reached for comment.