Chuck Schumer Accuses Trump of 'Hiding the Truth' After Report Claims Pence Will Control Public Coronavirus Messaging
Senate Minority Leader Chuck Schumer on Thursday accused President Donald Trump of attempting to hide the truth about the new coronavirus from Americans after the White House reportedly moved to tighten messaging about the disease by health officials and scientists.
One day after Trump tapped Vice President Mike Pence to lead the U.S. coronavirus response at a Wednesday news conference, several unnamed officials told the New York Times that the White House directed government health officials and scientists to coordinate all public statements about the virus with Pence's office.
In response, Schumer, a frequent critic of Trump, accused the president of attempting to hide the truth about coronavirus from Americans. "President Trump should have learned the lesson that China did: Hiding the truth makes things more dangerous. The American people need to hear the unfiltered truth from health experts," the top Democrat tweeted this afternoon, alongside a link to the Times article.
Newsweek reached out to the White House for comment.
Trump announced yesterday that Pence will be in charge of the White house Coronavirus Task Force and report directly to him, while HHS Secretary Alex Azar has been tapped to be the task force's chairman. "I'm going to be putting Vice President Mike Pence in charge," he told a room of reporters, "and he's going to be working with the professionals, doctors and everybody else that is working. The team is brilliant."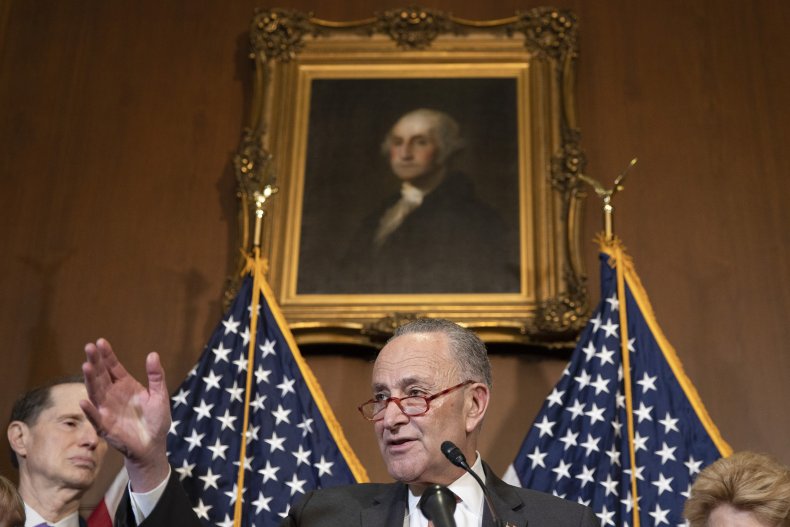 "The people of this country can be confident that under your leadership, we will continue to bring the full resources of the federal in coordination with our state and local partners," the president said, directing the remark to Pence, who was scheduled to lead a meeting on the matter Thursday.
Officials involved in the White House coordination of government coronavirus messaging asserts that the desired outcome is not to control what experts are saying but to ensure coordination. It comes after Trump and his administration have faced public criticism in recent weeks over the release of contradicting information on new surrounding the virus and a timeframe for its vaccine.
A Morning Consult poll, conducted between February 24-26 and released Wednesday, found that 56 percent of registered voters surveyed approved of Trump's handling of the new disease, a figure down 5 percentage points from two weeks prior.
On Thursday morning, worldwide cases of the coronavirus, that causes the disease COVID-19, totalled 82,446, a roughly 1,000 increase from Wednesday morning, according to a tracker maintained by Johns Hopkins University. In addition, nine new countries announced their first cases today, which has increased the total number of countries infected to 47.