Voter approval of Donald Trump's handling of the coronavirus outbreak has dipped in recent days as the president's administration continues to face bipartisan backlash over allegations they are downplaying the severity of the new virus.
A new Morning Consult poll, conducted between February 24-26 and released Wednesday, found that 56 percent of registered voters surveyed approved of Trump's handling of the coronavirus, a figure down 5 percentage points from a previous survey conducted between February 7 and 9. The net approval figure—those who approve minus those who disapprove—of the president's handling of the coronavirus outbreak has also dropped by 11 points over the past two weeks.
Trump has continued to urge calm amid the outbreak, a response that has drawn bipartisan criticism from lawmakers that have accused his administration of releasing contradictory statements about the severity of the virus' outbreak.
Newsweek reached out to the White House for comment.
Democrats and even some Republicans have deemed the administration's emergency request for $2.5 billion to contain the outbreak inadequate. Their concerns came shortly after the Centers for Disease Control and Prevention warned that the virus will inevitably continue to spread in the U.S.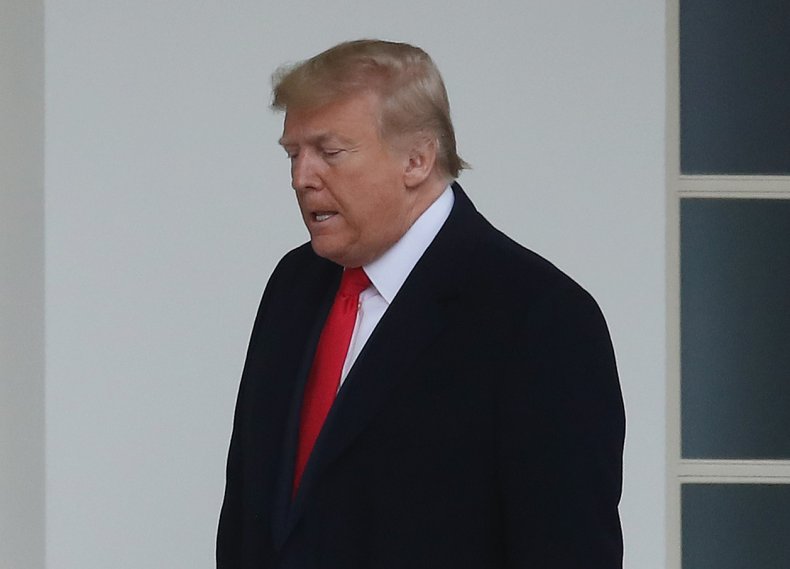 Dr. Anthony Fauci, director of the National Institute of Allergy and Infectious Diseases (NIAID), told CNN New Day host John Berman on Wednesday that a vaccine could take "at least a year to a year and a half" to become publicly available. His remarks contradicted Trump's, who told reporters in India on Tuesday during his first state visit to the South Asian country that America is "very close" to a vaccine.
Fauci said that the discrepancy in the vaccine information is due to the steps that will need to be taken before it can be made available to the public. He says that although officials are "close" to commencing a trial to determine its safety, it could take over a year before it's deemed safe to administer to citizens on a wide scale.
Roughly 81,194 cases have been confirmed worldwide as of this morning, according to a tracker by Johns Hopkins University, which included first discovered cases in Croatia, Austria, Switzerland and Algeria.
Confirmed cases in the U.S. rose to 57 as of Tuesday as four more passengers who were onboard the Diamond Princess tested positive. "We are asking the American public to work with us to prepare in the expectation that this could be bad," Dr. Nancy Messonnier, director of the Centers for Disease Control and Prevention's (CDC) National Center for Immunization and Respiratory Diseases told reporters on Tuesday.